Hotties 'n' Notties – Halloween Special!
|
Who was hot and who was not this week in wrestling?
However, this isn't your usual "who did good and who did bad" style column. No, this is the literal look at who actually looked sexy this week and who, well, didn't.
This week's edition is a Halloween Hotties 'n' Notties special – whether spooky, sexy or just plan scary these Divas and Knockouts aren't afraid to flaunt their best assets (sometimes flaunting a bit too much) for a fierce and frightening photo shoot.
Last week's winner of the 'who do you think looked best this week' poll with a whopping 78% of the vote was the always sexy Velvet Sky.
The winner of the 'who do you think looked worst this week' poll with ¾ of the final vote was Orlando Jordan – leave the white lace on your grandmothers curtains next time please.
Numero Uno hottie of the week is Lacey Von Erich.
Lions and tigers and bears, OH MY! Lacey Von Erich, you are exactly what my dreams are made of. Ever since I was born Dorothy Gale has been my hero in life and since LVE is my favourite TNA Knockout (looks wise, not so much her wrestling ability – although she is a lot better then what people give her) when I spotted her Halloween photoshoot I squealed in glee.
She fills out the iconic blue and white gingham dress splendidly well and I adore mini Toto in the wicker basket. Although why the hell she went with tacky white boots and not some ruby red slippers (you can borrow mine next time Lacey – I have like 10 pairs) beats me!
But I will let her off because she is just so darn fricken beautiful and I could (and sometimes do) stare at her all day.
Second prize goes to Layla.
WOW Layla, you hot little cop you! I bet a few of you readers out there wouldn't mind the current Divas champs handcuffing you to the bedposts.
The teeny-tiny, sexy outfit is mega curve hugging to her pretty much perfect body and the PVC buckled corset toughens up the otherwise plain outfit plus those Avaitor glasses are next Spring/Summers hottest accessory.
Now, I know the hat is part of the whole Policewoman outfit but Victoria Beckham has been sporting one recently and Mrs Beckham is the ultimate style icon. And considering this shoot is from a few years ago, well, that just makes Layla all the more amazing.
On another note though, why has she got a riding crop? – she doesn't look like she will be mounting a horse anytime soon in that outfit.
Jillian is my inbetweener choice this week.
I love Jillians Halloween outfit here – it's cute, quirky and fun. It's totally different to the usual slutty nurse and maid outfits you see everywhere on the 31st October and I praise her for it.
The headstock hairband is all kinds of amazing and I am furiously searching eBay for one right now so I can wear it every day (my fashion sense is weird like that.) The gleaming silver fingerless gloves are incredibly on trend at the moment and I will even let her off for wearing fishnets (and I hate fishnets) as it goes with the look she is portraying.
But Jillian, the compliments end here as those boots are perhaps the fugliest things I have ever seen – I want to burn them but the toxic fumes they would most likely give off would definitely be deadly to small animals. Plus those botoxed to hell lips are what nightmares are made of.
First nottie of the week is Kelly Kelly.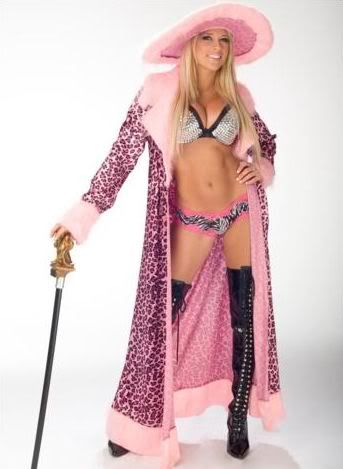 Miss Kelly Kelly is one of the most stunning Divas of all time with an unbelievable body (well except her chest area is pretty darn scary in this picture – seriously do they always look like that?) but that is no excuse for her to wear bra and knickers as an actual full blown outfit.
Now I'm not even sure what KK is supposed to be in this Halloween getup – one website said a pirate, another declared she was a gangsta' and one writer claimed she was a 'motherf**** pimp ho!' (their words not mine.)
But I think she must have simply been in a rush and thrown on the first few items she could find in wardrobe. Because surely that would be the only reason why she would wear the eye damaging  leopard print robe, that matching fluffy hat and those horrible HORRIBLE thigh high pointy patent boots all together.
She should just stick with dressing up as CM Punk in the future (aawwww.)
In last place as my most not-hot person is Michelle McCool.
Oh, Michelle I always thought you had a touch of class about you but this dreadful Halloween costume is as cheap as the heat you try to generate.
It's just all kinds of wrong – first up those micro mini shorts which you stole from Kelly Kelly's wardrobe are extremely ill fitting and nearly show off a lot more than we ever wish to see. Next up that 'top' – if that's what we can call it – is just plain awful. It's as though a small child attempted to attach two pieces of garish red sequined material together with a bit of scotch tape.
But perhaps the scariest thing in this photo (other than the tacky accessories) is that smile – it sends shivers down my spine *shudders.*
So whatever you do this Halloween weekend – whether it's partying the night away to the monster mash, staying in with a vast collection of horror films or scaring those pesky trick-or-treaters away I hope you have a frighteningly fun time.
Please vote in the poll below on who you think looked the best and the worst this week:
http://micropoll.com/t/KDwQ9ZBVPA – best
http://micropoll.com/t/KDwQ9ZBVPD – worst
Also if you see any hotties or notties this week in wrestling or have a vintage pick you would like to see featured in the column please just leave a comment below.
Tags: chantal, cm punk, divas, halloween, hotties, Hotties 'n' Notties, Jillian Hall, Kelly Kelly, Knockouts, Lacey Von Erich, Layla El, michelle mccool, notties, orlando jordan, Raw, Smackdown, TNA, Velvet Sky, WWE