Who was hot and who was not this week in wrestling?
However, this isn't your usual "who did good and who did bad" style column. No, this is the literal look at who actually looked sexy this week and who, well, didn't.
This week's edition is another Halloween Hotties 'n' Notties special – whether spooky, sexy or just plain scary these Divas and Knockouts aren't afraid to flaunt their best assets for a fierce and frightening photo shoot.
Last week's winner of the 'who do you think looked best this week' poll with 57% of the vote was the beautiful Lacey Von Erich.
The winner of the 'who do you think looked worst this week' poll with over half of the final vote was Jillian – she may wear quirky costumes, but that doesn't make up for the botoxed face.
Numero Uno hottie of the week is SoCal Val.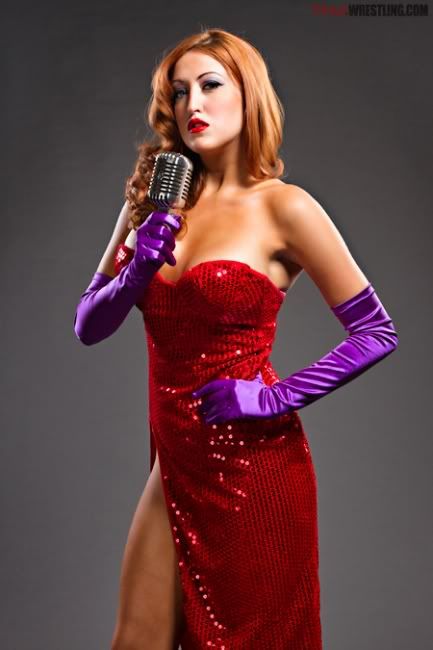 PHROW! – wow SoCal you are one helluva a sexy vixen. This Halloween (1q – why are everybody's Halloween costumes not scary btw? – oh the times they are a-changin') the TNA valet has treated us to a stunningly immaculate photoshoot.
The red curve clenching sequin dress fits Val like a glove and that almighty thigh high split leaves me wanting more. The flawless ginger red hair is coifed to perfection and those big pouty heart shaped red lips are to die for – where can I get me some like that?
She may perhaps be the only woman in the world who can actually stand up to Jessica Rabbit in terms of overall sex appeal (yes, I know Jessica Rabbit is a cartoon character – but come on you would, wouldn't you?)
Second prize goes to Christy Hemme.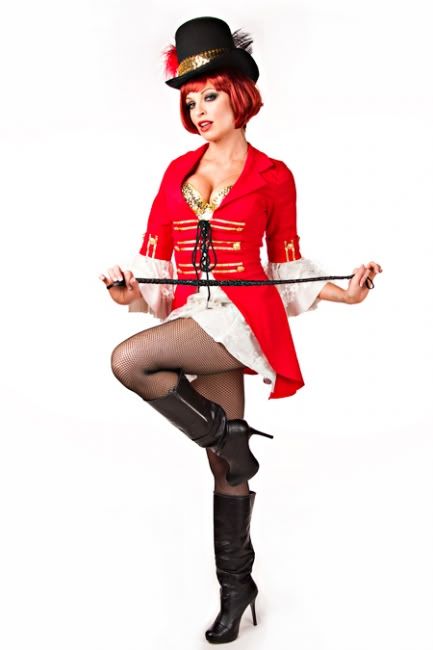 Christy, you little sexpot you. Miss Hemme has been overlooked on TNA recently, I actually can't recall the last time I seen her on TV, so when this Halloween themed photoshoot popped up I was delighted as she has always been one of my personal sexiest divas/knockouts.
Her equestrian come ringleader costume is all kinds of amazing, the military-esque red jacket is so on trend it hurts (we'll ignore the ruffles). Plus, that hat, well I've been determined to buy a similar one for an eternity, but I have an unusually large head so hats never fit me.
Now I know, that red bob isn't her actual real hair but the cut and colour does look amazing on her so when the ratty extensions ruin your hair Christy you should go for this look asap.
And I'm even going to let her off for those misfortunate boots because her face is to die for – that bone structure, the full red lips and the come hither stare – WOW!
Laycool are my inbetweener choice this week.
WOW! Miss Layla and Miss Michelle you have certainly done it this time. The self professed "Co-Divas Champions have definitely pulled it out of the bag dressing up as Beyonce and Lady GaGa.
Michelle looks amazing as GaGa in her blue leotard complete with sharp shoulders and hair bow. While Layla is spot on in the high hipped black body complete with fierce ankle boots (but Layla, please don't ever dye your hair this colour – you're much better as a sexy brunette.)
But the reason why the pairing are my inbetweener choice this week and not at the top of my list is because these looks are so disgustingly passé.
The 'Single Ladies' style which Layla is channelling is over two years old, yes it may be iconic but it's not really relevant these days. She would have been better wearing those shorts Bey-Bey donned over the summer – both relevant and scary enough for Halloween. Whereas for McCool the whole Pokerface look has been and went (back in early 2009), she should have just worn THAT meat dress.
First nottie of the week is Tara.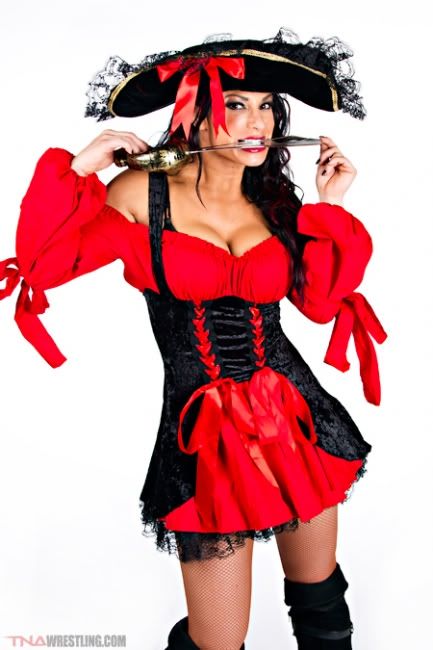 Oh Tara, you really do go from one extremity to the other every single week. One week you're dressed in a ribbed white turtle neck which was just embarrassing then the next you're a fierce sexy cougar but then you come out with this mega cheap mess of an outfit.
Surely TNA can't be on that much of a budget where they have to buy their Knockouts Halloween outfits for £5 a pop – no lie, I actually seen this exact same dress (complete with the horrible poofy sleeves) in a fancy dress shop for £5. Scarily, my friend thought it was nice and wanted to buy it – she is no longer my friend.
Now I love wearing lace and velvet together and the bottom half of the dress could have potentially looked good but then that red bouffant THING just spoils the whole caboodle *sighs.*
The only redeeming quality of this whole hot mess are the Vivienne Westwood-esque pirate boots (oooo spooky.)
In last place as my most not-hot person is Maxine.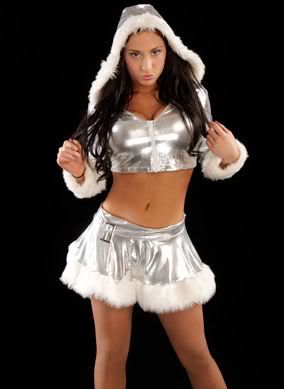 Maxine claimed she dressed up in this horrendous 'ice queen' outfit as it matches her icy personality but come on, its Halloween not Christmas. She should have dressed up as the White Witch from Narnia – she is equally as Icy and it would have been a bit original rather then this mass produced hot mess.
Plus, considering she was a model before signing up with WWE (like basically every other Diva on the roster – but I won't get in to that right now) she is doing an awful bad job of 'modelling' – no smizing, no Ht2-ness and she looks as fierce as a baby mouse. Plus she looks a little drunk – but then again she was arrested for DUI in the past so she probably is.
Please vote in the poll below on your numuro uno hottie and not hot nottie of the week:
http://micropoll.com/t/KDwQ9ZBY2g – hottie.
http://micropoll.com/t/KDwQ9ZBY2h – nottie.
Also if you see any hotties or notties this week in wrestling or have a vintage pick you would like to see featured in the column please just leave a comment below.