Best Comic of the Week:
W
ritten by John Layman
Art by Rob Guillory
This comic just keeps getting better and better, as Tony goes to a family Thanksgiving dinner.
To begin, the story has a wonderful gatefold cover (one third of which is pictured here), featuring the Chew crew sitting down to a Last Supper Thanksgiving dinner in the Russian observatory that showed up early in the title's run, and which gets mentioned again here.
The story itself features two Thanksgiving dinners.  The first is Mason Savoy's, and he uses it to learn some more about Tony.  The second is the Chu family's, as we find out that Tony's family is bigger and more dysfunctional that we ever imagined.  There are a lot of brothers and sisters, including a fraternal twin, and a couple of other surprises that I won't ruin here.
The characterizations in this title are what have always made it work for me (although I find the larger conspiracy-based plot to be pretty interesting too), and this issue goes above and beyond anything we've seen before.  There are plenty of great character moments (poor Appleby), and I enjoyed seeing the different ways in which Guillory played around with the Chu family genetics to make the different members of Tony's family.
This issue is extra-sized, and quite impressive.  Canada has already had its Thanksgiving, but this book is out just in time for Americans to be able to relate to having to share a large (and quite possibly illegal) meal with a bunch of family members who don't like you.
Other Notable Comics:
Wr
itten by Scott Snyder
Art by Rafael Albuquerque
This is the third part of the Las Vegas arc of American Vampire, and a whole lot of stuff gets explained, about the Vassals of the Morning Star, the identity of the creature that's been killing the presidents of the companies building the Hoover Dam, and just what Pearl's been up to since the end of the first arc.
I've enjoyed this comic since it started, but I think I'm enjoying it even more now that the preliminary work is out of the way and Scott Snyder is doing his own things with the characters.  Pearl has been a great character from the start, but I think her defense of Skinner Sweet helps add some nuance to her character.
As always, the art is absolutely fantastic in this title, and the fact that the price is soon going to be reduced to $2.99 should give it a better chance of life.  Strangely, for the second month in a row, the cover that was published is not the same as the cover that I bought, but for no apparent reason that I can discern.
Wr
itten by Mike Mignola and John Arcudi
Art by Guy Davis
Four issues in to the new status quo, and things continue to be pretty interesting.  We get some idea of what has been making people in British Columbia disappear, while Johann and Panya continue to get weirder and weirder back at the home base.
Making the transition to reading this book on a monthly basis has caused me to reexamine it a little.  I love the group dynamics and sense that things could change at any moment, but I find that the chapters are shorter and quicker than I'd realized reading the book in trade.
I've never been a trade waiter by nature (too damn impatient), and while I like getting a more regular dose of this book, I do wish it would take a little more time to read each issue.
At the same time, in this one, Daimio goes wild, and Darryl makes a reappearance.  It's good stuff.
Writ
ten by Marc Guggenheim and Tara Butters
Art by Ryan Bodenheim
A comic by the writer of Resurrection
, and the artist of Red Mass For Mars
is a no-brainer purchase for me, and although the first half of the comic made me nervous, I'm happy to see that my instincts were correct once again.
The comic opens with a number of short scenes which try too quickly to establish a number of superhuman characters.  They mostly fall into the usual archetypes – there's a Captain America figure, a Superwoman, a Batman, and so on.  It's a few too many characters coming at the reader too quickly, although the situations they are in serve the purpose of filling in the reader to the fact that crime in the world has dropped precipitously in a very short span of time.
It's an interesting concept – that the superheroes, a team called Halcyon, are the ones most concerned with a drop in crime.  There's also something going on with the Dr. Doom figure, a guy called Oculus, but we're not too sure what that is yet.
This comic reminded me a little of titles like The Authority
and the classic Squadron Supreme
mini-series.  Bodenheim's art is very good.  It comes off here as something of a mix of Bryan Hitch with Frank Quitely.  I think he's going to be an artist to watch in the next couple of years, depending on how quick he is (I'm not sure whose fault the delays on Red Mass were – his or Hickman's).
This is an interesting new title, and it deserves some attention.
Wr
itten by Chris Roberson
Art by Michael Allred
I somehow managed to miss this comic when it came out last week, which is a shame, because I, Zombie is becoming a favourite title.  This issue launches a new story arc, with Gwen having trouble finding a new brain to eat, since someone has been stealing bodies from the morgue.
While she spends a lot of time worrying about the effects of going without for so long (it affects her memories of her life), Ellie hangs out with Amon, and Scott makes a new friend.  Horatio and Diogenes square off against the vampire sect, and Galatea, a new character, is introduced.  There's no sign of the grandfather chimp, who I was looking forward to seeing again.
Roberson has filled this comic with a large cast, and I admire the way that he is able to give each of them something to do with each issue, and still find the space and time to advance his plot.  Allred's work is always divine, and this issue is no exception.
W
ritten by Mike Carey
Art by Peter Gross with Vincent Locke
With the last arc finished, and the interlude issue out of the way, Tom and his friends seem to be in the position of having to refocus and move the comic in a new direction.  They are 'walking the map', whatever that means, as Tom continues to follow the path that his father, Wilson, had left for him.
This brings Tom to Massachusetts, specifically to Herman Mellville's home, for reasons that have yet to make themselves clear.  Tom bones up on his Moby Dick, while Lizzie makes a surprising move, and Savoy figures out why he hasn't been feeling well.
Meanwhile, Pullmann, the Cabal's assassin and black ops operative, has a strange and portentous conversation with a Gepetto-like character.  I'm not sure where this section is supposed to lead, but it seems that, with Callander dead, there needs to be a new public face of the Cabal.
I like this series a lot, but I sometimes can't help feeling that Carey is just taking us around in circles some of the time, as much of this issue seems familiar.  I got a kick out of seeing Vincent Locke doing the inks on a few pages – he's an artist I've always admired but whom we haven't really heard from in ages.
Quick Takes:
Amazing Spider-Man #648 – So I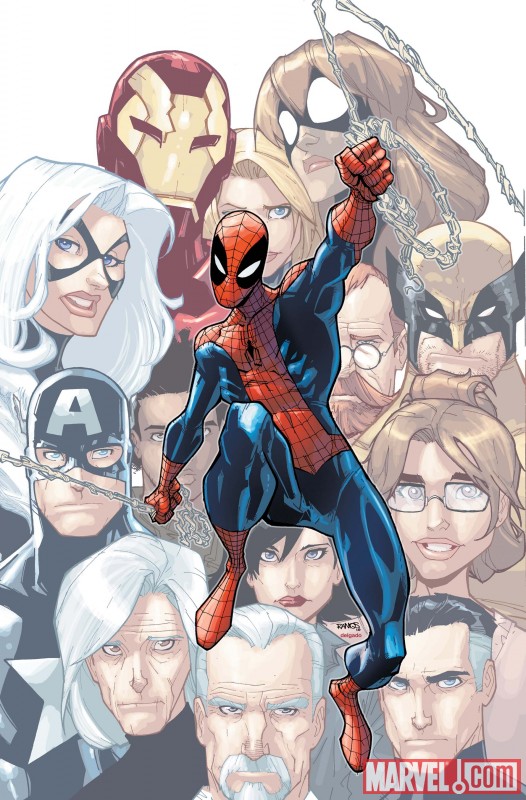 thought I'd give Dan Slott one issue to impress me with his new run on the post-Brand New Day Spider-Man, and while it was a good enough comic, I was bored.  We got more of Parker whining about money, before he got a new job that lets him use his science knowledge and come and go as he pleases.  I feel like I can already see a long string of issues built around Spidey fixing something in the lab while his co-workers wonder where Parker went.  I don't think I'm interested.  The only thing that might have me come back would be the appearance of a particular villain on the last page.
Assassin's Creed: The Fall #1 – I got talked into picking this up by the staff at my comic store, and with Cameron Stewart and Karl Kerschl writing and drawing the book, it wasn't that hard a sell.  The only problem is, the story doesn't make a whole lot of sense, at least in this first issue.  I've played the game, but didn't like the framing stories.  Now, this book is mostly set in the present, and features some ex-con who won't take his meds, and keeps flashing back to a mission in late-nineteenth century Russia that went bad.  The comic is all over the map, but it is pretty…
Avengers: The Children's Crusade #3 – I really expected better.  The plot seems very forced, and continuity issues still haven't been addressed, as now Wonder Man gets into the mix, while Wiccan takes off to Latveria to search for the Scarlet Witch.  On the plus side, Jim Cheung's art looks as great as it ever did.
Batman: The Return of Bruce Wayne #6 – We
ll, I'm sure glad Grant Morrison cleared all that up.  Now everything is crystal clear – it's all about sentient computers at the end of time, hyper-adapters, and some other stuff that didn't make a lot of sense, but looked and sounded cool.  Sometimes Morrison gets too caught up in his ideas to finish a story properly, but it's all on to the next thing with Batman anyway, so it's all good.
Birds of Prey #6 – The best part of the original run of this series, and something that only Gail Simone is able to pull of credibly, is the relationship between Black Canary, Huntress, and Oracle.  I was about to write this new series off, but this issue has me reconsidering, as Huntress decides to take Dinah's place in a fight with Lady Shiva.  There are two artists on the issue, and one is better than the other, which makes for some jarring transitions, but otherwise, this book is finally hitting its stride.
Farscape Scorpius #6 – It's pretty rare to see Scorpius admit that he's second best to someone, but as he spends this whole issue reflecting on the power and scope of the Kkore, there is little else to conclude.  Unless, of course, he's playing this as a role, which is not out of the realm of the possible.  This is a decent issue, but is not as good as the regular Farscape title has been lately.  Maybe that's why it's not been solicited past the next issue….?
Incredible Hulks #616 – Th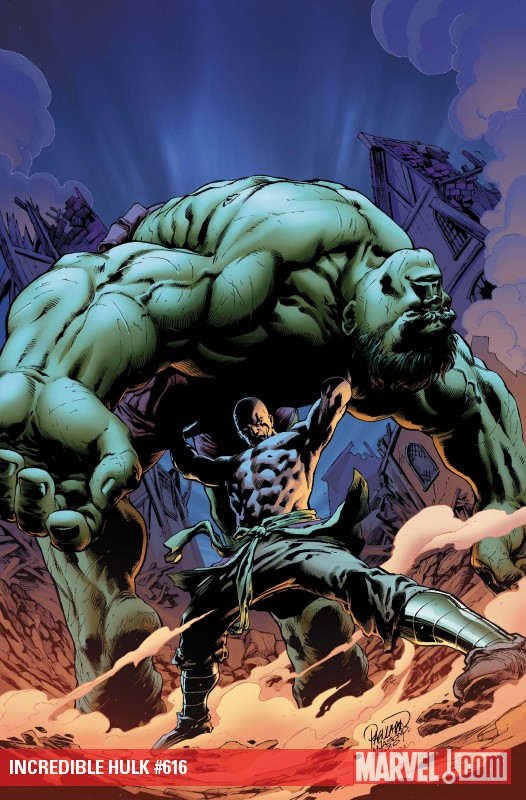 ere's not much that's new to say about this.  Pak is putting out a solid comic, which I expect to get a lot better once we finish tying up a bunch of Hiro-Kala related plot threads.  Great Barry Kitson art, and a solid enough Hulk/She-Hulk back-up story featuring the Armadillo.
Knight and Squire #2 – Cornell's writing this as if it's the modern-day British equivalent of the 60's Batman TV show, with the Squire answering a direct-line phone kept under glass in her mom's house, and the Knight wandering his castle in his armor.  In this issue the duo fight the dreaded Morris Men, a group of fascistic traditional folk dancers.  This book is a lot of fun.
New Avengers #6 – One of those Avengers will die!!!  I'm sure they won't even be back for a few months (hint:  it's not Wolverine or Luke Cage!).  This has been a decent enough story, but it's played out too long.  Also, I'm getting really sick of the oral history back-ups.
R.E.B.E.L.S. #22 – Starfire and the Psion Green Lantern spend the issue addressing the injustices at the centre of Psion culture, while some of the rest of the cast become suspicious of Dox's anti-Lantern Tea Party approach to winning over the galaxy.  It's a good comic, but I have one serious problem with it – I thought that Green Lanterns were forbidden to kill, and that their rings won't allow that.  I know there's an exception for members of the Sinestro Corps, but this Psion Lantern is just raining down the vengeance everywhere.  It doesn't fit.
Thanos Imperative #6 – And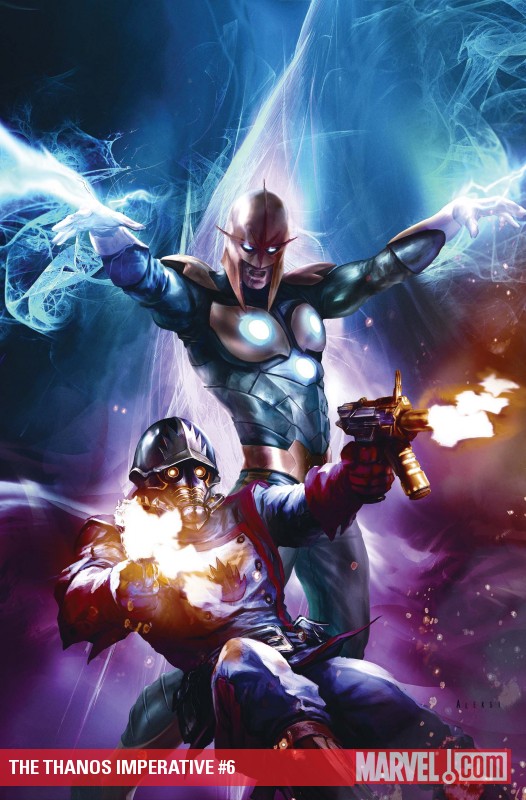 so ends an excellent mini-series/event comic, as Thanos betrays our heroes in the Cancerverse, and lots of major things happen.  Not everyone makes it home, and my hopes for the return of either the Nova or Guardians of the Galaxy titles get dashed for reasons I won't go into.  Fantastic writing and art, great characters, and a story that actually ends (well, after the epilogue issue that's coming out).  I wish more Marvel events were like this.
Thor #617 – Loki's back already?  What was the point of killing him in the first place?  And isn't it more likely that Thor, if he has the power to bring Asgardians back from the dead, would bring back Odin first?  Since when does he even like Loki that much?  It's all too forced for me.  I like the Iron Man cameo and the Pascual Ferry artwork, but Fraction is not impressing with this title, especially at $3.99.
T.H.U.N.D.E.R. Agents #1 – I've never read any of the earlier incarnations of this title, but I like Nick Spencer and Cafu individually, and thought they did a fine job of putting together this comic.  The beginning isn't very clear, but by the end of the first issue, the reader has a good idea of what's going on.  This series seems to be a bit of a mix of the Suicide Squad, Fraction's The Order, and GI Joe (so far as Spider reminds me of Cobra).  Even though there's a lot of exposition and set up in this issue, I think we need to give it one or two more before making any final judgement.  I do wonder why DC thinks this will succeed where the Red Circle books failed…
Welcome to Tranquility:  One Foot in the Grave #5 – Th
is is a great issue, as the characters regroup and recover a little from Derek's attacks of the last couple of issues.  We get to know the secret history between Derek and Thomasina (it's way more involved than I would have ever expected), and Seresa gets a supernatural offer.  I love that Simone is still setting up character arcs that would have to be addressed in a new series; it gives me hope that there will be more Tranquility to come…
Comics I Would Have Bought if They Weren't $4:
Ant-Man and the Wasp #1
Captain America Forever Allies #4
GI Joe Origins #21 – David Lapham and Werther Dell Edera?  How long has this been going on?
I Am An Avenger #3 (would have been bought if the Stingray story was longer)
Invaders Now! #3
Iron Man The Rapture #1
Mighty Crusaders #5
Shadowland Daughters of the Shadow #3
Ultimate Comics Thor #2
Victorian Undead II: Sherlock Holmes Vs. Dracula #1
Bargain Comics:
Taskmaster #1 & 2 – Christos
Gage did some terrific work with this character in Avengers: The Initiative, investing a lot of personality into what has always been a C-List villain.  Now, with this new mini-series, Fred Van Lente pretty much erases that work by retconning the character into someone with the type of on-going memory issues that Oliver Sacks would write a book about.  I'd be annoyed, except I like the way this series is going.  In Van Lente's hands, the Taskmaster can't remember much of anything, relying on complex mnemonic devices and muscle memory.  When a bounty is put on his head by The Org, a large number of bizarre organizations come after him.  There are Marvel classics like Hydra, the Secret Empire, and Ultimatum, but there are also new groups made up of alien bikers and the like.  Parts of this book feel like they were written by Jason Aaron.  Palo's art is great as well.
Tomb of Terror #1 – I keep coming back to these black and white Marvel anthology one-shots despite the fact that they are only ever just okay.  But still, Man-Thing, Son of Satan, and Werewolf by Night?  Too tempting to pass up, even if Marvel did lie about the number of pages in the comic on the cover…
X-Men #4 – Oh no – Wolverine is a vampire now?  Doesn't that mean that all of his other appearances should reflect that?  Unless, of course, it's only going to be temporary.  Could that happen in comics?  Yawn…
The Week in Sets:
W
ritten by Luca Blengino
Art by Luca Erbetta and Fabio Bono
I've never read any Sam and Twitch comics before I too a chance at this mini-series which as recently been collected as a trade
.  I wasn't impressed by the characters when they first appeared in Spawn (around the same time that I decided I wasn't impressed by Spawn, and quickly dropped it).  The two runs by Bendis and Andreyko somehow stayed below my radar, and never caught my eye.
I picked up these four issues more or less on a whim, and I enjoyed them the same way I'm usually up for a competent police procedural on television.  There were the same loopy serial killers, bizarre coincidences, and malcontent cops that we have grown so used to on the small screen.  Basically, these two cops are on the trail of a serial killer who writes all over the bodies of his victims.  They are joined by a female graphologist, even though the alpha male cop (Sam) doesn't want her around, for reasons I don't fully understand.  Stuff happens, people die, the case gets solved.  Rinse, repeat.
The book is good though.  I think a lot of that can be attributed to the Italian sensibilities brought to it by its creative team.  There are no word balloons; instead, the typed and punctuated text floats above the characters, linked by faint white lines.  The words sometimes blend into the art, making them hard to read.  As well, there are places where it is easy to tell that the script has been translated from another language – the rhythms are off for English.
The art is very pretty though, and the story is serviceable (even if one of the title characters, Twitch, barely lifts a finger).  I don't know if I would buy this as a regular series, but I did enjoy it as a one-off kind of thing, and I'm thinking about tracking down the earlier two series (although it seems the Andreyko books were never collected).
The Week in Graphic Novels:
by M
att Kindt
I really enjoyed this graphic novel
.  Aside from a short in a Myspace Dark Horse Presents collection, I'd never read any of Kindt's work, although I have picked up a couple of his books since getting this one.  He has an unusual style for Vertigo – it's much more indie, although they are increasingly moving in that direction – and is a very good writer.
Revolver is about a man, Sam, who jumps, every night at 11:11, to a different world, where things are in bad shape.  In our world, Sam is a bit of a loser – he's stuck in a dead-end job at a magazine, working for a woman he hates.  His girlfriend works there too – she got him the job – and he hates her empty materialism as much as he hates his job.
In the other world, avian flu and terrorist attacks have crippled the United States.  Many people are dead or just missing, and Sam ends up working with his boss on a newsletter which they distribute freely to try to help people.  In this world, Sam has had to kill to protect himself and his new friend (who he still hates in the regular world).
In a very short time, it becomes clear that life in the other world has more value to Sam than his regular life does.  He learns things in the normal world, and then applies that knowledge to the ruined one.  It's interesting how closely they mirror one another, while being so vastly different.  Eventually, Sam learns that he is not the only person who can jump in this way, and the book becomes even more interesting.
Kindt uses different colour schemes to indicate what world we are in, and each page has a CNN-style news-ticker scrolling across the bottom.  This doesn't add much information, but we can quickly tell from the level of triviality in the stories which world we are in.  Statistics involving flu deaths or the destruction of Seattle?  Bad world.  Information about a mindless celebrity?  Ours.
Revolver raises some interesting questions about the value of our lives in our modern world, and is also a pretty gripping read.  Recommended.
Wr
itten by Peter Milligan
Art by Chris Bachalo and Mark Pennington
I loved Milligan and Bachalo's run on Shade, one of DC's titles that became a part of the Vertigo imprint at some point during its run, but I'd never picked up some of the earliest issues.  When I saw this trade for a good price, I figured it was a good chance to reacquaint myself with the book, and see what I'd missed.
Shade stands up pretty well, considering that it's twenty years old.  In this book, Milligan dusts off an old, bizarre Steve Ditko character, and bring him from his home dimension of Meta into modern-day (ie. early 90s) America.  Shade inhabits the body of Troy Grenzer, a serial killer who was set to be executed in Texas when Shade shows up.  He ends up traveling with Kathy George, the woman whose parents were Grenzer's last victims, as they follow the trail of the American Scream, an infestation of madness from the zone between Meta and Earth.
It's weird, but that's the point really.  There is a cool two-parter which has Shade dealing with the legacy of JFK's assassination, and another where the American Scream infests Hollywood, and the line is blurred between fact and movie fiction.
The plot is kept moving at a brisk pace, and there is a good chunk of exposition that modernizes Shade's back story.  The real draw of the book is the relationship between Shade and Kathy.  Here we have the body of the man that murdered her parents and ruined her life, but its inhabited by someone whose inherent goodness has attracted her.  She's pretty conflicted, and Milligan later builds on this to make her one of my favourite comics characters of all time.  Sadly, the other supporting character that I loved, Lenny, doesn't appear in this volume.
It's interesting to look at early Chris Bachalo work.  You can see the seeds of the superstar artist he has become today, and I would love to see him go back and draw some of these stories using his current style.  The books are pretty psychedelic, and it would look great.  I also like that the individual covers, by Brendan McCarthy, are included in the trade.
Now I want to dig out all my back issues and read through this series again.  Pick this up.
Album of the Week: