Hotties 'n' Notties: Kaitlyn, Maryse & Justin Roberts.
|
Who was hot and who was not this week in wrestling?
However, this isn't your usual "who did good and who did bad" style column. No, this is the literal look at who's hot, who's not and who wore what this week.
Sorry about the brief hiatus of hotties 'n' notties – I've had major events going on over the last couple of weeks and haven't had time to sit down and write this column but now I'm back and I promise I won't leave again – well unless I have to go into hospital or put under strict rules to write my essay by my dad.
Last editions's winner of the 'who is your hottie of the week' poll with 54% was the ever extraordinary SoCal Val.
The winners of the 'who is your nottie of the week' poll tying in first place were Michelle McCool and Maxine – next time McCool try and be more recent and Maxine well, there won't be a next time for you.
Numuro uno hottie of the week goes to NXT's Kaitlyn.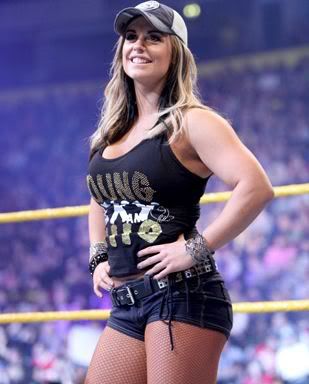 *wolf whistles* Kaitlyn you hot little tamale you! The NXT rookie is ticking all the hottie boxes here – tousled hair, curvy body, great arms and most importantly a good sense of style.
Let's start from the top, yes baseball/trucker hats are disgustingly passé and very few women in the world can pull them off in both a stylish and sexy way (no, not even you Victoria Beckham) but Kaitlyn somehow makes the cap look goood – perhaps its her come-hither arousing tomboy demeanour she radiates?
The slogan top is bang on trend at the minute (albeit a not so ultra tight version – think baggy and carefree over skinny jeans) and it clings on to her curves amazingly well.  The piled on built up bracelets on both arms screams chic street style and those denim short-shorts are any girls key wardrobe staple.
I may even let her off for wearing the god-awful fishnet tights as I think I have fallen slightly in love with her.
Second prize goes to Mae Young.

I love EVERYTHING about Mae Young's incredibly OTM look here. The art deco vintage oversized sequin adorned jacket is to die for!  I need it in my wardrobe ASAP. Her form-fitting lycra leotard is what I desire in a onesie with so on trend it hurts clashing polka-dot and dog-toothed panels.
The matching monochrome boots are the epitome of class when it comes to wrestling and her up-do sandy perm, well I may question my hairdresser tomorrow how I would go about achieving such a chic style.
I would wear this outfit in an instant – with a pair of skinnies of course, I can't be getting my legs out in -5 degrees weather.
Maryse is my inbetweener  choice this week.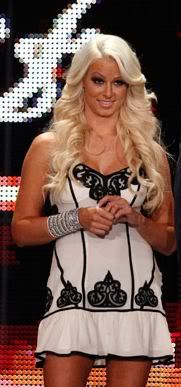 Oh, Maryse – did your mother never tell you that it's extremely bad luck to wear white to a wedding? (perhaps that's why it all went a bit pear-shaped) but more importantly didn't your mother tell you that you should wear more then a piece of lingerie to a wedding?
Miss Maryse, the underwear as outerwear trend is officially out of style and this corseted, frilled hot mess of an outfit is as old fashioned as a pair of bootcut jeans. Plus, my love you shouldn't be wearing such a bright garish colour against that deeply orange skin of yours as well, it looks slightly chav-ish.
But my lovely, you are ever so sexy and do wear impeccable diamond jewellery. Also that hair, well I adore it ever so much – all I want in life is long, luscious, bleach blonde hair (instead of the ginger mess I am currently sporting) so Maryse I shall let you off (again) – but this is your final warning!
Big show is the first nottie of the week.
Now, Big Show I totally understand what you are trying to achieve with this look and it is a spot-on carbon copy of Pee-wee Hermans iconic suit but oh boy, what a triumphant disaster you have managed to turn it in to.
First thing first, why oh why is nothing ironed?! Couldn't you of got on of the little minions backstage to get those unfortunate creases out? They have turned what could have been a smart and stylish suit into something that even a hobo wouldn't be seen dead in (well the local one in my town centre wouldn't – he is the fashion savvy type.)
Plus, what is with the unruly, lopsided bow tie? Its not exactly difficult to clips two pieces together – or maybe it is when your hands are the size of a small dog a la Big Shows'.
Last place as the most not hot person of the week goes to Justin Roberts.
Why Justin Roberts, WHY? Yes, it was old school RAW and yes I can see where you are trying to go with this look, but sometimes you should just say NO!
Did WWE threaten to fire the ring announcer if he refused to wear this outfit as that must be the only reason to why you would agree to wear this sick-inducing, ill fitting, powder blue 'sharp' suit? And that shirt! Oh boy, well yes frills are fabulous but only for girls, definitely not for men and they definitely DEFINITELY should never ever belong on a button down shirt.
However, I do love the windswept hair though, perhaps its time to grow out the shaved back and sides look Justin as you do look impeccably handsome with a longer do.
Please vote in the poll below on your numuro uno hottie and not hot nottie of the week:
http://micropoll.com/t/KDwQ9ZBev8 – hottie.
http://micropoll.com/t/KDwQ9ZBev9 -nottie.
Also if you see any hotties or notties this week in wrestling or have a vintage pick you would like to see featured in the column please just leave a comment below.
Tags: big show, chantal, hotties, Hotties 'n' Notties, justin roberts, Kaitlyn, Mae Young, Maryse, maxine, michelle mccool, notties, NXT, old school raw, Raw, SoCal Val, Vladimir Kozlov, WWE