Who was hot and who was not this week in wrestling?

However, this isn't your usual "who did good and who did bad" style column. No, this is the literal look at who's hot, who's not and who wore what this week.
Last week's winner of the 'who is your hottie of the week' poll with just one vote between first and second place was *drum roll please* Kaitlyn – hopefully now that she has won NXT we can see a hell of a lot more of her in the near future.
The winner of the 'who is your nottie of week' poll with 50% of the final vote was Mae Young –awww, poor woman – would you tell your grandma she is a nottie?
Numero Uno hottie of the week is Maryse.
The sexiest of sexy (her words not mine – although I've got to agree) has more than made up for the serious fashion faux pas that she committed last week. At Survivor Series the former Divas Champion escorted Ted Dibiase to the ring in this seriously sizzling hot haute couture outfit.
The cropped fantasy fur jacket is easily this season's biggest fashion trend – anyone who is anyone has been sporting this to die for look from the ever stylish Diane Kruger to everybody's favourite piece of trash Jordan Katie Price-Reid.
The extraordinarily short micro mini dress is incredibly curve hugging and it shows off Maryse's  bests bits but still covers up enough to leave us wanting more. The classic pearl earrings add an elegant touch and those off-white 5" stilettos match perfectly with the earthy colours of the dress.
Congrats Maurice (as CM Punk would say) you are truly WWE's most fashionable Diva (although TBH it isn't that hard.)
Second prize goes to Natalya.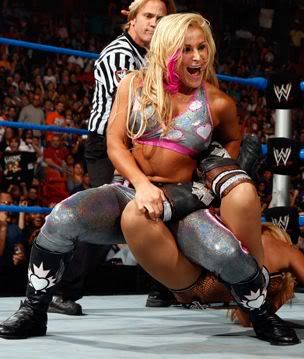 My, my, my Delilah Natalya you do get sexier each and every single week and this week you have definitely tipped the hottie scales.
This newly designed attire of Natalya's is my very own divas dream. First and foremost she wears a pair of tights! (and ya'll know how much I adore wrestling tights) and secondly the form fitting cropped top pairs up perfectly.
But what I love most about the Divas Champion are those exceedingly OTM lace panels, Topshop need to start designing trousers (hearts included) like this so I can snap up a pair immediately – although I would swap the shiny silver for a blue denim as spandex wouldn't really match with my aviator jacket.
Beth Phoenix is my inbetweener choice this week.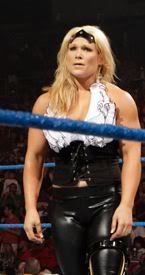 Now, everybody who knows me – wrestling fan or not – knows that I am in love with Beth Phoenix. She is my desktop background, all over my facebook and I even beg the editor to change my byline in the newspaper to Chantal Phoenix (she refuses to though GRR.)
So when the 3-time Womans Champion came storming down the ramp at Survivor Series I cried a bucketful of tears as I was so unbelievably happy but when I noticed what she was wearing my smile soon turned into a grimace.
Oh dear god, what was she thinking when she pulled on that disgusting laced-up, ruffled, two sizes too-small mess of a top. Ruffles should only belong on a pair of knickers and never ever anything else!
But her extra super-tight wet look leggings (even if they are so last season) more than make up for it – phrrrooowwww.
First nottie of the week is Raven.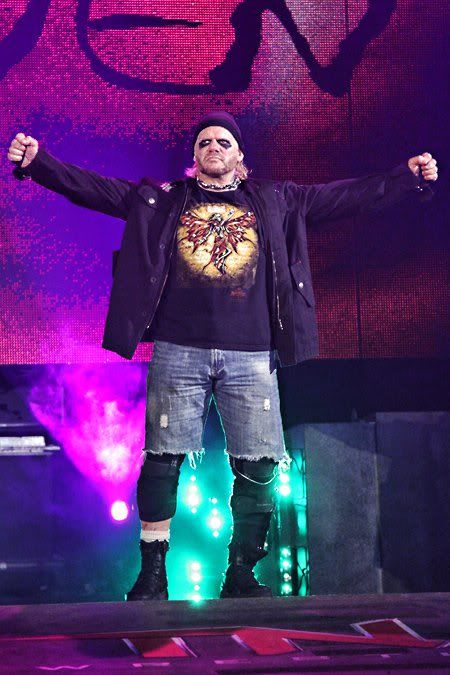 Dear Raven,
1994 called and it wants its grunge look back ASAP.
Yes, I do adore retro clothing and my wardrobe is filled with pieces from the 1940's onwards but even I the vintage queen wouldn't dare step back into the mid-nineties and try out this hot mess of a look.
Now, I do have a sickeningly large amount of jean shorts and I wear them with everything but Raven they need to be about a foot shorter to cross that line from passé to right now so it's time to get the wonderweb out and hem them up asap please.
Everytime I glance at that eye-damaging t-shirt I feel a bit sick in the mouth and the silver chain necklace isn't helping either.
Plus, who wears sprayed-on-esque beanie hats nowadays? NOBODY! – It's all about the slouch.
In last place as my most not-hot person is Jeff Hardy.
*sigh* Jeff Hardy – what the heck has happened to you? It seems that TNA has led you to minor obesity and major ugliness!
I have no idea where to start when it comes to this, so let's go with the purple nails – erm why? It's barely passable for 'Dashing' Cody Rhodes to slick on a bit of clear nail varnish so anything else on anybody else is a big fat NO!
Now, it might just be me but men should never ever wear vests (i'm looking at you especially Matt Cardle) and they defiantly shouldn't wear them when they have a bit of a beer belly.
Plus Jeff, I think it's time to leave the dire stocking arm whatchacallit things at home as they do just look plain dumb.
The less said about the TNA Heavywight Divas belt the better – that is far too much of a mindf*** right now to go into.
Please vote in the poll below on your numuro uno hottie and not hot nottie of the week:
http://micropoll.com/t/KDwQ9ZBhjq -hottie.
http://micropoll.com/t/KDwQ9ZBhjr -nottie.
Also if you see any hotties or notties this week in wrestling or have a vintage pick you would like to see featured in the column please just leave a comment below.