Who was hot and who was not this week in wrestling?

However, this isn't your usual "who did good and who did bad" style column. No, this is the literal look at who's hot, who's not and who wore what this week.
Last week's winner of the 'who is your hottie of the week' poll with over 2/3 of the final vote was *drum roll please* Maryse of course! – she truly is the sexiest of the sexy.
The winner of the 'who is your nottie of week' poll with 75% was Jeff Hardy. Come on boy, shape-up, lose the vest and perhaps you can top the hottie list one day.
Numero Uno hottie of the week is Miss USA – Rima Fakih

Now, yes of course she is a bona fide hottie she is Miss USA for goodness sake and she isn't a wrestler so she shouldn't really appear on my Hottie 'n' Nottie list per se. However, when she strutted down to the ring I knew that she would definitely top the hottie scale this week if only for those shoes.
I'm not usually a shoe kind of girl (I am obsessed with bags though) and I live my life in brogues and ankle boots (and for the past week a pair of wellington boots – stupid snow) but as soon as I spied these sparkly wonders on Rima Fakih feet I fell in love. I'm off to buy some sequins later on to try and super glue them down to a pair of old wedges so I can have a pair of my own.
The rest of her outfit is kind of a mess – the top half consists of so much bling that I'm surprised she can stand up straight and the skirt well that just confuses the hell out of me. But the glittering tiara more than makes up for the clothing choice – why don't I have one yet?! *writes tiara down on Christmas list.*
Second prize goes to Maryse
So this is the third week in a row Miss Maryse has appeared on Hotties 'n' Notties – some amazingly good and some not so good but this week she has blown me away. The former Divas champ's wrestling attire is normally either a major hit or a full blown miss but this time she has gone all out and I now idolise her.
With the party season coming up what more could you wish to see in an outfit then a ton of sequins. The sequin hot pants are this season's hottest commodity – I see girls nipping, biting and scratching each other in Topshop to buy a pair and I'm off this afternoon to try and secure a version for myself – I'm going for Primarks best though as I have zero monies. The sparkling boot covers are a work of art in itself and the adorned top was seen all over the Balmain catwalk.
The only downfall of this whole look is the length of that jacket. Chop off the excess at the back and make it into a cropped jacket and ta-da Maryse you will appear at the top of this year's fashionista league.
Sheamus is my inbetweener choice this week.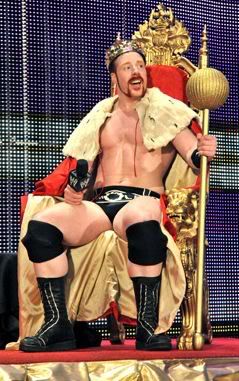 Ah, I've always had a soft spot for Sheamus ever since I spotted him on the FCW roster page. Maybe it's the extra pale skin which I adore or the extremely ginger hair which I crave for or perhaps it's the always a sure turn-on Irish accent? So with all three combined the former WWE champion is one definite hunk of a man.
So this week after winning the KOTR tournament and he was adorned in this splendiferous cape – this season's biggest surprise fashion hit – I knew that he was my man of the moment (yes Cody it's time to step down for while.) However, the reason why he features so low this week is for that sceptre and crown.
Are WWE so poor right now that they have to buy the cheap ass plastic KOTR crown from Toys R Us? And that sceptre, well it looks like a five-year-old took beach ball, popped it on top of a broom handle and sprayed painted it gold – tut, tut, tut even I could do a better job than that and I failed art at school.
First nottie of the week is The Miz
Now I'm all for checked blazers – I own like 5, they are one of my many fashion obsessions – and this little number the WWE champ is sporting is something that I would love to pop in my wardrobe. But hell to the no, why oh why has he paired what could be a true fashion statement up with a pair of matching trousers!
First and foremost I'm ashamed of you Mr Mike Mizanin for thinking this hot mess would be acceptable to wear in public and secondly I'm blaming the so called 'designer' for thinking of this monstrosity in the first place!
Plus what is with the hooded jumper, what's that all about? Just bring an umbrella if you're scared it might rain.
The one thing I will praise The Miz on is the unbuttoned shirt – now normally I hate an undone collar as I think shirts simply look a lot better done up to the top but he makes this look gooood and I wouldn't mind undoing a few more if you catch my drift ;).
In last place as my most not-hot person is Tamina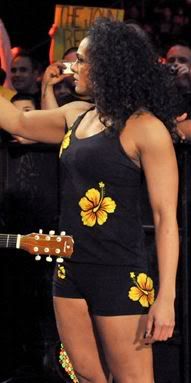 Just when I thought Taminas wrestling attire choices couldn't get worse she goes and does it again. I didn't think anything could top the whole lace leotard, bootcut jeans look but then out she comes in this quite frankly embarrassing vest top and shorts combo.
Yes florals are amazing and will remain in fashion forever but surely only god knows how Miss.Snuka can make them look incredibly early 00's (i.e fashions worst period.)
Plus we all know Tamina has a slammin' body as evident in that killer red dress she serenaded Santino in a few weeks back so where have those gorgeous curves disappeared too?!
I think it's time for a Chantal makeover – don't worry Tamina I will be over there as soon as my next student loan comes through armed with reams of fabric (including a lot of animal print a la your father), my sewing machine and some hair relaxer as it's all going a bit wild up there.
Please vote in the poll below on your numuro uno hottie and not hot nottie of the week:
http://micropoll.com/t/KDwQ9ZBiQW – hottie.
http://micropoll.com/t/KDwQ9ZBiQa – nottie.
Also if you see any hotties or notties this week in wrestling or have a vintage pick you would like to see featured in the column please just leave a comment below.