Who was hot and who was not this week in wrestling?
However, this isn't your usual "who did good and who did bad" style column. No, this is the literal look at who's hot, who's not and who wore what this week.
Last week's winner of the 'who is your hottie of the week' poll with 62% of the final vote was *drum roll please* – Winter! See natural beauty always radiates through and comes out on top.
The winner of the 'who is your nottie of week' poll with over 2/3 of the final vote were The Bella Twins – come on girls, please tell me that one of your 2011 New Years Resolutions is to learn how to dress better.
This week's edition is an end of year Hotties 'n' Notties special – who was the hottest of the hot, who didn't quite do it properly and those pesky not hot notties of the year. Read on and see if you agree with my choices and please leave a comment with your picks of the year.
The ultimate hottie of the year is SoCal Val.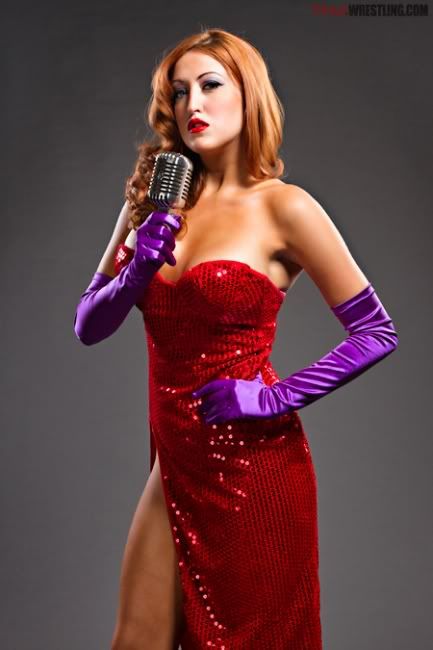 PHROW! – wow SoCal you are one helluva a sexy vixen. This Halloween the TNA valet treated us to a stunningly immaculate photoshoot.
The red curve clenching sequin dress fits Val like a glove and that almighty thigh high split leaves me wanting more. The flawless red hair is coifed to perfection and those big pouty heart shaped red lips are to die for – where can I get me some like that?
She may perhaps be the only woman in the world who can actually stand up to Jessica Rabbit in terms of overall sex appeal (yes, I know Jessica Rabbit is a cartoon character – but come on you would, wouldn't you?)
Second prize goes to Layla.
WOW Layla, you hot little cop you! I bet a few of you readers out there wouldn't mind the former Divas champ handcuffing them to the bedposts.
The teeny-tiny, sexy outfit is mega curve hugging to her pretty much perfect body and the PVC buckled corset toughens up the otherwise plain outfit plus those Avaitor glasses are next Spring/Summers hottest accessory.
Now, I know the hat is part of the whole Policewoman outfit but Victoria Beckham has been sporting one recently and Mrs Beckham is the ultimate style icon. And considering this shoot is from a few years ago, well, that just makes Layla all the more amazing.
On another note though, why has she got a riding crop? – she doesn't look like she will be mounting a horse anytime soon in that outfit.
Zombie hot Daffney is in third place.
Erm WOW much? The zombie hot knockout brings her sexiness to a whole new level in this photoshoot. Daffney looks absolutely stunning, yes her usual Goth make-up is part of her character and yes she does look good but with this sultry smokey eyes and red hot lipstick she looks like a totally different and totally hot.
The pinned-up hair show off her beautiful face and micro-mini leather dress shows off her curves exceptionally well. And, yes I will let her for wearing those fishnets *even if they are one of my pet hates* as they go with her outfit – although stockings would've been a good choice too.
I just hope that next time I'm in hospital Nurse Daffney will come and take my temperature.
Notable mentions go to: Maria, Maryse, Velvet Sky, Christy Hemme, Lacey Von Erich, Kaitlyn, Natalya, Taylor Wilde, Miss Teschmacher, Serena, 'Dashing' Cody Rhodes, Ric Flair, RVD, Wade Barrett and Desmond Wolfe & Chelsea.
Laycool are my first 'tweener choice of the year.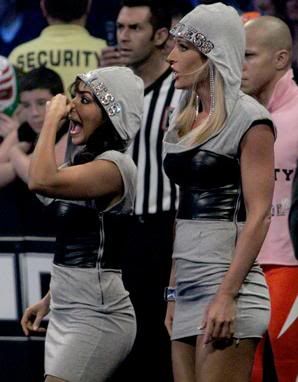 Why can't some of the WWE Divas ever choose appropriate clothing? Is it in their contracts or something? "I __________ will become a WWE Diva but only if I can wear butt-ugly clothes."
Because this week Laycool seem to think that dressing up in a hybrid chav/dominatrix/sportswear way looks good. How else could you describe the god-awful Kim Kardashian designed (that explains it all) embellished hoodie, random black leather corset and jersey material uber mini dress? (btw Michelle please put it away 'Taker wouldn't be happy to see you with your ass hanging out.)
Come on girls, normally you two do look 'simply flawless' but this was a great big NO-NO. Also, stop with the same exact clothing, you are 30-odd year old women not 5-year-old twin girls.
However, they both have killer bodys. Yes, McCool might be a bit on skinny side – okay, the really skinny side – but she could easily be walking the catwalks of Milan. While Layla's body is just perfect: cute and petite yet curvy with a beautiful shape.
Cookie & Robbie E aka SHORE receive the silver medal.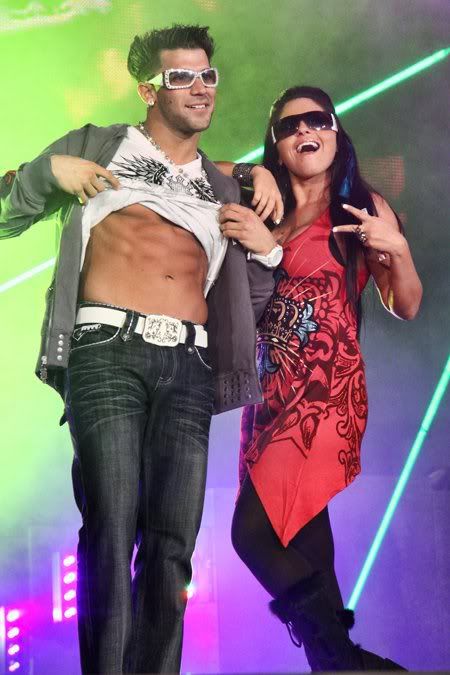 Now, I have never watched Jersey Shore and I don't intend to watch it anytime soon but if this is what they all look like then I never ever EVER want to watch it – even if a Dr said to me "Hey, Chantal, I'll cure your diabetes if you watch Jersey Shore" – I would be like "nop, i'll stick to injecting myself 5 times a day thank you."
If there is one thing I hate fashion wise more than bootcut jeans and fUgg boots its Ed freaking Hardy and this couple are a walking advert for the tacky designer. Yes, I know they have to dress like this but sometimes people should just refuse as it only causes embarrassment.
But without all the slap and fashion faux paus we all know Becky Bayless is absolutely stunning, so hopefully we get to see more of true self in the future rather then this Snooki (I only know her name because she is plastered all over my trashy celeb magazines) rip off.
And for Robbie E, well let's just stare at his fit body for now.
Notable mentions go to: Eric Young, Sheamus, Jillian, Drew McIntyre, The Pope" D'angelo Dinero, Jamie Keyes, Tara, Sarita, and Tiffany.
First Nottie of the year goes to John Morrison.
Oh, how I am embarrassed to admit that I used to have the most mega-crush on the former Intercontinental Champ  – albeit it was the days of when he used to have charisma and knew how to talk on the mic.
Even though he is still kinda hot – what with his fine abs that he can grate cheese on and the long flowing hair his unfortunate clothing choices far outweigh the positives.
Either he came in fancy dress as a 1970's reject or he got made to wear the atrocious outfit as a dare because nobody of their own judgement would think "hey this looks good."
The far –too short bootcut matte black jeans and the peach coloured heart embezzled shirt make the Shaman of Sexy look more like the Shaman of FUG.
Dixie Carter barely escapes the bottom
Oh remember those days, well years where Dixie Carter never ever appeared on camera and she was simply a mysterious figure but now all of a sudden for no reason at all she comes out to the ring with her own bloody entrance theme and video!
But oh no, that wasn't the most embarrassing thing about her appearance, this dreadful outfit choice was one of the most laugh out loud moments regarding TNA this year.
Let's start with her upper half. The overly shiny material – which should belong on an apron not a top – mixed with the terribly outdated sleeve length and that hypnotic black and white circular pattern simply makes me feel a bit sick in the mouth.
Paired up with bootcut jeans – oh my, how I hate bootcut jeans, whenever I see somebody wearing them I just want to burn the jeans; with the person still in them. And yes, I know she is wearing boots so figuratively they do make sense but stiletto heeled black pointed boots are one of the biggest no-no's in my book so the bottom half of the TNA president makes me really REALLY ANGRY! AARRRGHHH. She has nice hair though.
The ultimate nottie of the year is Orlando Jordan.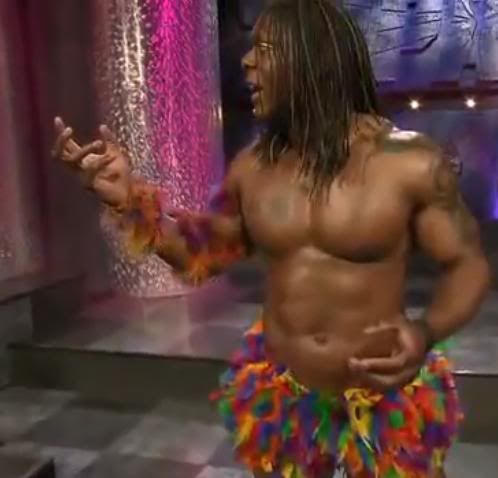 First it was the unfortunate chaps and 'cream' incident, then the whole GaGa-esque tape craziness. Oh and who can forget those ultra tight silver pants (I wish I could), the Hooters outfit and those stick-on stars. But this feathery hot mess has trumped them all.
Orlando Jordan seems to think it's appropriate to bundle some multicoloured feathers together and make a micro mini skirt out of them. Then in addition to that make some sort of high fashion cuff, and don't forget he had some crazy craft-store feathers around just the one boot as well.
I do like the fact that he goes for something different but still there is no need to go around looking like a multicoloured pornographic version of big bird. This certainly wasn't 'delicious.'
Notable mentions go to: Michelle McCool, Tamina, Justin Roberts, The Bella Twins, Jeff Hardy, Johnny Knoxville, Generation Me, Raven, Melina, JTG, Roxxi and Scott Hall,
Please vote in the poll below on who was your ultimate hottie and nottie of the year:
http://micropoll.com/t/KDwQ9ZBsUL – hottie.
http://micropoll.com/t/KDwQ9ZBsUM – nottie.
If you see any hotties or notties this week in wrestling or have a vintage pick you would like to see featured in the column please just leave a comment below.
Thank you for reading and joining in with this column throughout the year and I hope 2011 brings you everything you want and more! :).