Hotties 'n' Notties: Dolph Ziggler, Tara & Natalya.
|
I'm baaaccckk. Sorry about the extra long hiatus but my crazy module leaders decided that EVERYTHING important for the final mark of my WHOLE degree had to be handed in during January. Yes, I should have started everything in October when we were told too but hey I'm not a dork and I like leaving things to the very last minute (adds pressure that way.) But now that my 3 5000 word essays, 2 presentations and 1 exam are all out of the way I can get back down to deciding the hard decision of deciding of who are my hotties and notties of the week.
Who was hot and who was not this week in wrestling?

However, this isn't your usual "who did good and who did bad" style column. No, this is the literal look at who's hot, who's not and who wore what this week.
The winner of the 'who is your hottie of the year' poll with just one vote separating her from three others was *drum roll please* Layla! Congrats you little hottie, please make this year another year to remember.
The winners of the 'who is your nottie of year' poll tying in first place were… Orlando Jordan and Robbie E.
Numero Uno hotties of the week are Dolph Ziggler and Vickie Guerrero.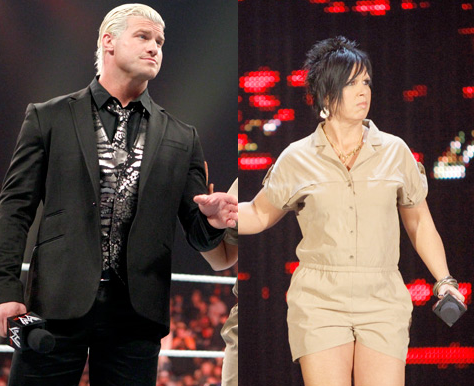 WWE's newest power couple – Ted Dibiase and Maryse who? – Dolph Ziggler and Vickie Guerrero (can anybody think of a good Brangelina-esque name for them? – if so please leave a comment) were hotness personified during this week's edition of RAW.
Vickie is showing off those beautiful legs in this outfit I only hope I can have her cellulite-free shapely legs when I reach her age. The safari playsuit is so unbelievably on trend it hurts. If you want to be top of the fashion league this summer make sure you pick up a similar piece and team it up with minimal yet stand out accessories like Smackdown's General Manager has done here.
Dolph on the other hand also looks immaculate. I love me a platinum bleach haired boy (well to be precise only Draco and Lucius Malfoy) even if his locks do sometimes resemble a pack of instant noodles. The classic black blazer is tailored beautifully and the eye popping matching waistcoat/vest and tie are all kinds of amazing (I need that shiny silver waistcoat PRONTO!)
Second prize goes to Natalya.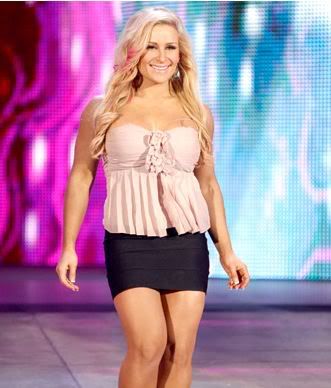 Oh Natalya, you beautiful women you. The former Divas Champ (yes I shed a tear when she lost the Butterfly belt) looked absolutely stunning on RAW this week. The fabulous fashionista – who has now made it cool to shout out 'settle your tea kettle' at annoying people – brought it up a notch when she came out for special guest commentary in this hot little outfit.
Nudes were massive last year, they will be even bigger this year and thanks to my personal God Karl Lagerfeld – who sent blush and rose tones down the catwalk during his Paris Haute Couture Chanel show – nude tones will be huge for many seasons to come.
The strapless pleated nude number screams Spring/Summer 2011 and shows off just enough to keep us wanting more. The black bodycon skirt is a MUST have in any girls wardrobe as it goes with everything you own from slogan T-shirts to camel blouses to lace bodies (I myself own three different versions of the classic wardrobe staple – I really must stop buying new clothes several times a week.)
Chisty Hemme is my inbetweener choice this week.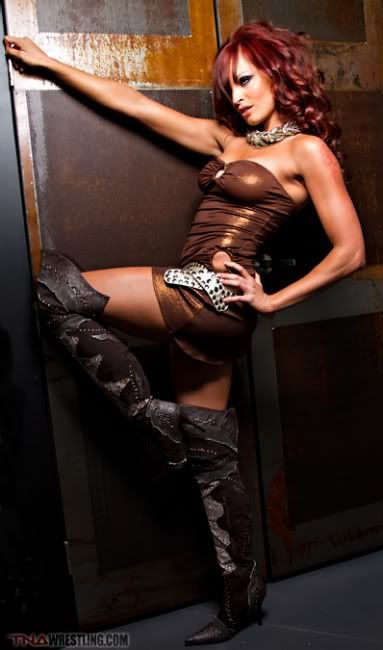 Christy, Christy, Christy. What am I going to do with you? Yes she is incredibly gorgeous and if I were to look up sexy in the dictionary her picture would appear – well after Maria's and Lacey Von Erich's. But this is a definite case of when bad bad BAD clothes happen to good people (aka the Jayne Rice syndrome named after one of my BFFs who thinks it's okay to wear bootcut trousers with fUgg boots – I refused to walk with her around town.)
Let's start from the bottom. Now I do like the over-the-knee boots, they are the kind of crazy thing I would pick up in a charity shop then wear to death. However, I would have to chop off the skinny stiletto heel and about an inch of those dreadful points to make them look good. The belt needs to go back to 2001 asap and the brown lyrca thing, well that needs to be burnt asap so nobody has to see it ever again.
I do love the heavy multi-chained rope necklace and of course beautiful her red mane so this time I will let her off for that disastrous dress.
First nottie of the week is Tara.
Tut, tut, tut Tara – I have let you off a million times for your various fashion mishaps but this time you have gone a step too far. I never understand some of the knockouts 'street' outfits – why was Tara just wondering around backstage in this in the first place? Either she was tanning just her top half in the middle of winter (unlikely story) or she thinks it is acceptable to go around the place in a let's come out and say it – a rather unflattering bikini top.
Now my fashion bible Cosmopolition is telling me Skulls are a must have accessory adornment this season but I refuse to believe them. Skulls should remain on the belts of 14-year-old goth girls not 40-year-old Knockouts.
The jeans are okay I guess (I wouldn't be seen dead in them) but I suppose straight-legs jeans are the best a girl can dream of when it comes to denim in wrestling.
In last place as my most not-hot person is Matt Hardy.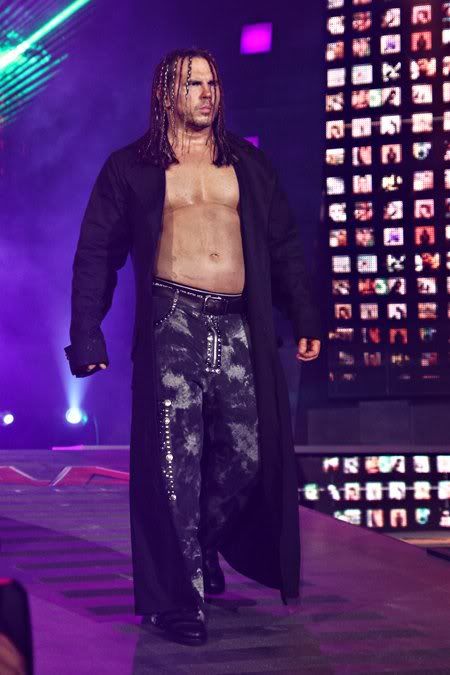 Now I won't say what we all thought when Matt Hardy debuted at TNA: Genesis, but let's just say, it is now obvious he was lying all the time on twitter when he said he was the 'gym.'
Instead I shall focus on everything else that was wrong with him and by golly it was EVERYTHING.
The braids, oh no no NO! – Where the hell did he get the idea from in the first place?! Why all multicoloured strands?! Why did he think it looked good?! However, I will admit that I am jealous of how big his hair will of been when he un-braided them all.
The coat, well, come on who does he think in the long length black number? – Sting? The Undertaker? His BFF Edge? I'm just thankful he didn't go all out and wear a leather version.
And those trousers, well how long has he had them? – I think it's time to throw out the tie dye studded baggies and go for a whole new look please!
Please vote in the poll below on your numuro uno hottie and not hot nottie of the week:
http://micropoll.com/t/KDwQ9ZBugA -hottie.
http://micropoll.com/t/KDwQ9ZBugB -nottie.
If you see any hotties or notties this week in wrestling or have a vintage pick you would like to see featured in the column please just leave a comment below.
Tags: chantal, Christy Hemme, divas, Dolph Ziggler, hotties, Hotties 'n' Notties, Knockouts, Matt Hardy, Natalya, notties, Raw, Smackdown, Tara, TNA, tna genesis, tna impact, TNA Knockouts, Vickie Guerrero, WWE, WWE Divas, WWE RAW, WWE Smackdown