Hotties 'n' Notties: Miss Tessmacher, Eve & The New Nexus.
|
Who was hot and who was not this week in wrestling?
However, this isn't your usual "who did good and who did bad" style column. No, this is the literal look at who's hot, who's not and who wore what this week.
Last week's winner of the 'who is your hottie of the week' poll in an extremely tight race to the top, tying in first place were Dolph Ziggler and Natalya – could they potentially be WWE's hottest ever couple?
The winner of the 'who is your nottie of week' poll with 100% of the final vote was *drum roll please* – Matt Hardy – is anybody actually surprised by this?
Numero Uno hottie of the week is Miss Tessmacher.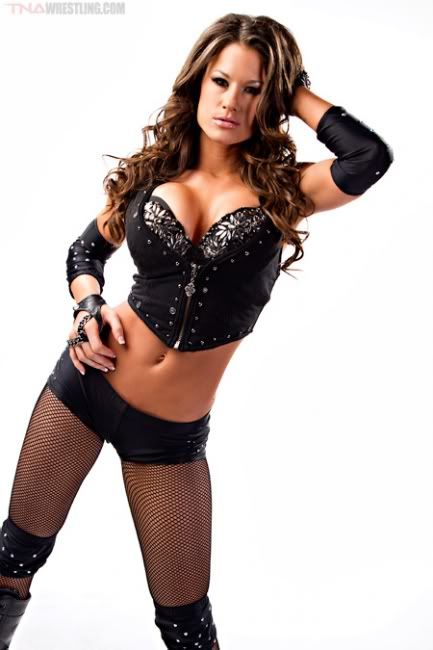 WOW Miss Tessmacher you might perhaps be the hottest hottie to ever grace the top of this column. Everything about the former Extreme Expose member is stunning. From her sexy bed-head tousled hair to her gloriously smoky eyes to those luscious lips. And of course THAT body to die for (although she may need to pop herself back in before something pops out.)
The peeking floral bralet adds a hint of girlyness to the otherwise tough rock chick outfit. The exposed zip corset moulds to her body effortlessly and ALL those studs are extraordinary (one of the biggest trends this Spring/Summer season are studs so hunt out your parents old punk leather jackets to top the fashionista league this year.)
Unfortunately, Miss T has and will be out for a while due to a broken jaw so let's just stare at her pictures until she makes her comeback.
Second prize goes to Madison Rayne.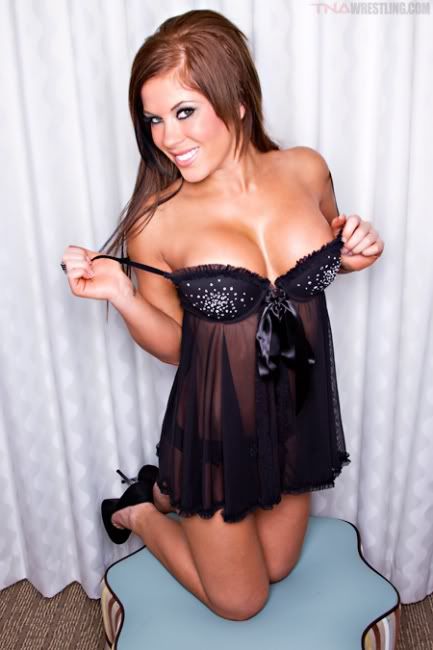 My, My, My Delilah Madison you have certainly pulled it out of the bag this time you little sex kitten you. The Knockouts Champion is certainly showing off her best assets here and definitely isn't afraid to do so. The baby doll lingerie is extremely stylish – everything from the frills to the satin bow to the sheer dress and it could easily be worn on a night out – it would be advisable to wear a lace body underneath and a pair of high-waisted skinnies though.
Miss Rayne is undoubtedly flirting with the camera through her come-to-bed eyes, mischievous smile and her very teasing body language ;). I've even started to warm to the brunette hair – as it is now full of depth rather than the incredibly wishy-washy colour it once was.
However Madison, next time try posing somewhere a bit more sexy i.e: on a rose petal scattered 4 poster bed or on a quilted chaise lounge rather than on a stripy stool please.
Eve is my inbetweener choice this week.
Now Eve is one of the most naturally beautiful Divas to ever step foot in WWE so when she appeared in full 42" HD glory I was shocked to see a face full of make-up that looked like it had been plastered on with a trowel. Yes it was Valentine's Day so it's the perfect time of year to slick on some red lipstick but perhaps it's a signal to turn it down a bit when you start to resemble The Joker.
Oh and Eve it's time to lose the do it yourself at home 'Believe' necklace and instead go for a cuter personalised option – perhaps a scrabble tile version? Or a Carrie-esque style one?
But the new Divas champion is astonishingly beautiful and perhaps the only person in the world who can pull such an eye damaging red and gold paint splattered attire. I do adore the scuffed gold wrestling boots though – I NEED a pair ASAP!
First notties of the week are The Bella Twins.
However hard those pesky Bella Twins try they never can get it right can they? and this my dearies is the be-all and end-all. Miss Bella on the left ALMOST pulls it off but isn't quite there yet. I do love the long sleeved studded dress but the extreme v-neck and intensely shiny fabric throws everything good about the dress out of the window, plus the skank face she is pulling looks as though she has just had about 5 injections of botox pumped into it.
And then we get to Miss Bella on the right in this red hot mess. Now I one to never shy away from sequins – they make up about  a tenth of my wardrobe – but this sequined little number should have never seen the light of day. Please learn that less is more because let's be honest she is basically showing off EVERYTHING (front and back) and it looks incredibly trashy.
Good shoe choices though, there is nothing I love more than a nude peep-toe heel and a classic patent black court.
In last place as my most not-hot people are The New Nexus.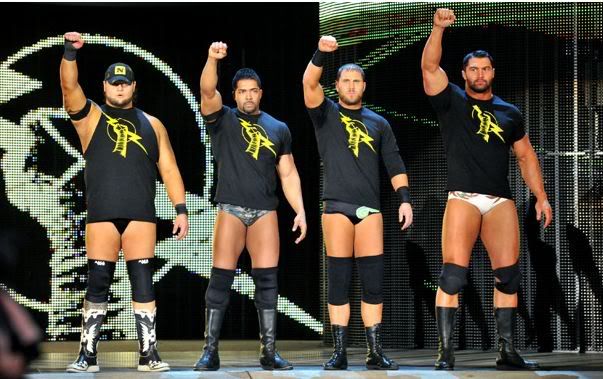 If there is one thing I despise more than fUgg boots, bootcut jeans and the Bella twins 'fashion' choices its unoriginal people. I HATE seeing large groups of girls in town who are all wearing the exact same outfit and this is exactly what the former New Nexus are doing here.
Why have they all gone for the same exact look? Yes it's understandable that they have to wear the same CM Punk inspired Nexus top but they all should took a leaf out of Husky Harris' book and style their T's in different ways according to their personality (or their lack of in most cases.) Otunga should bling his out and throw some sequins about like he does with his Nexus hoodie. Goliath Mason Ryan ought to turn his into a super tight muscle vest to show off his magnificent physique and McGillicutty could somehow make his T-shirt into a singlet à la his father.
Plus lads I think you all need to go up a size in the trunks department as I can basically make out EVERYTHING and I really don't want too.
Please vote in the poll below on your numuro uno hottie and not hot nottie of the week:
http://micropoll.com/t/KDwQ9ZBuzK – hottie.
http://micropoll.com/t/KDwQ9ZBuzL – nottie.
If you see any hotties or notties this week in wrestling or have a vintage pick you would like to see featured in the column please just leave a comment below.
Tags: Brie Bella, chantal, David Otunga, divas, Divas Champion, Eve, hotties, Hotties 'n' Notties, husky harris, Knockouts, madison rayne, mason ryan, michael mcgillicutty, miss tessmacher, nexus, Nikki Bella, notties, Raw, The Bella Twins, The New Nexus, The Nexus, TNA, tna impact, TNA Knockouts, TNA Knockouts Championship, WWE, WWE Divas, WWE Divas Championship, WWE RAW