Hotties 'n' Notties: Winter, Karen Jarrett & Melina.
|
Who was hot and who was not this week in wrestling?
However, this isn't your usual "who did good and who did bad" style column. No, this is the literal look at who's hot, who's not and who wore what this week.
Last week's winner of the 'who is your hottie of the week' poll with over 2/3 of the final vote was *drum roll please* Madison Rayne – congrats you little hottie.
The winner of the 'who is your nottie of week' poll with a whopping 83% of the vote were The Bella Twins – come on girls I think it's time to give yourselves a whole new hottie makeover.
On another note I spied with my little eye on this week's RAW that Mason Ryan had transformed his Nexus T-shirt into a muscle vest to show off his magnificent physique after advising him to do so on last week's edition of Hotties 'n' Notties. If only all the other notties paid attention to my well-to-do advice then the whole world would be a much better place.
Numero Uno hottie of the week is Katie Lea Burchill, Nikita, Winter.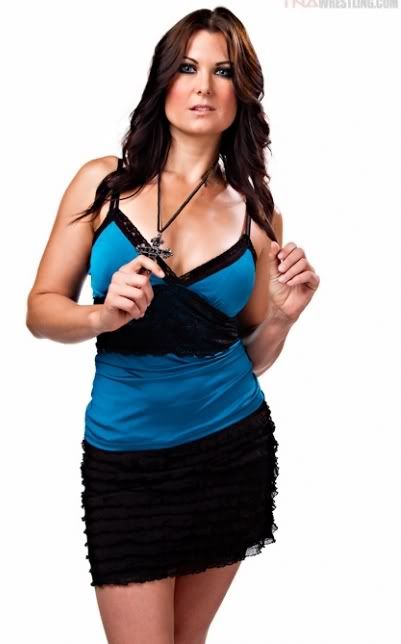 Miss Winter is a rare sight when it comes to the WWE & TNA Divas and Knockouts – she isn't the stereotypical big boobed, fake tan obsessed, ratty bleach blonde hair extensions lover. Instead she opts for an au naturel body, no orange streaks and free flowing brunette locks.
Her startling blue eyes pierce through you and the smokey-eyes make them stand out even more. Plus that beautiful jaw line and those cheekbones are so sharp they could cut a diamond.
The little black ruffled skirt is a must-have for any fashionistas wardrobe as they go with EVERYTHING and still keep a girly edge to any outfit. The blue vest top with the lace middle section nods to the underwear as outerwear trend and the oversized crucifix is something I have been looking for since forever so I am incredibly jealous of the TNA Knockout Tag Team Champion.
Second prize goes to Gail Kim.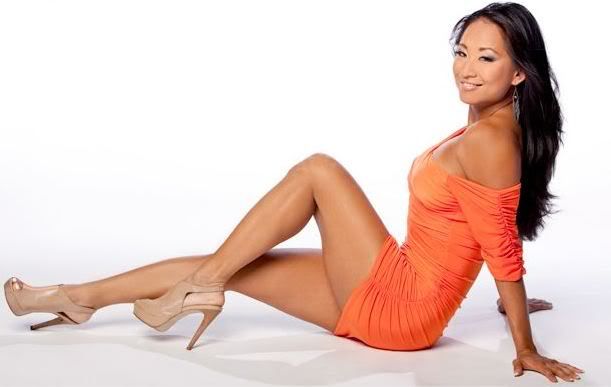 Now Gail Kim is one of those extremely rare Divas in that she is absolutely stunning AND an exceptionally good wrestler (unfortunately for some crazy unknown reason we hardly ever see that on WWE TV though GRR.)
The former WWE & TNA Woman's Champion is showing off her amazing legs (seriously though they deserve a special hotties mention for how shapely and toned they are) in this in this extremely mini, curve hugging, burnt sienna ruched dress.
Bryan Danielsons Daniel Bryan's love interest teams up her hot-to-trot outfit with simple make-up and hair as to not distract from the outfit but everything comes together in a naturally beautiful yet fantastically fierce way.
Plus her nude, peep-toe stiletto shoes boots are to-die-for and I need a pair ASAP as they would look perfection with my Saturday night outfit.
Karen Jarrett is my inbetweener choice this week.

This year's biggest trend which was on ALL the catwalks of Milan, Paris and London as well as ALL over the high street – so much so that you can't move for bell bottoms and platformed heel sandals in Topshop – is the sexy and sophisticated seventies look.
To the untrained eye you may think that the Karen Jarrett is ticking all the right boxes in her mini red dress complete with bang-on-trend billowing sleeves and OTT glittering boots. But unfortunately for the former Mrs. Angle there is an extremely fine line between being a fashionista and being a fashion victim.
It looks as though KJ was meant to be going to a seventies fancy dress party but instead took a wrong turn on the way and turned up at Against All Odds instead as that can be the only reason for this fashion disaster.
However, as much as I hate this woman as she is a plain old nasty piece of work I have to hand it to her that she is undoubtedly beautiful and I can only hope that in 17 years time when I will be the grand old age of 38 I can have one ounce of her beauty.
First nottie of the week is Melina.
It seems as though Melina picked up 1 metre of fugly leopard print material from a haberdashery store then decided to try and transform it into an even fuglier dress. There is a certain rule which all women should abide by when choosing an outfit – either to show off the back, the boobs or the legs and a women who has any class at all should never ever show off two let alone ALL three.
Yes leopard print is one of this seasons hottest trends but think of the classic print in tan and brown and not mixed in with blue and green splodges.
Plus those boots are perhaps one of the most minging pair of shoes I have ever seen in my whole life. I do love me a pair of suede knee high boots but whoever designed them deserve a good spanking for thinking they would look good in an horrible shade of brown with a heel only a hooker would be happy to wear.

In last place as my most not-hot person is Curt Hawkins.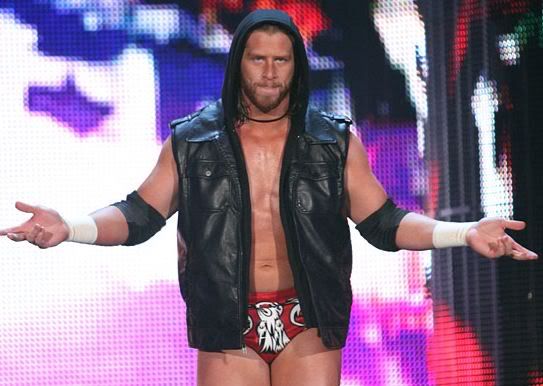 Ah Curt Hawkins – you are an actual hottie and I would definitely give you an up-and-down glance to check you out if you passed me in the street. However the reason you are my nottie choice this week is the fact that you have bowed down to the boss and now look like every other Superstar on the roster in those stereotypical red patterned trunks.
You used to be one of the good guys and certainly a unique specimen in the WWE as you didn't conform to the super tight trunks everybody else seems to be contracted to wear. Even if the former red pleather pants were extremely ugly at least they were different and you stood out amongst everyone else.
I do adore the hooded leather biker gillet though which is seriously on trend for any fashion focused male this season.
Please vote in the poll below on your numuro uno hottie and not hot nottie of the week:
event:http://micropoll.com/t/KDwQ9ZBvUK– hottie of the week.
http://micropoll.com/t/KDwQ9ZBvOb – nottie of the week.
If you see any hotties or notties this week in wrestling or have a vintage pick you would like to see featured in the column please just leave a comment below.
Tags: Brie Bella, chantal, curt hawkins, divas, Gail Kim, hotties, Hotties 'n' Notties, karen jarrett, Katie Lea Burchill, Knockouts, madison rayne, mason ryan, Melina, nexus, Nikki Bella, notties, Raw, Smackdown, superstars, The Bella Twins, TNA, tna against all odds, tna impact, TNA Knockouts, Winter, WWE, WWE Divas, WWE RAW, WWE Smackdown, WWE Superstars