Hotties 'n' Notties: Jerry 'The King' Lawler, Rosa Mendes & Tamina.
|
Who was hot and who was not this week in wrestling?

However, this isn't your usual 'who did good and who did bad' style column. No, this is the literal look at who's hot, who's not and who wore what this week.
Last week's winner of the 'who is your hottie of the week' poll with 3/4 of the final vote was *drum roll please* Gail Kim – congrats you little hottie.
The winner of the 'who is your nottie of week' poll with a whopping 100% was Melina – perhaps now that you're nearly 32 you should start dressing a bit more sensibly.
Numero Uno hotties of the week are The Bella Twins.
WOW! The Bella Twins have finally pulled it out of the bag for once. On last week's episode of RAW Brie and Nikki competed in a Divas tag team match in these hot little matching attires.
The miniature black and white pinstriped numbers bring a sense of sophistication (well as far as sophistication can go when it comes to WWE Divas) to the ring in a business suit like way but of course they girlify it up with glitter, frills and a bang on trend 70s flare – even if that does come in the form of random leg warmers/stockings things.
Their signature slick of red lipstick (take note Eve) really pops out amongst the black and white and I'm extremely happy to see that they have lost those dumb-ass flowers in their hair.
Please, please, PLEASE stay like this Brie and Nikki as it will break my heart if I have to pop you back down to the Notties section after the excellent job you two are doing up here.
Second prize goes to Jerry 'The King' Lawler.
Thank you Mr Jerry Lawler, your fashion choices do give me some hope for all the WWE young 'uns – if a 61 year old man can look this good then there is some hope for all the other Superstars on the roster.
The Hall of Famer is nailing one of Spring/Summers hottest trends –Monochrome. This season it's all about black and white and the former champ of EVERYTHING looked the ultimate fashionista at Elimination Chamber.
His sequin galored cape is an absolute marvel and a definite one of a kind plus the added fringe gives it that rockstar edge.
Everything else is also down to a T from the asymmetrically cut singlet to the bright white tights. Lawlers accessories give an extra added hottie bonus because well who doesn't want a huge ass crown and the customized sweatbands add a personal touch to the whole outfit.
Winter is my inbetweener choice this week.
Only last week I was praising Winter to high heavens but then THIS happens. Separately all her various items of clothing are amazing – leather look leggings are a must have for any woman's wardrobe and I especially love their rough and ready look. I adore the grey slouchy boots (mainly because I own a pair the exact same) and the black studded cinch belt adds a hint of dominatrix to the mix. Let's completely ignore the feathered collar and red fingerless glove as they only hurt my head.
However, the reason why the TNA Knockouts Tag Team Champ is my inbetweener choice this week is because the whole look is totally wrong. Yes it would be okay to wear during the daytime for a normal person but it definitely should never ever be wrestling attire!! Come on girl get yourself some real wrestling attire instead of picking up the first thing you found in American Apparel and thinking it is suitable enough to wrestle in.
First nottie of the week is Rosa Mendes.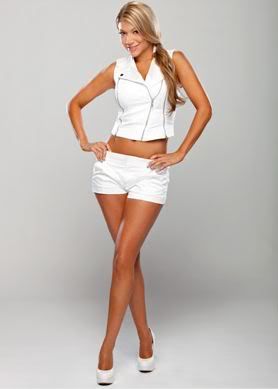 Oh my Miss Rosa Mendes this certainly isn't a good look for you. Is it tennis season all of a sudden because there can't be another reason to why you would wear a complete white outfit. I do love the sleeveless leather jacket but it should be worn with distressed skinny jeans and a rock – T and not with a streaky orange fake tan. Plus those shorts, are terribly tailored, my BFF's 6-year-old sister could do a better job on her toy sewing machine!
The tacky white stilettos need to go back to the Essex Girl she stole them from ASAP before they lower her standards even more (seriously, how does Batista manage to bed most of the Divas?)
On another note who does WWE.com think they are kidding when they claimed this is a new photoshoot?! Miss Mendes hasn't been blonde for months now! – gosh, WWE mustn't think that we pay attention to the Divas hair colours or something!
In last place as my most not-hot person is Tamina.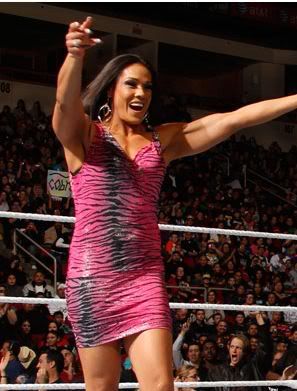 Dear Lord Tamina, what the frock is this?! Why did you think this mega unflattering dress (seriously does she even have a waist and hips?) would look good. I don't know what is worse – the foil effect, the sickingly bright pink colour which should only belong on a Barbie doll or the horrible v-neck clinginess (I do love the tiger print pattern though.) Plus such a brain-hurting dress should never be paired up with OTT accessories – lose the chandelier earrings and next time go for a simple pair of diamond studs please.
Now we all know you haven't got exactly the best genes in the world but come on woman at least try to work with what you've got – a smokey eye and a bit of pink lipgloss wouldn't go amiss. Oh and Tamina please backcomb your hair up a bit, the flatness of it makes me cry a bit.
Please vote in the poll below on your numuro uno hottie and not hot nottie of the week:
http://micropoll.com/t/KDwQ9ZBvsB – hottie of the week.
http://micropoll.com/t/KDwQ9ZBvsE – nottie of the week.
If you see any hotties or notties this week in wrestling or have a vintage pick you would like to see featured in the column please just leave a comment below.
Tags: Brie Bella, chantal, divas, Elimination Chamber, Gail Kim, hotties, Hotties 'n' Notties, Jerry "the King" Lawler, Jerry Lawler, Katie Lea Burchill, Knockouts, Melina, Nikki Bella, notties, Raw, Rosa Mendes, Smackdown, superstars, tamina, The Bella Twins, TNA, tna impact, TNA Knockouts, Winter, WWE, WWE Divas, wwe elimination chamber 2011, WWE RAW, WWE Smackdown, WWE Superstars