Hotties 'n' Notties: ODB, Sting & Dixie Carter.
|
Who was hot and who was not this week in wrestling?

However, this isn't your usual "who did good and who did bad" style column. No, this is the literal look at who's hot, who's not and who wore what this week.
Last week's winner of the 'who is your hottie of the week' poll with just one vote sepreating her from Jerry 'The King' Lawler and The Bella Twins was *drumroll please* Winter!
The winner of the 'who is your nottie of week' poll with a whopping 80% of the final vote was Tamina. Come on girl, please get some style!!
Numuro Uno Hottie of the week is Trish Stratus.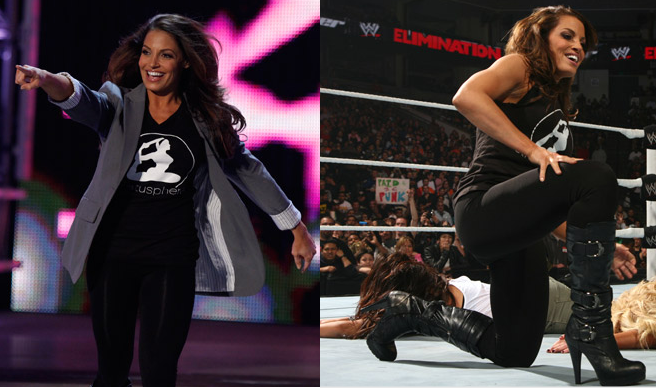 WOW Trish you are one seriously sexy lady. The 7-time WWE Womans Champion looked astonishing when she made a surprise entrance at the Elimination Chamber PPV.
Going from a brassy blonde to a beautiful brunette has worked wonders on her – the shade fits her perfectly both colour temperature and personality wise.
An oversized boyfriend blazer is a definite wardrobe must have for any girl and in a grey colour with the pinstriped lining that Miss Stratus is sporting makes it extremely OTM. The Stratusphere Topshop-esque T shirt looks great on her and clings to those infamous curves with an effortless ease.
Even though I have a major grudge against leggings I will let Trish off as they do look unbelievable on her – the same can't be said for the size 20 girls I see on a Saturday night when they try and squeeze their cellulite into a similar pair.
Plus I know I ALWAYS say how much I HATE boots with heels but these pair of leather buckled wonders are all kinds of amazing.
Second prize goes to ODB.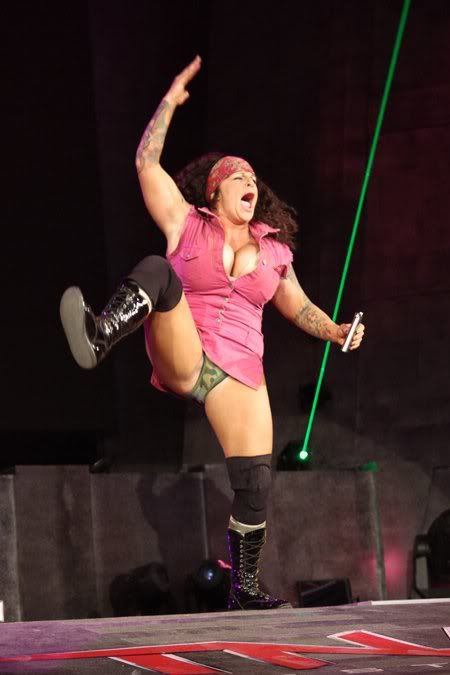 Now I will admit this isn't the most beautiful picture of the former TNA Knockout's champ but well, it wouldn't be ODB without the infamous crotch shot.
As soon as the One Dirty Bitch returned to take on Madison Rayne I screamed with glee! – she has always been one of my favourite ever Knockouts and I got even more excited when she came out in this hot little outfit.
The hot pink denim shirt come mini dress ticks one of this season's biggest trends – bright colours. This summer make sure to whip out the neon to sit atop of the fashionista league – just make sure you don't end up looking like a 90's raver.
ODB's freshly dyed brunette locks brings a whole new level of sophistication to her – well as much as you can be sophisticated when showing off your bang on trend camouflage panties. The red paisley headband also nods at the traveller trend which will be HUGE come the Fall fashion season.
Oh ODB, please PLEASE return to TNA and save the Knockouts division from the terrible wrestling and even more terrible fashion that we are seeing at the moment.
Sting is my inbetweener choice this week.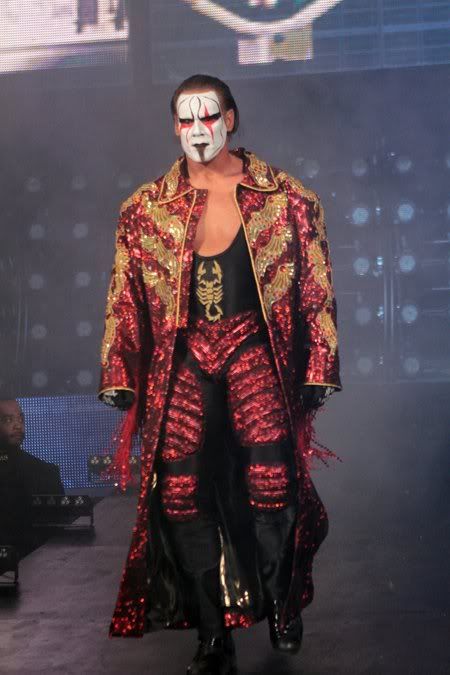 When Sting appeared on the disappointing monumental 3/3 episode of TNA, his new found attire got extremely mixed reviews. Well, let's start with the good – that robe! WOW, it is perhaps one of the most amazing robes I have ever seen in my life! The gold mixed with the red brings a rich regal look to the proceedings and the fact that it is covered in what seems like over a million sequins makes it eye dazzlingly bright. Plus the added accompaniment of the fringed sleeves well ya'll know my feelings on fringe – I LOVE IT!!
But then we get to the bad – what the hell is up with that attire? I have no words to describe the horrendous mess. I've never been a big fan of the extra padding the TNA champ likes to wear all over his unitard but when it goes from a plain, blended-in black to an OTT and quite frankly tacky red jumble it's time to sit up and take notice.
Dear Sting, can you please go back to your Surfer Sting self? – He was the definition of cool.
First nottie of the week is Dixie Carter.

What is this all about Dixie? Now I know you're not exactly a spring chicken at 46 years old but come on that isn't a good enough excuse for dressing double your age – even a 92 year-old woman wouldn't be seen dead in this mess of an outfit.
Now I'm not one for showing skin – I couldn't live without tights and high neck dresses – but come on Dixie you have EVERTYTHING covered up, now I don't want you taking leaf out of Velvet Sky's book but at least show a bit of leg or cleavage.
The sickly beige coloured roll neck jumper she stole from a pensioner needs to be thrown on a fire ASAP along with the terrible tan coloured jacket that even I would pass up on if I spotted it in a charity shop – and that's saying something!
Plus next time the President of TNA needs to wear a pair of flats as it's never good to watch somebody hobble on down to the ring in heels which were obviously too high for her – seriously though Dixie I've been on a night out in heels double that size and didn't stagger once.
In last place as my most not-hot person is Jerry Lawler.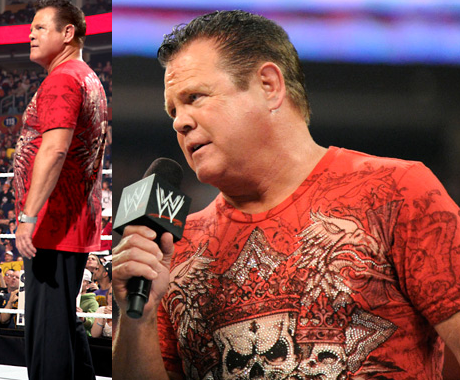 Oh dear Lord Jerry Lawler, only in the last edition of Hotties 'n' Notties I was praising you for your fabulous on trend monochrome attire and then you go and spoil it all by saying something stupid like I love you by coming out in this unforgivable mess of an outfit.
Come on Lawler, what is with the incredibly fug, skull embezzled, Ed Hardy-esque T-shirt?! David Beckham can't even pull Ed Hardy off and he is one of the most beautiful men in the world.
Plus teaming up that T with a pair of dress pants?! – Seriously WTF is that all about? Did you only have time to change your T-shirt after coming out of a business meeting or are you telling me this look was intentional?
On another note, I think it's time for Jerry Lawler to stop using Just For Men – as its really obvious his hair colour is not naturally black anymore. Just let it go grey and maybe you will adopt a bit of a George Clooney-esque aura about you.
Please vote in the poll below on your numuro uno hottie and not hot nottie of the week:
http://micropoll.com/t/KDwQ9ZBwl4 – hottie of the week.
http://micropoll.com/t/KDwQ9ZBwl5 -Â  nottie of the week.
If you see any hotties or notties this week in wrestling or have a vintage pick you would like to see featured in the column please just leave a comment below.
Tags: chantal, divas, dixie carter, hotties, Hotties 'n' Notties, Jerry Lawler, Knockouts, notties, ODB, Raw, Sting, TNA, TNA Heavywieght Championship, tna impact, TNA Knockouts, Trish Stratus, WWE, WWE Divas, WWE Elimination Chamber, wwe elimination chamber 2011, WWE RAW