The View From Down Here – Some Aussie Comics With Zombies, Simians, A Doom Bunny & More
|
As a kid, there were 4 comics I bought whenever I had the money – Mad, the Silver Surfer, Conan and the horror titles. Mad was number one, but I loved the horror titles most of all. Every time I could I would buy one and read the myriad of short stories in graphic form.
As I grew older the comics faded (except for Mad magazine) until I discovered an Australian comic called Issue One. That faded into obscurity after a few years, but my interest was once more there. I got into the early Elseworlds comics, the Death of Superman and, as always, my Mad magazines, only I once more started to get the US ones as well as the Australian versions.
But Silver Surfer and Conan did not seem to exist in Australia any more. And to find a horror comic that was not borderline pornography was virtually impossible. So I bought older ones at exorbitant prices and continued to search.
Last year some one recommended Eeek to me (it's another Australian work, by the guy who did the Hairbutt The Hippo comic I own), but finding it proved difficult and the one issue I did get hold of ended up being not even Eeek! (Long story…)
And then I went to the Armageddon Comic Convention. Between listening to Karen Allen and David Anders (for a guy whose shows I tended to miss, he was one funny speaker), meeting Robert Rankin (huge highlight, by the way – the man is a legend) and Gail Simone, watching some unfortunately dull wrestling, and spending an insane amount of money, I discovered Decay.
Decay is an Australian take on the traditional horror comic from Dark Oz Productions. I procured the first six issues (up to and including the current one) and lost myself in their pages. And I think I've found my new comic.
First thing is the cover art. Each issue has some strong art, but the best so far is on #4 with the zombie Ned Kelly.
Each issue has its share of stories which I'll get to in a bit, but there is also what they are calling their flagship feature – 'Oz Zombies'. Some are parts of an ongoing serial, some are stand alone stories, but all are zombie tales set in an Australia over-run by them. They are standard zombie stories, full of the standard clichés, but made cool to me by seeing my own home city – Adelaide – as the setting for the first few, rendered so well. Different artists work on different chapters, and it is an engrossing series, limitation so the zombie genre notwithstanding.
There are also some great photo essays, including comic conventions and other events of interest to readers. One minor quibble – the best zombies from the Adelaide Zombie Walk 2010 were not featured! (That would be the smurf zombies, by the way.) There are also some short stories, which are okay, but some tighter editing – especially in regards to grammar and punctuation – would not go astray with these.
Then there are some of the best bits – where artists explain how they came up with various panels, progressing from rough sketches through to finished art. Fascinating stuff.
One last thing: one thing I have found does not work well are the introduction panels to each story, each featuring a different horrific character type, not even related to the story that follows. Too many do not work. Maybe what they could do instead is have one 'guest narrator' for a whole issue and use the one voice, like an EC-style crypt-keeper or similar. Not sure, but what they currently do feels forced more often than not. And the less said about Splatt the Zombie Cat the better.
Now, onto the issues!
Decay #1
This is a comic finding itself. It is trying to get its feet on the floor and running in what is a new, potentially risky venture.
As such, some of the stories are not strong, and some of the art work is really not too good.
However, the opening salvo in the 'Oz Zombie' saga is a good one, while the pick of the bunch is 'Carnivore' with a slightly off the wall story and some very fine art work to boot.
Decay #2
The main improvement here is the art work. In all but one of the stories, the art work is much improved over issue one.
The stories were still a little clichéd, but improving. 'Deresolution Day' was the pick of the bunch, while 'Amazulu' was also intriguing.
Still finding its feet, but growing in confidence.
Decay #3
This one was let down by the art work. The improvements of issue 2 dropped off here with the introductory panels the best art of the issue.
The stories were also a little off. 'The Memory Remains' was genuinely eerie, however, and the highlight of the issue, while the first of the Circus Infinitus tales, 'Crime and Corruption', was a strange tale of retributive justice that had a particularly satisfying ending.
Deacy #4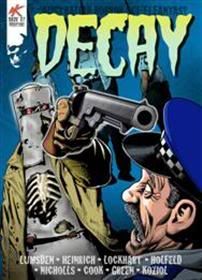 Now the title has hit its straps! Good art work throughout, two good chapters in the 'Oz Zombie' saga and some genuinely strange and eerie stories.
Opening story 'Blood Red Rose Coloured Glasses' was probably a little long, but an interesting story of psychosis. 'Abel' was just downright odd with an ending I did not see coming. And then there were the 'Oz Zombie' tales.
Good issue, and I'm glad that I actually got all of them so that I could see how they developed to this point.
Decay #5

Great art work throughout, and with the best of the 'How To Draw Comics' articles.
The stories were all strong again, with one exception – a tale that just seemed to be an excuse to come up with the most bizarre creatures possible and involving an Alien ripoff ending. However, this issue has my favourite 'Oz Zombie' episode, focusing more on the character development than just blatting zombies.
'Summit' is a strong story with awesome artwork (this is also the subject of the drawing comics section later on in the issue). And the Circus Infinitus story 'Maximum Terror' was macabrely funny.
Two good issues in a row.
Decay #6

Another issue where the art work was really strong. A diversion in the 'Oz Zombie' saga with a different character, and the art here was also really well done, even if the story was another cliché.
'Sink Or Swim' is just one of those genuinely disturbing horror tales and even though the art is not fantastic, it suits the story well.
The drawing section is not about comics, but an utterly fascinating look at how the cover for Pegazus' album In Metal We Trust was done.
'Animus' was just weird, but looked wonderful. Maybe the best artwork so far.
'Skin Deep' is really well drawn and one of those bizarre horror tales that only exists in comics.
A strong latest issue. Teething issues seem to have been gotten over and only 6 issues in; let's hope that Decay can continue to put out the horror for the fans.
Now, two bonus comics!
From Fistfull Of Comics, I got the complete 'Simian Soldiers' in one edition.
This was an odd book.
The story was strong. It told a good tale of bizarre experimentation and apes in World War 2. Kurt Murray, the writer, did a good job with this.
But the art work let it down too often. The panels were some times hard to work out, and the action was represented by a lot of blurs. But those that could be deciphered were strong and really helped the story along. I guess I'm not a fan of this style of art work, and that hindered my overall enjoyment of the work.
However, still not a bad piece.
And then there is Doom Bunny And The Monster Catchers, by Loren Morris, published by Scholastic Books.
Possibly aimed at a slightly younger market, this was actually quite an enjoyable tale of monsters and condiments, featuring emos and tentacles and the hand puppet from hell. The art is simplistic in form, but effective, and the characters remain consistent throughout. The story line is bizarre, but also quite engrossing. Maybe it did start to get repetitive, but then they couldn't find mustard and, well, things got strange.
Look, it's not a taxing read, and it's pretty harmless, but it is well done and the whole thing has been well thought out and put together. It's more graphic novel than comic, but that's by the by.
Not too bad at all, and recommended.
So there you have it – 8 Australian comics. I'm not sure of their availability in other parts of the world (Dark Oz's website is here, or you can contact them on darkoz.decay@bigpond.com, or look for Decay comics on FaceBook), but at the least they can be sent out (though shipping from here is huge, so get ready to pay). The Decay line is coming out with other titles hopefully this year, and Fistfull Of Comics also has other titles available. Never know, if I'm feeling inspired I could well grab an armful and see what happens.
 That's the view.