Michelle Monaghan Covers Health 2011: "I Had Skin Cancer"'
|
Michelle Monaghan can thank her husband Peter White for a lot of things – among the many was his insistence on getting her to the doctor for an important checkup a few years back, where she was told devastating news. Luckily, she is now healthy and happy.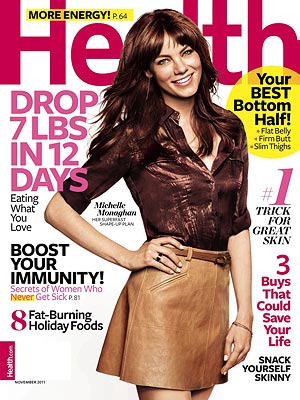 "I had a mole on the back of my calf, and he was adamant that I get it checked," the actress, 35, tells Health magazine. "I finally went, and it was skin cancer. I had quite the chunk taken out of my leg. I'm so grateful he noticed it."
She adds jokingly: "I clearly now realize he has a keen eye and wonder what other imperfections he's noticing!"  The experience made an impression, and made Monaghan feel remorseful about having been a smoker.
"I smoked for almost 10 years," she says. "I really regret that. Thankfully, I came out on the other side. I hope my lungs are repairing themselves now."
Tags: michelle monaghan