The Wrestling Backfire: Ric Flair is the Greatest Wrestler Ever (Terry Funk, Stone Cold, Ricky Steamboat, Sting)
|
Before I dive into this column, I need to explain the criteria of what makes a wrestler the greatest ever in my opinion. The biggest key is a wrestler's popularity. Like most businesses, the main goal is to make money. If a top wrestler isn't doing that, they aren't good at their job. The second most important components both go hand in hand: ability to talk and gimmick/character, as a wrestler who cannot talk and/or isn't an interesting character will have a difficult time convincing people to see their match(es). The third component is how good someone's in the ring. Many wrestlers in fact have gotten over just because of their ring work. After all, its where most of the action in wrestling happens. Plus, if someone who's on top continues to have exciting matches, people are going to realize that they'll get their money's worth when they see that wrestler. The last components are longevity and how much a wrestler gives back to the business. Goldberg, for instance, was a massive hit, but his merits were solely based off his winning streak. Sure, he was an effective one-trick pony, but a one-trick pony nevertheless. Hulk Hogan was the biggest box-office draw, but he never gave back to the business.
Box Office/Drawing Power:
It's one thing to hate a wrestler, but it's another thing to love to hate a wrestler. In his era, people loved to hate Ric Flair. If there is such a thing as x–pac heat, Flair was the total opposite of it. People wanted him on the show just to hopefully see him get his ass kicked. In fact, people paid in hope to see it happen. As a babyface, Flair didn't have a lot of time to shine in his prime, but in the short time he delivered. Unlike what WWE will tell you, Starrcade 1983 was the first PPV ever. The entire show was built around Ric Flair's "Flare For The Gold", and story went something like this: Harley Race was afraid of losing the belt to the younger and better Ric Flair, thus offered a $25,000 bounty on Flair. Bob Orton and Dick Slater attacked Flair to collect the bounty. The beating was so bad that Flair announced his retirement, but he ended coming back and beating Orton and Slater up with a baseball bat. Flair proceeded to chase Race for the gold and the headlining babyface, Ric Flair sold out the arena and produced a 1/2 of a million dollar gate. Flair was a huge territorial name in Mid-Atlantic, but this made him a household name.
Surely, Flair could never draw the amount  Hogan or Austin could, but to his credit he was never a babyface for a long period or in his prime had Vince McMahon's unparalleled promoting abilities. In spite of that, Flair drew just about as much as any other wrestler and certainly was one of the biggest drawing heels ever…..if not the biggest.
Promos/Gimmick:
For most of his career, Flair played the obnoxiously rich cowardly heel. While many wrestlers have successfully played the rich gimmick, none have done it better than Flair. He was the ultimate show off , one that knew how to carry himself phenomenally. Unlike Alberto Del Rio, he didn't just come out with fancy items; he would, more importantly, brag  about them. In his eyes, he had the best things someone could buy. To top it all off, he was rich mostly because he was the champion, which made people more irate and hopeful he'd lose the title. What made Flair even more special was his ability to change his role. He could go from the pompous douchebag to the sympathetic babyface in a blink of an eye.
Without question, Flair was the most versatile talker ever.  He could make you feel sympathy, want to crack his head open, or believe that he was psychotic……sometimes all at the same time. No matter what his promo was about, it would always make people want to see his upcoming match.He's made millions laugh, cry, love him and hate him (hence the dozens of riots from crowds) . It's truly amazing how pure passion and emotion can come into  your living room, and no other wrestler has come into mine more than Flair.  Ultimately, he could cut any type of promo as well as make it both entertaining and passionate. He had more charisma in his pinky than most wrestlers had in his body.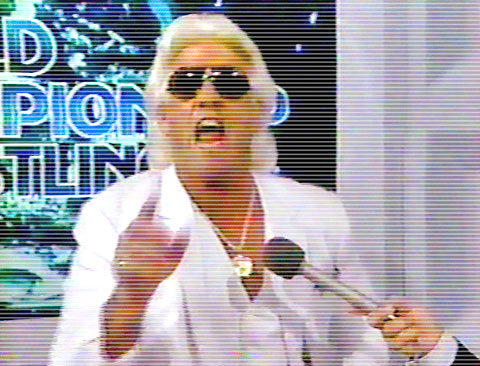 In The Ring:
Flair in the ring was everything a heel was supposed to be. He created a formula for a match that worked to perfection. He simply was the master of doing everything and anything to make the fans believe the babyface was going to win. He also knew when and where to do something based on reading the crowd's reaction. The way he could dictate a match was a work of art, as his  countless 60 minute matches felt 10. Furthermore, his storytelling and psychology (albeit the Flair flop; always thought it was mostly out of context) were both phenomenal. Every move he did was in the context of the story. Additionally, his timing was always spot-on and knew just when the babyface should make his hope-spots and/or come back. And, as every cowardly heel should, he bumped like a pinball machine to make it feel as if the he was getting his comeuppance.
Longevity/Put People Over:
His career has lasted for about 40 years and for almost half of it he's been on top. His ability to make people look better than they were in a losing effect speaks volumes of how great he truly was. On top of that, he gave a lot of wrestlers the rub they needed, with the biggest being Sting and Ricky Steamboat.
There are many wrestlers who could be the greatest of all time. Hulk Hogan could be based on being the biggest draw in wrestling history. Stone Cold could be based on being the second biggest draw ever and historical matches. The Undertaker could be for being a draw, having great matches, and pulling off the most mysterious characters in wrestling history. Honestly, the list could go on and on from wrestlers like HBK, Terry Funk, The Rock, Jerry Lawler, to even Japanese legends such as Mitsuharu Misawa, Kenta Kobashi, and Jumbo Tsuruta. However, nobody in this business has had a bigger impact on me than Ric Flair. In my opinion, he is the complete package. He can draw, work, talk, and make other wrestlers look great. As a person, yes, he's made mistakes, but that alone shouldn't tarnish his legacy as a wrestler. It's an insult to what he's done for this business for over 4 decades.
If you aren't familiar with Ric Flair's work in his prime and are interested, feel free to email me so you can witness how extraordinary he truly was.
Tags: Hulk Hogan, john cena, NWA, Ric Flair, ricky steamboat, Stone Cold, terry funk, The Rock, WCW, WWE, WWF