The Wrestling Backfire: Michael Cole, CM Punk & John Cena's Feud's Becoming Awesome, and Chris Jericho & Dolph Ziggler's Even-Steven Feud
|
First and foremost, thanks for all the feedback for the Alliance column. It was really fun to do, so I am glad you all enjoyed it. Sadly, Matt Peddycord wasn't around this week, which means the nWo column that we were going to do is going to be delayed at a later date.
Michael Cole's Announcing Isn't Working:
On the June 23rd, 2008 edition of Raw , there was a draft that was supposed to, as usual, shake things up. Shockingly, Michael Cole was drafted to Raw where he took JR's spot as the voice of Raw. It also ended up sending Jim Ross to the B and taped show, Smackdown. Many people thought this didn't make sense as Ross was clearly the better of the two. Unfairly, that was always held against Michael Cole, as people believed he was bad simply because he was no Jim Ross – who's the greatest announcer ever. Without any dispute, someone could say Cole wasn't great then, but I don't believe you can say he was bad. Basically, his announcing didn't add or hinder the product. It was merely average.
In 2010, the WWE did something risky – they turned their lead play-by-play announcer heel. At first, it shockingly worked as Cole became the most hated heel in the company. At the proper time, the most logical thing to do seemed to be make him the Miz's manager. After all, the two together could have became the two most hated heels arguably since Vince McMahon. However, the WWE didn't go into that direction; instead, they had Cole just stay as an announcer. As a result, his heel character not only over-stayed its welcome, but it also led to him being the exact opposite of everything a lead announcer  is supposed to be.
Since God knows when, a lead announcer is supposed to be the voice of reason. They are supposed to call it how they see it, stay consistent, and enhance segment, matches and/or promos. If they're going to be biased, it can only be against the heels since they're the ones who lack sportsmanship and/or morals. In contrast, Cole became an obnoxious, inconsistent, and an unreliable announcer that didn't help segments, promos, or wrestlers get over. In addition to that, he buried a lot of things and wrestlers such as Daniel Bryan – who I thought never would recover from it despite being how talented he is.
The point is: The WWE needs a consistent, passionate, and a "voice of the people" announcer. Someone who can elevate wrestlers by, for example, speaking highly about the babyfaces and disgustingly about the heels or praising both their abilities, and is capable of explaining the moves, storylines, and properly telling the stories being told in the ring.
Nowadays, Cole rarely does anything mentioned above, although I believe it's more about WWE not wanting him to than him lack of ability to do so. Nevertheless, I do not believe Michael Cole can be that person since fans never even liked him even before his heel turn. Therefore, WWE needs someone else who everyone likes and can do those things above. Otherwise, the product will continue to suffer. Cole's lack of building up wrestlers, making matches more excited, and persuading people as a salesman to watch upcoming shows has affected WWE more than they could ever imagine. Ultimately, it's not all Cole's fault. It has a lot to do with  WWE's failing to realize that a heel play-by-play announcer is extremely difficult to pull off. As a color commentator, I believe Cole would be good. In fact, I believe he would be better than the disinterested Jerry Lawler, who obviously couldn't care less about the product or its direction. But, as Owen Hart would say: Enough is enough. It's time for a change.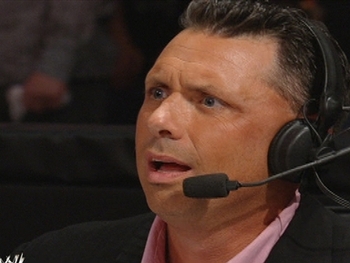 CM Punk & John Cena's Feud:
Frequently, the WWE criticized for their lack of long-term angles, but they're finally doing one and I must say it has been extremely compelling. The one I am talking about is the CM Punk, John Cena and Rock ménage a trois. At the 1000th Raw, CM Punk teased a heel turn and it was interesting because he has always been better as a heel. However, the build towards Summerslam resulted in an ultra fast heel turn and watered down, sanitized promos. Every time Punk talked,  it felt like it was going to be that earthshaking we all were anticipating, but Punk never even delivered something remotely close. And to make matters worse, they added the already overexposed Big Show into the mix as well.
Ultimately, it was a major letdown that they didn't do CM Punk vs. John Cena at WWE's so-called A PPV, especially when there was a story that spoke for itself – which was Punk taking a backseat to Cena despite being champ for 9 months.
However, better later than never, they decided on Raw to utilize that story to build up their Night of Championship match. Additionally, they allowed CM Punk to be more of a loose-cannon that speaks his mind without a  filter, and they also allowed Cena to cut a serious, to-the-point promo. Without a doubt, the build should be nothing less than stellar heading into their marquee match. In fact, I love already how they're approaching it.
CM Punk, being insecure by the fact he doesn't main event shows, told Cena that if he just admitted he was the best in the world he would name him the number one contender. With great pride, Cena said he could not do that because he cannot think even for a second that he is not the best in the world at what he does. Thereafter, Cena told Punk that he was confident that he could rebuild himself up again to get a championship if Punk did not pick him. But he told Punk that he needed to win match in his hometown to solidify himself. Right after Cena left, Punk called in Jerry Lawler, who he virtually begged to admit he was the best in the world. Lawler then said he cannot do that, so Punk kicks him in the head for Andy Kaufman. In sum, there are already so many components layered into the angle – and there's still three weeks ago.
Overall, it was just well-done storytelling by the performers and writers. These two wrestlers have developed a monstrous amount of chemistry and Punk knows how to bring the best out of Cena.
Due to the fact that WWE is doing this match so far away from Wrestlemania, it must mean they have something planned for the gap from NOC to Rock's title match. Chances are, Cena will chase Punk for the title…..which is something we never see anymore. Considering history has proven that the chase for the title creates fan interest – especially when built to its crescendo – it's perplexing why we haven't.
Furthermore, it's also a mystery to what will be main eventing this year's Wrestlemania. There are so many ways they could do this rock-paper-scissors feud with Punk, Cena,and Rock. Will Punk lose to Rock who will face John Cena at Wrestlemania? Will the Rock beat John Cena and then face CM Punk at Wrestlemania? Or be a three-way at Wrestlemania? It becomes more of an enigma when you include Undertaker and Brock Lesnar to the equation. Will we finally get to see the dream match of John Cena vs. Undertaker at Wrestlemania? Or will the Great One try to end the Undertaker's streak? Or will Brock Lesnar seek John Cena to get revenge for his lost at Extreme Rules? Or will the Beast try to bring the pain to the Deadman?
In conclusion, there are so many directions they could go in, making it extremely interesting to see how it all plays out. No matter what direction they choose, it will still be interesting than the Rock and Cena due to it being booked a year in advance. In my opinion, speculating what the main event is going to be is part of the Wrestlemania fun. I mean, it was like knowing the teams in the Superbowl in Week 2. There is no fun in that.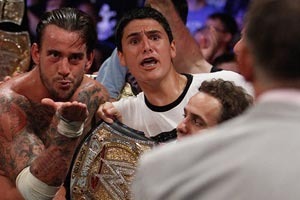 Even-Steven Booking Doesn't Work In This Scenario:
Due to WWE's lack of competition, they become more fore-thoughtful every year. However, when someone is leaving, they feel safe enough to do something that would consider to be hazardous. For example, Jeff Hardy elevated CM Punk to a higher-level because WWE allowed Punk to seem on his level. Right before Hardy left, the WWE established that Punk was better than him.. They put a heel over a top-star and proved he was a threat to the other fan favorites……every wrestling company needs someone who does.
Shockingly, they out did themselves when Batista was leaving. Ever since McMahon Jr took over, the WWE hardly ever allows a heel to be in the limelight for a long time, but they used to still make it seem as they were on par with the babyface. For example, Hulk Hogan's biggest rivals: André the Giant, Paul Orndorff, Piper, and Randy Savage seemed just as bigger stars, except they were on the dark side. The same could be said about Austin, who had The Rock, Undertaker, Rock, and to some degree Vince McMahon. Every Luke Skywalker needs a Darth Vader and vise-versa.
On the other hand, Cena hasn't had many heels near his level since Edge….until Batista turned heel. In fact, the feud was the closest thing we had to Stone Cold and Rock leading up to that point. Batista, who is more at home as a heel, ran with it and ended up developing into one of the best heels in the past decade. Like Hardy, they only did something risky because Batista was leaving, but at least they did it.
The same cannot be said about the Jericho and Ziggler mess, though. Since Jericho was leaving, everyone thought he would put over an upcoming shinning star. Instead, they tried to protect Chris Jericho while trying to elevate Ziggler at the same time, and, of course, it didn't work. It could have been as easy as this:
Ziggler beats Jericho by cheating or clean (it doesn't matter) at Summerslam in a Career vs. MITB match. And, the next night on Raw, Jericho gives a heart-filled farewell promo, but as he's waving goodbye near the entrance-way Ziggler hits him with the MITB from behind briefcase. This feud wasn't rocket-science. It was common sense. I don't know what they were trying to accomplish, but they ended up botching it and therefore failing to elevate Ziggler, seemingly to protect a wrestler who is leaving the company regardless.
Tags: aj lee, Brock Lesnar, chris jericho, cm punk, Dolph Ziggler, john cena, The Miz, The Rock, Wrestling Backfire, WWE