The Stomping Ground: The Future Endeavors of 2012 (Jericho, Phoenix, Edge)
|
Happy New Year to all of you here at the Pulse! It was an interesting holiday week to say the least (complete with one Grinch if you read the accompanying comments), so thank you all for your condolences.
So what better way to start the new year than by remembering those who lost their jobs (for one reason or another) last year? It's the WWE Future Endeavored Class of 2012!
Goldust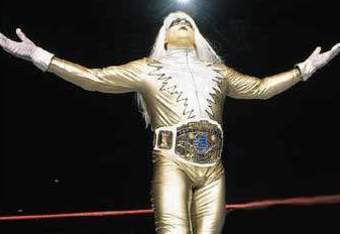 When: April 24, 2012
Why: Working as a road agent at the time, Runnels reportedly got the ax for okaying a dangerous double power bomb spot delivered by the Primetime Players to Yoshi Tatsu on Smackdown. In this writer's honest opinion, how much of the blame can be placed on the producer when it was the wrestlers themselves who nearly botched the move? I'm sure there was more than meets the eye as far as this situation is concerned.
Prognosis: I don't see this being a long-term deal. Goldust will probably return to the company within the coming months.
Edge


When: April 30, 2012
Why: Years of wrestling finally took its toll on Adam Copeland in the form of a neck injury that, if aggravated, could potentially paralyze him for life. Edge retired shortly after Wrestlemania XXVII in 2011 but remained on the company payroll until this past April. When his contract expired, Edge took a bit of a leave from the world of professional wrestling.
Prognosis: Despite recent musings that he is done with wrestling and barely watches the product, you can never say never in this business. His days in the ring may be done, but there's no ruling out an on-air management role down the road.
Nikki and Brie Bella


When: April 30, 2012
Why: The Bellas had no intention of re-signing with the company and, to be honest, can you blame them? Look at the state the Divas division is in.
Prognosis: The Bellas have reportedly stated that they'd like to return to the company in the future (probably when the Divas division has drastically improved). They remain in the spotlight to this day, since Nikki and her new pair of tits are dating John Cena and Brie is making sexy time with Daniel Bryan.
Maxine


When: June 28, 2012
Why: Fed up with the treatment of Divas (noticing a theme here?) and her lack of a push, Maxine asked for her release and had her wish granted.
Prognosis: Maxine has stated that she wants to go back to her first love, acting, so I don't see a return in the near future.

Kharma


When: July 24, 2012
Why: After a major push in 2011 that went nowhere due to her real-life pregnancy, Kharma looked set to return when she made her presence felt at the 2012 Royal Rumble. Amidst concerns over her health following her unfortunate miscarriage, Kharma and the WWE parted ways.
Prognosis: I'm assuming the stress of being on the road coupled with the unfortunate loss of her baby forced her hand. The split with the WWE was amicable and it's more than likely she'll re-sign later this year.
Abraham Washington


When: August 10, 2012
Why: At the expense of a Kobe Bryant rape joke, AW was fired and proceeded to rip the company a new one via Twitter while Linda McMahon was attempting to win an election. Yeesh.
Prognosis: Yeah, this guy seems to have burned his bridges with the WWE. I don't see a return for him at any point in time.
Chris Jericho


When: August 20, 2012
Why: His contract was up and he was about to go on tour with Fozzie. 'Nuff said.
Prognosis: On the heels of what many consider his weakest run in the WWE to date, there's no question that Jericho's got some unfinished business in the company. Once he settles his contract dispute with the company, I'm sure we'll see Y2J back for one final run.
Tyler Reks


When: August 21, 2012
Why: Reks asked for his release so he could take care of his son and be a good father figure. Much respect to that man.
Prognosis: Reks left the company in a respectable manner. Hey, it's not like he had much going for him in any case. I'm sure he'll be back at some point; probably a few years down the road under a new gimmick.
Kelly Kelly


When: September 28, 2012
Why: Her contract was up and she decided to go back to what she was good at: modeling in bikinis and lingerie for magazines and calendars.
Prognosis: Does anyone actually miss her for anything more than a nice smile and a smokin' hot bod? Actually, when you put it that way…..In all seriousness, she'll probably pop in every once in a while for a special appearance, but I don't think she'll ever return full-time.
Beth Phoenix


When: October 29, 2012
Why: Beth's contract was up and she announced that she'd be retiring from the ring.
Prognosis: Beth still has her youth and the ability to put on a good show, so I don't think we've seen the last of her.
Honestly, I'm surprised there weren't more negative releases than we got last year. Taking into account the situations of all the wrestlers listed above, only two were released on bad terms (and of those two, one is likely blacklisted from the company). It is worth noting that six of the future endeavored were Divas, and all left of their own accord. In my opinion, the biggest losses came at the hands of Beth Phoenix, Kharma, and Jericho (Edge was already retired from in-ring competition).
Who do you think we'll lose this year? My money's on the following, but I'd like to hear your thoughts in the comments below:
Zack Ryder
Jack Swagger
Yoshi Tatsu
Curt Hawkins
Tensai
So long, and thanks for all the fish.
Tags: abraham washington, Beth Phoenix, chris jericho, curt hawkins, Daniel Bryan, edge, goldust, jack swagger, john cena, Kelly Kelly, kharma, Linda McMahon, maxine, Mike Gojira, Primetime Players, royal rumble, Smackdown, Tensai, The Bella Twins, Tyler Reks, wrestlemania XXVII, WWE, yoshi tatsu, zack ryder