Glory, the world's premier kickboxing association, has just announced they've signed a deal with SPIKE TV to broadcast the company's events starting this fall.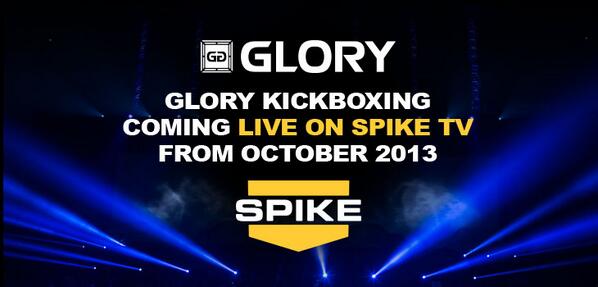 Press Release: GLORY Kickboxing Program to Debut In Primetime LIVE On Spike In Fall, 2013
New York, NY, June 27, 2013 – Spike TV will expand its sports line-up with the addition of GLORY Sports International's (GSI) brand of kickboxing premiering in Fall, 2013. The action-packed LIVE sports programming, part of an overall GSI content initiative, will air 2-hour events in primetime on select Saturday nights from around the world as part of a multi-year partnership was announced today by Jon Slusser, Senior Vice President, Sports and Multiplatform Programming, Spike TV, and Andrew Whitaker, Chief Executive GLORY Sports International, Pte Ltd.
"We are thrilled to partner with GSI in bringing Spike TV's audience the incredible action and intensity of GLORY's fight league, which feature the best kickboxers in the world," said Slusser. "Viewers will quickly see this as the perfect complement to our coverage of Bellator, the world's leading tournament-based MMA promotion."
"Spike has established itself as the home of combat sports in a way that is unique. Its audience will expect the most exciting ring action and we promise to deliver it," said Whitaker. "Glory kickboxing is the next big thing and Spike clearly knows something about spotting aces in the sports programming space."
GLORY Sports International is the world's premier stand-up fighting league, staging events across the globe. The fight series includes multi-man tournaments, along with traditional, single bouts. The most elite kickboxers in the world fight for GLORY including Tyrone Spong, Gokhan Saki, Semmy Schilt, Nieky Holzken, Yuta Kubo, Giorgio Petrosyan, Daniel Ghita, Peter Aerts, Remy Bonjasky and Albert Kraus.
Spike TV has a long tradition of telecasting the best in action sports, and is currently the home of the emerging mixed martial arts league, Bellator MMA.
About Spike:
Spike is available in 98.7 million homes and is a division of Viacom Media Networks. Aunit of Viacom (NASDAQ: VIA, VIAB), Viacom Media Networks is one of the world's leading creators of programming and content across all media platforms. Spike's Internet address is www.spike.com and for up-to-the-minute and archival press information and photographs, visit Spike's press site at http://www.spike.com/press. Follow us on Twitter @spiketvpr for the latest in breaking news updates, behind-the-scenes information and photos.
About Glory:
Owned and operated by Glory Sports International (GSI), the professional martial arts organization and television content provider, founded in 2012, has offices in the US, Holland, England, Japan,Thailand, Malaysia and Singapore. Glory kickboxing rules are comprised of a mix of several combat disciplines including karate, Muay Thai, Tae Kwon Do and traditional boxing. Like us on Facebook, follow us on Twitter @GLORY_WS and online at www.gloryworldseries.com