Monday Morning Critic – Paul Walker, Brick Mansions And The Five Best Final Completed Roles Of Famous Dead Actors – Steven Spielberg's Close Encounters of the Third Kind
|
Paul Walker's final completed film role was Brick Mansions … and it was as awful as the bulk of his film library. Walker in life was a terrible actor who made awful films for the most part but found a measure of fame in the quasi-comic book stylings of the Fast & Furious franchise. Those films were about illegal street racing and slowly sort of branched into comic book films in style and substance. It helps to explain why you didn't hear about Jordana Brewster, et al, unless it was time for a film about crazy stuff … IN CARS!
Hell, Dwayne "The Rock" Johnson managed to become Hollywood's go to guy for resurrecting flailing franchises with his mere presence alone. I think it's why Paul Walker and Vin Diesel, who should've become big stars from it, could never find an audience outside those films for the most part. People viewed them like they do Chris Evans as Captain America and Chris Hemsworth as Thor; they played a character they liked and weren't really stars. They were just famous for playing characters as opposed to being movie stars in the traditional sense.
It's why when Walker passed the whole thing threw Fast & Furious 7 into a lurch. You can't kill him off in good conscience … but you can't write him out, completely. When he died we debated on how the franchise should proceed … and it was an odd thing to think of of having to think of ways to move on.
Walker dying was one of those events you didn't see coming and by all accounts he was a decent human being who people loved. The proper thing was for the character getting to be "retired." Walker's brothers are going to contribute their likeness to help out the partially completed film, with CGI and voicework covering the rest. Brian O'Conner will be able to walk into the sunset, even if Walker's car killed him on impact with his friend.
Brick Mansions was a terrible film, one of the worst of the year most likely, and a friend of mine pointed out that it might be the worst film someone died on. I had to double take because it wasn't anywhere near the worst film someone had completed and then died shortly thereafter. And I usually use this opportunity to be a sourpuss .. and I won't this week. Time to look at some positives and celebrate film.
Note: I also had something on Wolverine the comic book character being killed off … but we all know what's going to happen. Wolverine's going to come back in six months, kids, or right before the next Wolverine movie comes out. They just need copies of "X-Men" or whatever comic book he stars in to sell more for a bit. This is just a stunt, nothing more, and if Captain America can come back then good old Logan will too. Don't fret. This is being done to sell a bunch of comics for the next couple months, nothing more.
The Five Best Final Completed Film Roles Of Famous Dead Actors
John Cazale in The Deer Hunter
Five completed films. Five masterpieces. Plus he shagged Meryl Streep at maximum hotness, too. John Cazale may have died before he should've but he left a cinematic resume that I don't think can be topped. He was immortal as Fredo in the first two Godfather films, had an underrated role in The Conversation and his final role was as the friend De Niro and Walken in The Deer Hunter. Cazale has a big part in five of the greatest 50 films ever made out of five roles he ever did.
---
Paul Newman in Cars
Paul Newman did everything on his own terms, it seems, and his biggest legacy may be the fact that he produces amazing food stuffs that help fund his charitable work. And Newman did get to live to see the success of Cars, a Pixar film that managed to use his veteran presence in exactly the right way. For all the classic films he did over the years it's fitting that he gave his final performance in the background, the veteran hand providing just enough to turn a forgettable children's film into something much stronger because he was in it.
---
Oliver Reed in Gladiator
Reed had been a star for some time and then fell from grace … and Gladiator was going to be the vehicle from which a final career run of note could come from. And then, on the set of Gladiator in the middle of a performance that should've revitalized his career as an elder statesmen, he passed from a heart attack. Proximo was a great role in a brilliant film, one that should've given him a newfound career in the vein of Morgan Freeman.
---
Adrienne Shelly in Waitress
Tragically she was murdered after writing and directing this film, the lesser third of the "Not getting an abortion" trilogy of 2007 comedy, but it had a heart to it that got overlooked. Juno and Knocked Up were both exceptional and in any regular year Keri Russell would've become a star. She got caught up in a year where the subject matter was done better, and earlier, by two other films. Shelly hit for the cycle in being a great supporting actress in the film alongside writing/directing it. It's a shame we never got to see what she could've done behind the camera next.
---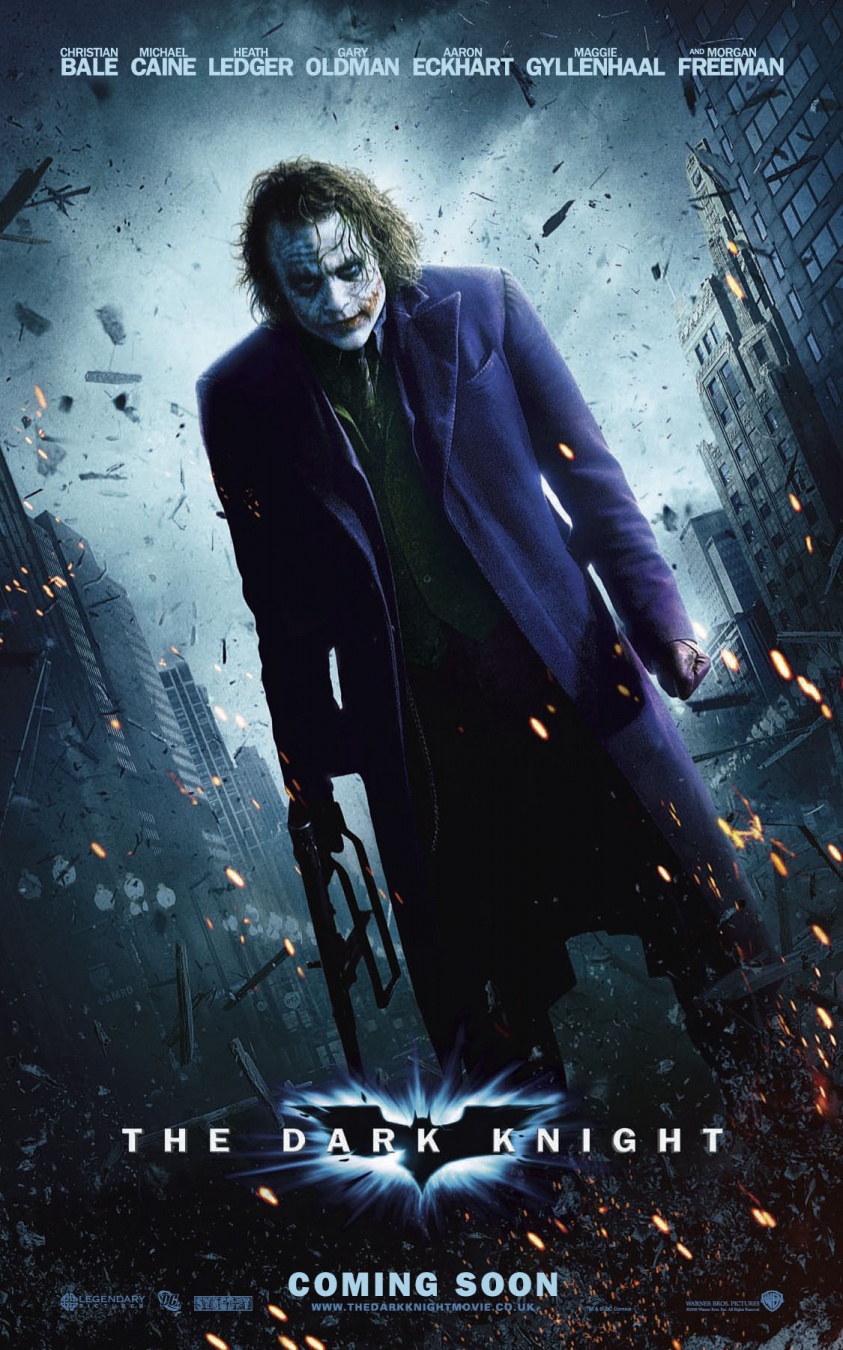 Heath Ledger in The Dark Knight
Oddly enough if Ledger doesn't die after TDK he probably doesn't get an Oscar win, much less nominated. Ledger raised the bar for what you could do with a comic book villain, holding rank properly with Hans Gruber of Die Hard as the best bad guys of the action film genre on the whole, and his performance was so brilliant that everyone was looking forward to him being overlooked by the Academy. It was a role that was going to turn him into a megastar … and wound up being his final work.
Stuff for General George S. Pimpage, Esq
My wrap up column on all things UFC 172 is right here.
Brick Mansions was awful. Here's why you should avoid it.
Travis liked The Railway Man a bit less than I did. Read his review here.
Mike Noyes reviewed Crystal Fairy & The Magical Cactus right here.
And now on MMC … we watch GSP in Star Wars.
If you want to pimp anything email it to me with a good reason why. It helps to bribe me with stuff, just saying ….
A Movie A Week – The Challenge
This week's DVD – Close Encounters of the Third Kind
Steven Spielberg was a part of that great group of USC talent in the late 60s that changed cinema forever. Between him and Martin Scorsese, Francis Ford Coppola, John Milius and George Lucas they changed Hollywood and brought about the modern studio system. Modern Hollywood, in all it unoriginal and marketing oriented sucktitude, was brought about because of these guys.
Scorsese brought about the era of the blatant "give me an Oscar" film, Lucas brought out marketing toys to children as a major revenue stream, Milius the era of the ultra violent action film and Spielberg created the modern blockbuster. Jaws created the template for the modern blockbuster …. and if Spielberg hadn't followed it up with anything of note he'd be the 1970s version of Jan de Bont.
Who's that guy? He crafted Speed and took Keanu Reeves' career from famous actor to action movie star overnight. Instead he dropped one of the best one two combinations in cinema history right after Jaws with a wicked cross of a sci-fi film in Close Encounters of the Third Kind.
His big followup to the shark film that changed the summer movie season for good was one where he cashed in all his chips and went full bore. It was a huge gamble that paid off
Aliens have come to Earth and a small town electrician (Richard Dreyfuss) is among those caught up in UFO fever. We follow along several different plot lines as humanity's first contact with an alien race is explored. It's the 70s version of humanity right before it finds out its not alone in the universe.
It's an interesting sci-fi tale that feels a little dated because of the time frame, nearly 40 years ago at this point, but the part that makes it hold up as brilliant is that it explores the nature of humanity as we get closer to that moment of first contact. The times may have changed, as everything looks the part, but the tone and feeling you get watching the film feels real. We may have changed in terms of technology, et al, but the way we react to things hasn't.
It's what Spielberg captured back then and why the film still holds up as a science fiction classic; he nailed down the human condition and how it probably would react to it in both the macro and micro ways. Strongly recommended.
What Looks Good This Weekend, and I Don't Mean the $2 tall boys of Red Fox and community college co-eds with low standards at the Fox and Hound
The Amazing Spider-Man 2 – Peter Parker is back, doing Spidey-Stuff as we get like a whole bunch of villains for this one.
See It – So far it's been getting mixed reviews, trending negative, but it's the first big film of the summer movie season.
Scott "Kubryk" Sawitz brings his trademarked irreverence and offensive hilarity to Twitter in 140 characters or less. Follow him @ScottSawitz .
Tags: Close Encounters of the Third Kind, Gladiator, Monday Morning Critic, Steven Spielberg, The Deer Hunter