Throwback Thursday: WWE Hall of Fame Showcase: Tatsumi Fujinami
|
A look back at the career of Tatsumi Fujinami.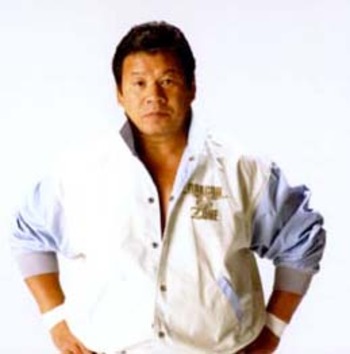 (Fujinami)
Fujinami started in the old Japanese Wrestling Association under Antonio Inoki's wing at the age of 17. When Inoki was fired from JWA in 1971, Fujinami and a few others followed him in forming a new promotion, New Japan Pro Wrestling. Inoki, Fujinami, Osamu Kido and Kotetsu Yamamoto are recognized as NJPW's founding fathers.
In the early days of NJPW, he served as opponent for debuting rookies, using his skill to teach them and help them acclimate to the ring while putting on a good show.
In the late 1970s, Fujinami was sent abroad, to Mexico's Universal Wrestling Association and to Jim Crockett Promotions in the U.S. In the late 1970s he went to the WWWF where he first made a name for himself. He won the WWWF Junior Heavyweight Championship on January 23, 1978 by defeating Carlos Jose Estrada. He brought the title with him back to Japan, establishing it as the premier junior heavyweight title in Japan. In October 1981, he graduated to the heavyweight division. Fujinami would be the first wrestler to be successful in both the junior heavyweight and heavyweight divisions.
1988 proved to be Fujinami's banner year. On May 8, he defeated Big Van Vader by disqualification, to win the title vacated by Antonio Inoki. However, within days, the title was held up after he fought Riki Chōshū to a no contest; he would win the title back a month later in the rematch. In October, he won the NWA Pacific Northwest Heavyweight Championship, and he ended the year by winning the WCWA World Heavyweight Championship in December.
In 1989 Fujinami vacated the title to be determined in a tournament at New Japan's first Tokyo Dome show; he would lose to eventual winner Big Van Vader in the semi-finals. In June, during a match with Vader, Fujinami suffered a severe back injury and pulled a hernia. He wouldn't wrestle at all until he returned in September 1990.
In December 1990, he regained the title he never technically lost, the IWGP Heavyweight title from Chōshū. His reign was short-lived, as he lost the title to Vader a month later. The two would go back and forth with who was the champion for some time. Fujinami made history later on as he defeated Ric Flair to win the NWA World Heavyweight Championship, making him the very first man to hold the IWGP and NWA World titles simultaneously.
Perhaps Fujinami's "most remembered" match was when he defended his NWA World Heavyweight title against Ric Flair in a title vs. title match at the first ever WCW SuperBrawl in Florida. This meant Flair's WCW title was on the line as well. Flair retained his WCW Championship and regained Fujinami's NWA title by a school boy pin with a handful of tights.
In 2006, after nearly 35 years in the company, Fujinami left NJPW.
On August 18, 2012, Fujinami won his first title in eleven years, when he took part in DDT Pro-Wrestling's 15th anniversary event in Nippon Budokan, during which he and Mikami defeated Kudo and Makoto Oishi for the KO-D Tag Team Championship.
Still at the age of 60 he is still wrestling and shows little sign of slowing down. He is also credited as the innovator of the Dragon Sleeper hold and the Dragon Suplex.
On March 28, 2015 Fujinami will be inducted into the WWE Hall of Fame.
Full Throwback Thursday 2015 Hall of Fame Preview:
Tags: antonio inoki, Big Van Vader, Dragon Sleeper, Dragon Suplex, Kotetsu Yamamoto, new japan pro wrestling, Osamu Kido, Ric Flair, Tatsumi Fujinami, Throwback Thursday, World Wide Wrestling Federation, WWWF