Throwback Thursday: Tough Enough Throwback – Season 4 Winner
|
The fourth season of Tough Enough was part of WWE's Smackdown brand (Raw was running the Raw Diva search at the time) and the prize was advertised as $1,000,000, to be split over four years. This season had a good crop of wrestlers, the runners-up including Mike "The Miz" Mizanin and Ryan Reeves, better known as Ryback.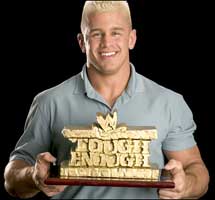 (Winner, Daniel Puder)
The winner of this special season of Tough Enough was Daniel Puder, a mixed martial artist with a great skill set.
The one thing most people will remember from this season, other than the runners-up being current superstars, is the incident with Kurt Angle. On November 4, 2004 Angle challenged the contestants to a squat thrust competition with Chris Nawrocki winning the prize- a match with Angle. Angle quickly won the match and then challenged the other finalists, Puder accepted. Angle and Puder wrestled for a bit before Puder put Angle in what is known as a kimura lock, a type of arm lock which requires the person placing the hold to be on their back for leverage. Angle attempted the pin and a referee counted the pin quickly, to end the hold which could have, in reality, done serious damage to Angle's arm. Puder would go on to claim that he would have liked to see Angle tap on live television to someone Angle seemed to think wasn't quite ready to be in the ring with him. Puder disputed the pin but it was a decision went down in the record books.
If you want to see this incident click here.
On Decemeber 12, 2004 Puder won a match over fellow contestant, Mike Mizanin and in his second pay-per-view event he was entered into the 2005 Royal Rumble. However, he was quickly eliminated after running into trouble at the hands of Chris Benoit, Hardcore Holly and Eddie Guerrero.
After the Royal Rumble Puder moved down to the WWE's developmental territory before parting ways with the company.
Since leaving the WWE Puder has wrestled for Ring of Honor, New Japan Pro Wrestling and returned to MMA for a short while before retiring in 2011 with a record of 8 wins and 0 losses.
Puder may not have had a long career with the company but he left a mark by battling with Kurt Angle and beating out two superstars to the top prize.
Tags: Chris Benoit, Daniel Puder, Eddie Guerrero, hardcore holly, kimura lock, Kurt Angle, Mike Mizanin, Ryan Reeves, ryback, The Miz, Throwback Thursday, wwe tough enough