With Tough Enough less than a week away for the new season of Tough Enough I wanted to briefly look at the careers of the trainers of the newest season of Tough Enough. It will be a brief overview of their careers because, let's face it, each of these wrestlers deserves an article of their own.
Billy Gunn
What can you say about Billy Gunn that probably hasn't already been said? Born Monty Kipp Sopp he's known for being a member of DX and the New Age Outlaws but there is a lot more to this veteran's career than those two factions. He debuted in 1993 under the ring name Billy Gunn. Alongside his on-screen brother, Bart Gunn, they formed a tag team known as The Smokin' Gunns. They would go on to win the tag titles before vacating the titles Billy was in need of neck surgery.When he returned he feided with his on screen brother Bart and broke up that tag team, continuing to feud with him for a short while.
A new gimmick then emerged, Rockabilly, the protege of The Honky Tonk Man which led to a brief feud with Jesse James, at that time known as "The Real Double J" Jesse James. Soon, these men teamed up to improve their chances of survival and were renamed "Road Dogg" Jesse James and "Badd Ass" Billy Gunn, respectively, and their tag team formed was soon dubbed the New Age Outlaws. If you want to know what the attitude Era was about, watch any match with these guys in it. The New Age Outlaws would ally with D-Generation X and had a lot of success as part of this faction, both as a team and in singles competitions. At this time Billy would moon his opponents, leading to his "Mr. Ass" gimmicks down the line.
Eventually, after feuding with Road Dogg Gunn went on to be referred to as "The One" Billy Gunn, fighting Right to Censor (along with Chyna) and would later form a tag team with Chuck Palumbo. They were a great team with a on-screen chemistry that WWE turned into a storyline homosexual relationship. The team did well and the storyline was taken so far that the two men were set to marry won another but it was a publicity stunt. The team disbanded soon after.
After returning in the summer of 2003, Gunn reverted to the "Mr. Ass" gimmick but in November of 2004 he was released from his contract. Gunn would then work in TNA for a few years where he would work with Jesse James and under a few gimmicks before returning to the independent circuit from 2009-2012 before returning to WWE in 2012 for a "One night only" reunion with D-Generation X for the 1000th episode of Raw. He has made sporadic appearances since then.
Booker T

Born Robert Huffman, Jr. Booker T will be the first person to tell you he didn't always make the wisest decisions, going to jail at a young age for robbery charges. However, after that period of his life Booker T definitely started to make better choices.
Along with his brother Stevie Ray he signed to WCW and in August 1993 they debuted as a tag team dubbed "Harlem Heat." They had a good amount of success, earning the WCW Tag Team Championships with Sensational Sherri as their manager.
When this tag team came to an end (due to injury and departure of other members of their group) Booker T feuded with the likes of Perry Saturn, Rick Martel and Chris Benoit. Booker T would go on to win the WCW World Television Championship and was the first African American to hold the WCW World Television Championship and the only one to legitimately win the title (his brother Stevie Ray also held and defended the title while Booker was injured).When Vince Russo and Eric Bischoff formed The New Blood, Huffman eventually completely changed his in-ring persona, joining General Rection's military-themed Misfits In Action but this gimmick did not last long and he returned to his Booker T name.
Booker T soon became main event worthy when Vince Russo, upset with Hulk Hogan, fired Hogan live at Bash at the Beach and then announced that Booker T and Jeff Jarrett would wrestle for the World Title.Booker T would win the match and would feud with many people over the title. Booker was also the reigning WCW United States Heavyweight Champion and WCW World Heavyweight Champion when he accepted a contract with the World Wrestling Federation at the time when WCW was bough by Vince McMhaon.Booker T became a leader of The Alliance, a mix of WCW and ECW stars who "invaded" WWF and challenged them for dominance. Booker T would go on to be a fan favorite, despite being a member of The Alliance and would feud with Kurt Angle and The Rock. When the Alliance ended he remained a heel, feuding with Steve Austin.

Since joining WWE Booker T formed a strange tag-team with Goldust, became Intercontinental Champion, feuded with the Undertaker. Went after the US Championship and the WWE Championship and eventually won the US title in 2005. He would also go on to win the King of the Ring tournament, taking on the gimmick "King Booker" and feuding with Batista and Triple H.

In August 2006, he was linked to Signature Pharmacy, a company thought to be distributing performance enhancing drugs, while he denied any drug use he and his wife would request their release from WWE in 2007.
He would then work in TNA and in the independent circuit until his return to WWE in 2011. Booker T wrestled in WWE until 2015 when he took on the role of a commentator. He was inducted into the WWE Hall of Fame in April 2013.

Lita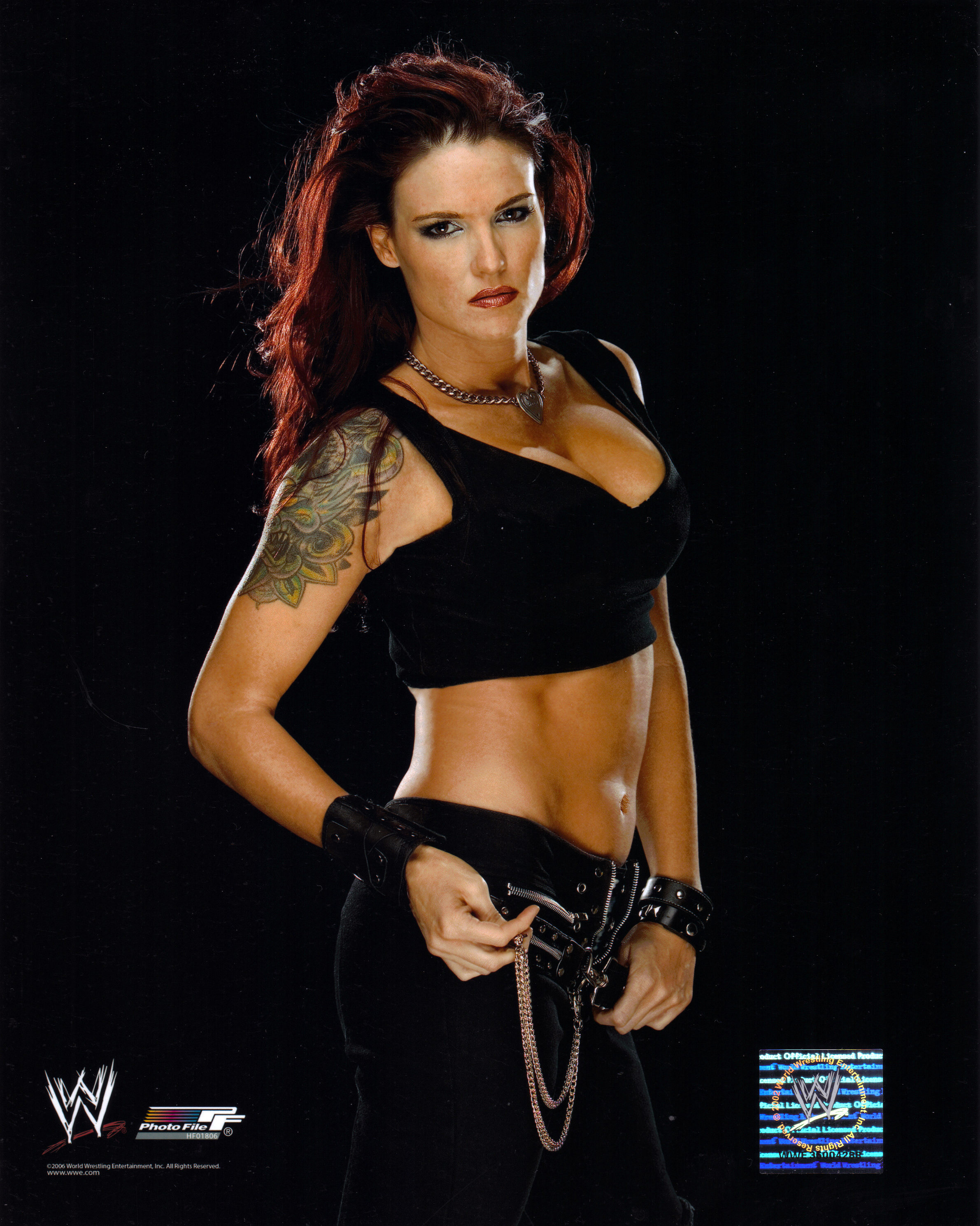 Whether you call her Lita or you call her Amy one thing is for sure- you can never call her a coward. Perhaps one of the most daredevil Diva's to ever enter a ring, Lita didn't let anyone tell her "women can't do that." If they did, she proved them wrong.
After seeing a match with Rey Mysterio, Jr. one WCW she traveled to Mexico to be trained by Ricky Santana and Kevin Quinn. When she returned to the states she was mostly working as a valet on the independent circuit where she would meet Matt & Jeff Hardy who offered to help train her.
Lita would sign with ECW under the name Miss Congeniality where she would meet Dory Funk, Jr. who invited her to attend his wrestling school. While training there Funk and his wife taped her training sessions and sent it along to WWF and was signed to the WWF in 1999 after only 5 months with ECW.
After working on her skills Lita was paired with luchador Essa Rios and they made their debut on February 13, 2000 on Sunday Night Heat. Lita mimicked Rios' moves and eventually they would feud with Eddie Guerrero and Chyna, leading to a European title match between Rios and Guerrero at Backlash that year, a match Rios lost. Rios and Lita would begin to fall apart after Lita found Rios making "friends" with The Godfather and his "hos" and when Lita accidentally cost Rios a match he turned on her, power-bombing her. Matt and Jeff Hardy came out to make the save and soon the stable "Team Xtreme" was born.
Lita adopted the Hardy's "alternative" style of dressing, notably her thong visible over her ring pants and would be physically involved in many of the matches, including being the only female to be physically involved in a Tables, Ladders and Chairs match. Lita, along with the Hardy Boyz would feud with T&A (Test and Albert) and their manager Trish Stratus. The women had a great on-screen rivalry that lasted their entire careers.
On August 21, 2000 Lita won the Women's championship (for the first time) from Stephanie McMahon.
Throughout her first reign as champion the Hardyz were battling with Edge and Christian who would eventually cause her to lose the title to Ivory. Lita feuded with Ivory who, at the time, was part of Right to Censor. Lita would then feud with Dean Malenko in early 2001, and she defeated him in a singles bout on the February 19 episode of Raw is War with the assistance of Matt Hardy. Following the match, Hardy kissed Lita, beginning their on-screen relationship and turning their real-life romance into a storyline.
During the Invasion storyline Lita and Trish Stratus teamed up against Stacy Keibler and Torrie Wilson and would continue to team up with other WWE Divas against the women of the Alliance.
In late 2001 the Hardy Boyz began feuding amongst themselves but would reconcile after storyline injuries brought them back together. However, Lita would suffer a real life injury on April 6, 2002 while filming a fight scene for a role in the season finale of the television program Dark Angel when the the stunt double Dumas was working with dropped her as she swung through the move, causing her to land on her neck and shoulders. After she underwent a CAT scan, it was revealed that she had suffered three cracks in her vertebrae and would undergo surgery on April 30th and would then serve as a commentator while recovering for the next year.  On the April 21, 2003 episode of Raw, as part of a new storyline, she was fired from her position as Sunday Night HEAT color commentator by General Manager Eric Bischoff after she rejected his advances and his request that she follow in the footsteps of SmackDown!'s Torrie Wilson and pose for Playboy.
She would return to the ring on September 15th, 2004 saving Trish from a beating at the hands of Molly Holly and Gail Kim. Lita would have ups and downs over the next few years, teaming and fighting with Trish, battling Christian and Chris Jericho along with Trish in a series "Battle of the Sexes" matches before she would have a new storyline with Matt Hardy and Kane. Kane would stalk Lita, beat up Matt Hardy and a fake pregnancy, marriage and miscarriage later Lita was back in the ring and feuding with Trish Stratus following the events of her pregnant storyline ending when Stratus called Lita "chubby" because of her pregnancy weight gain, and Lita finally retaliated due to no longer carrying a child by attacking Stratus backstage. The feud would lead to Lita mentoring Christy Hemme who would fight Trish at Wrestlemania.However, Lita's cheating on Matt Hardy in real life with Adam Copeland (Edge) brought this issue to the forefront of the WWE when fans turned on Lita. On-screen Lita left Kane for Edge but this would lead to Hardy attacking Edge at a WWE show mid-broadcast.
Lita managed Edge and one night on Raw it was announced that at Cyber Sunday there would be a tournament to decide the new Women's Champion after the title was vacated. Lita would win the tournament and wrestled her final match at Survivor Series, dropping the title to Mickie James.Lita would make sporadic appearances on WWE television and was inducted into the WWE Hall of Fame in 2014.