Throwback Thursday – Kurt Angle vs. Brock Lesnar in Classic 2003 Smackdown Iron Man Match
|
When you put two world class athletes against each other you know you're in for a great show. Add to that months of back and forth, a secret deal with the boss and a returning Angle to the squared circle you have all the components needs for a great feud in the WWE.
The feud culminated on September 18, 2003 when Angle and Lesnar faced off in a 60 minute Iron Man Match on WWE Smackdown!
The rules of an Iron Man match are simple, whoever can gain the most pin falls over his opponent in the course of an hour wins. In essence the Iron Man Match is a marathon of many, smaller, brutal and fast paced matches.
This time, however, we saw a different strategy on how to win this match from Lesnar. Most opponents in this type of match avoid giving a win easily and will do anything to not be pinned, short of being disqualified because, even in the Iron Man Match, being disqualified means you lose that pin fall to your opponent.
Lesnar seemed not to care. As soon as Angle had handed the belt to the referee Lesnar attacked, getting a cheap shot in and taking over immediately.
Angle rallied briefly, getting some shots in and suplexing Brock who would then step out of the ring to regroup.
Lesnar, once back in the ring feigned injury to his knee before getting another cheap shot in. Angle fought back and Lesnar again left the ring.
Lesnar walked around the ring, breaking the count out a few times only to slip back out of Angle's grasp. The crowd began to boo Lesnar as he stalled getting back in the ring.
Every time Angle went for Brock's legs Brock ran outside the ring until he was able to trick and hang Angle up on the top rope before getting back in. Angle would soon toss Brock away again, Lesnar claiming injury to his leg again.
Angle stalked Lesnar outside of the ring until he was driven, back first into the ring edge and then the turnbuckle post.
Lesnar then grabbed a steel chair and brought it into the ring. He struck Angle with the chair multiple times with the chair. While this disqualified Lesnar and gave Angle an early win it also took a lot out of Angle too.
Lesnar took advantage and gained a quick pin not long after in order to tie it up.
Angle, true to form, did not go down without a fight. Lesnar was cruel, unforgiving and violent throughout the match.
Angle, trying to save his title, used his speed and skill to stay in the fight as best he could. Angle even went to the top rope a few times, pulling out some new offense, hoping to stay the champion.
However, in the end, the score did not favor Angle. With the clock counting down the hour Angle put his Ankle Lock on Lesnar, desperate to make him tap out and tie up the match.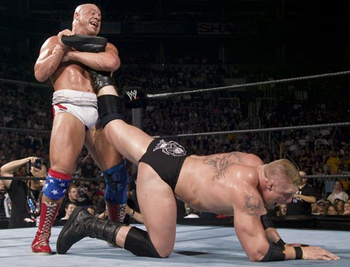 Lesnar, stubborn and resilient didn't tap out and, when the buzzer sounded and the match was over Angle released Lesnar's angle, despair evident on his face. The official score was as follows:
Brock Lesnar- 5
Kurt Angle – 4
Brock Lesnar was the new WWE Champion.
Check out the match wherever you can, the network, YouTube, etc but seriously, watch it. One hour of storytelling and one hour of pretty great athletic moments practically from start to finish.
Watching this match now though I realized something else, beyond how great both these men are and how much I miss the 90s- early 2000s wrestling. Back in 2003 Kurt Angle took Brock Lesnar to Suplex City.
Tags: Brock Lesnar, Iron Man Match, Kurt Angle, Suplex City, wwe championship, WWE Smackdown