Review:Three Billboards Outside Ebbing, Missouri
|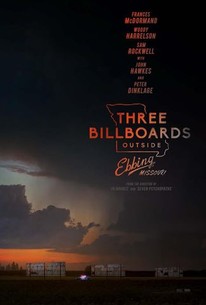 There are few things as satisfying as a good revenge flick.  Vigilante justice rewards all my sensibilities of fairness; when the philosophical issues that come with it are also explored, I get almost giddy.  Layer on some sort of redemption story on top, and I'm all in.
THREE BILLBOARDS OUTSIDE EBBING, MISSOURI tickles all those fancies. Plus it features some remarkable performances and some beautiful cinematography.  I am so thankful I spent Thanksgiving Day watching this film.
Frances McDormand is "Mildred Hayes," a woman who has purchased three billboards outside of town (hence the title) to send a message to the police department, and specifically "Chief Willoughby" (a terrific  Woody Harrelson.)  Hayes's daughter was raped and murdered and the case is still unsolved.  The billboards certainly motivate action; it's the very consequences that catapult this story into the narrative stratosphere.
There are some excellent performances, not only from McDormand and Harrelson, but also from Sam Rockwell, Caleb Landry Jones, and Peter Dinklage.  Rockwell is especially mesmerizing as an inept, angry cop who lives with his mother (a wonderfully complex Sandy Martin.).
The way the camera fixates on the flat affect of McDormand, who tells such a sad, angry story with her eyes and pursed lips.  She's a tour-de-force and a terrifyingly strong female lead.  This is her movie, but it's also a great example of the genius of Martin McDonagh.
About three-quarters into the movie, I started to think things had gotten off course but it all eventually comes full-circle.  McDonagh has written a fascinating story, well-paced and beautifully shot.  Without this cast, though, I'm confident it wouldn't be this good.  As it is, though, I'd expect to see it easily nominated for Best Picture, Best Actress, and Best Supporting Actor this year.
Director: Martin McDonagh
Writer: Martin McDonagh
Notable Cast: Frances McDormand, Sam Rockwell, Caleb Landry Jones, Woody Harrelson, Lucas Hedges, Peter Dinklage, Zeljko Ivanek
Tags: Redemption, revenge, three billboards outside ebbing missouri, Vigilante