Arrow Brings The El Duce Tapes & Shogun's Joy Of Torture In February
|
February is a chilly month so you'll need a night or two to stay warm by the glow of your Blu-ray player. Arrow Video might only have two new offerings for the month, but they're guaranteed to make your eyes heat up. The El Duce Tapes goes deep into the shock rock band. They were rather low profile until the day their lyrics became quoted on the floor of Congress. During the '80s, they became a target of Tipper Gore and the Parents Music Resource Center (PMRC). The band enjoyed the outrageous spotlight especially lead singer El Duce. Now his story is being told. Also coming out is Shogun's Joy of Torture which lives up to all the elements of the title. If you've already seen Teruo Ishii's Orgies of Edo and Horrors of Malformed Men (also out from Arrow Video), you know he doesn't mess around on the screen. You know when your instructor in World Cinema spoke about Japanese filmmakers – Ishii was not part of of the conversation. They never dared show Ishii's Shogun's Joy of Torture in the class because they feared being banned from the campus before the lights came up. This is the foreign film they held back on you.
New from Arrow Video US
THE EL DUCE TAPES [Blu-ray] (2/9)
SHOGUN'S JOY OF TORTURE [Blu-ray] (2/23)
via MVD Entertainment Group
Arrow Shares the Love this February with Two Exciting New Releases!
February may be the shortest month of the year, but for many, it's a month of love. With Valentine's Day falling smack-dab in the middle, it's the perfect time to pour your heart out in hopes of wooing your crush. Arrow plans to play the part of Cupid with two releases that make for the perfect date night double feature, that is, of course, assuming you and your Valentine like to get freaky.

The February fun begins on February 9 with one wild ride. In the early '90s an aspiring filmmaker and part-time actor, Ryan Sexton, grabbed a camcorder and followed shock rockers The Mentors into the sleaziest and grimy clubs in the Hollywood area. The band, known for wearing black executioner masks over their heads, caused controversy wherever they went with their vulgar lyrics and decidedly non-PC approach. Sexton kept the cameras rolling at all times while putting a special focus on the band's infamous singer-drummer, El Duce. Now thirty years later, filmmakers Rodney Ascher and David Lawrence have taken the footage and edited it together as The El Duces Tapes, a documentary that John Carpenter has praised as "dark and irresistible." One watch will have viewers wanting more El Duce and for that, Arrow has you covered. The Blu-ray comes with a buttload of special features, including unused VHS footage, brand-new audio commentary, and an interview with Steve Broy, aka Dr. Heathen Scum of The Mentor.
The short month comes to a close on February 23 with the release of Teruo Ishii's euro-guro, Shogun's Joy of Torture. This 1968 anthology tales three different tales of crime and punishment, all based on true-life documented cases. This precursor to Toei's "pinky violent" films of the '70s isn't for the easily squeamish and is sure to make the best of us a little uncomfortable. The opening credits feature a decapitation and a burning at the stake, just to let you know what you're in for. This slice of delightful debauchery is presented in high-definition and includes a brand-new audio commentary, an interview on the work of Ishii, and a feature that explores the history of Japanese exploitation.
COMPLETE DETAILS, SPECIAL FEATURES, and HI-RES ART El Duce TapesAn Incredible, All-Access, Backstage Pass with the Most Controversial Punk Band of All-Time!

An Incredible, All-Access, Backstage Pass with the Most Controversial Punk Band of All-Time!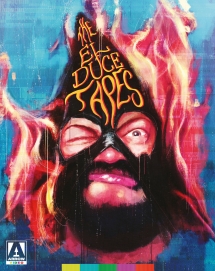 In the early 90s, aspiring filmmaker (and General Hospital co-star) Ryan Sexton lugged a giant camcorder into some of the seediest clubs and the filthiest apartments in Hollywood. There he filmed hour upon hour of VHS footage of the jaw-droppingly offensive Shock Rock band The Mentors, focusing on their infamous lead singer, "El Duce." 30 years later, the team behind The Nightmare and Room 237 and the editor of Leap of Faith: William Friedkin on The Exorcist uncover this dusty stockpile of long forgotten – and unseen – footage. They begin to piece together a picture of the man under the black executioner's hood and what his wilfully offensive act and controversial views might tell us about 21st century America. An Incendiary, tragicomic documentary (midway between The Decline of Western Civilization and Crumb) which has been hailed as "Essential Viewing" by CineVue and called "Dark and Irresistible" by director John Carpenter, The El Duce Tapes will chew you up, spit you out, and leave you floored.
High Definition (1080p) Blu-ray presentation
Brand new audio commentary with The El Duce Tapes crew
The Ryan Sexton Tapes – 34-minute illustrated audio conversation between Ryan Sexton and producer Tim Kirk about the shooting of the original VHS footage
The Nilbog Tapes – Video of the band recording the original score for the film
More El Duce Tapes – A free-standing alternate assembly of unused material, sort of a sideways sequel
Tape 2: Hollywood Reservoir – A piece of raw tape providing a peek behind the scenes of the process of shooting the footage and a candid document of El Duce and Ryan's rapport
El Duce Stories – A humorous cut-up of a few of El Duce's famously long aimless stories into one completely incomprehensible and endless word salad
Return to Rape Rock Mountain – A brand new interview with Steve Broy, aka Dr. Heathen Scum of The Mentors
Reality Check presents the all-female El Duce tribute band The Womentors
Reversible sleeve featuring newly commissioned artwork by John Pearson and reverse art by Benjamin Marra
FIRST PRESSING ONLY: Illustrated collectors' booklet featuring new writing by Manish Agarwal

El Duce was one of the most controversial punk rockers of all time. His lyrics were entered into the official record of Senate Subcommittee hearings on obscenity, and he implicated himself in the death of Kurt Cobain mere days before his own death.
SRP: 39.95
Street Date: 02/09/21
Genre: Documentary / Biopic
Language: English
Run Time: 104 mins

Shogun's Joy Of Torture
From the Debauched Mind of Exploitation Legend Teruo Ishii, an Anthology of Taboo Delights and Horrors!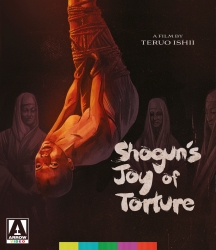 From the outrageous imagination of cult director Teruo Ishii (Orgies of Edo, Horrors of Malformed Men) comes this infamous omnibus of three shocking tales of crime and punishment based on true-life documented cases set during the reign of the Tokugawa shogunate. The first tale sees the beautiful Mitsu (Masumi Tachibana) going to horrifying lengths to tend to her older brother Shinzō (Teruo Yoshida), a carpenter injured in a work accident, but the law catches up on them and metes out a terrifying retribution after they violate the ultimate taboo. In the second, unfettered passions in a Buddhist nunnery are not allowed to go unpunished after abbess Reihō (Yukie Kagawa) and her attendant Rintoku (Naomi Shiraishi) encounter a virile young monk from a neighboring temple. In the closing segment, a sadistic torturer (Fumio Watanabe) attempts to show a tattoo artist (Asao Koike) how to depict convincing expressions of faces of pain in his work by allowing him to sketch a selection of Europeans as they are tortured for entering Japan with the aim of spreading Christianity. Ishii's notorious portmanteau of Edo-era excess signaled a change in direction for a director until then regarded for his crime and yakuza films, setting the ball rolling on the run of grotesque historical anthologies for which he is now best remembered. Vehemently denounced by the critics of the day, Shogun's Joy of Torture set a new benchmark for the depiction of sex, sadism and depravity in Japanese exploitation, with Ishii staging his elaborate torture methods with an unmatched verve and inventiveness.
Bonus Materials
High Definition (1080p) Blu-ray presentation
Original uncompressed mono PCM audio
Optional English subtitles
Audio commentary by Japanese cinema expert Tom Mes
Teruo Ishii: Erotic-Grotesque Maestro – an exclusively newly filmed interview with the author Patrick Macias
Bind, Torture, Thrill – author and critic Jasper Sharp discusses the history of torture in Japanese exploitation cinema
Original trailer
Image gallery
Reversible sleeve featuring original and newly commissioned artwork by Jacob Phillips
FIRST PRESSING ONLY: Illustrated collectors' booklet featuring new writing on the film by Mark Schilling
SRP: 39.95
Street Date: 02/23/21
Genre: Horror / Crime
Language: Japanese
Run Time: 85 mins
Tags: Arrow Video, Japanese, Teruo Ishii