Over the last few years Severin Films has been doing amazing work finding those strange, bizarre titles and elevating them so you can watch them without fearing for your life at a sketchy movie theater that would show them. They dig deep into the type of foreign films that wouldn't show up in a Martin Scorsese lecture about cinema on TCM. Joe Dante might name them. On March 30th, another four films promise to warm up your Spring with tales featuring a Vampire, a deranged killer, a beast, a recently passed Oscar winner and Tony Soprano. Both Perdita Durango and The Day In the Beast are also available in 4K Ultra HD and Blu-ray. Nosferatu in Venice is sort of the sequel to Werner Herzog's Nosferatu except Klaus Kinski didn't have Herzog on the other side of the camera. A Scream In the Street takes us back to '70s Hollywood with a crazed killer on the loose. This is a quartet of weirdness bound to make you feel better staying inside when pollen season strikes in Spring. Here's the press release from Severin with all the details.
FOR IMMEDIATE RELEASE:
New from SEVERIN FILMS on March 30th
Perdita Durango [4K UHD + Blu-ray] and [Blu-ray]
The Day Of The Beast [4K UHD + Blu-ray] and [Blu-ray]
Nosferatu In Venice [Blu-ray]
A Scream In The Streets [Blu-ray]
via MVD Entertainment Group
 
 
Two Álex de la Iglesia's Classics Make Their 4K Ultra HD Debuts, While a Bizarre Sequel and a Sleazy Detective Drama Hit Blu-ray
On March 30th, Severin Films will be releasing four new titles that will make fine additions to collections everywhere. Leading the way will be two titles, both making 4K Ultra HD debuts, from writer-director Álex de la Iglesia. Before he was wowing audiences every week via HBO Max, the Spanish filmmaker was developing a cult reputation for his eccentric dark comedies. In 1995, his legend began to soar with the release of the Christmas horror-comedy, The Day of the Beast. Hailed by Film School Rejects as "absurd and extremely blasphemous," The Day of the Beast is the story of the unlikely partnership between a priest, a death metal aficionado, and a TV psychic, as they desperately attempt to prevent the birth of The Antichrist. The Day of the Beast will be released on both standard Blu-ray and a 4K Ultra HD + Blu-ray combo. Special features include a documentary on the making of the film and its cultural impact and Mirindas Asesinas, an early short film from de la Iglesia.
Two years after the release of The Day of the Beast, de la Iglesia made his English-language debut with Perdita Durango. Based on a Barry Gifford novel and set in the Wild At Heart universe, the film was severely cut and released in the US as Dance With the Devil. Severin has proudly restored the film to include de la Iglesia's intended sexual mayhem and allow audiences to view this unhinged love story as it was meant to be seen. Starring Rosie Perez and Javier Bardem, Perdita Durango is not to be missed. The will be released on both standard Blu-ray and a 4K Ultra HD + Blu-ray combo and special features include interviews with de la Iglesia and Gifford.
Also releasing March 30 will be Nosferatu in Venice, one of the most bonkers horror films to come out of Italy – a country with a reputation for creating bonkers horror films. Originally planned as a sequel to Werner Herzog's Nosferatu, the film morphed into indescribably strange. Klaus Kinski returns as the bloodsucker, resurrected and living in Venice with a taste for warm blood and rough sex. This special slice of Italian madness incorporated five different directors, including Kinski, the legendary Luigi Cozzi, and Augusto Caminito. Scanned in 2K from the original negative, this unofficial sequel to the Herzog classic comes to Blu-ray with a brand new documentary on Kinski. Christopher Plummer and Donald Pleasence co-star.

Wrapping the month up will be the release of 1973's A Scream in the Streets. From producer Harry Novak and director Carl Monson, this sleazy crime caper follows two L.A.P.D. detectives as they attempt to capture a brutal killer targeting the city's sickest sexual hangouts. With enough heinous crimes to make both Stabler and Benson sick, this pulpy smut is not for the easily squeamish. Uncut and scanned in 2K from the original camera negative, A Scream in the Streets also includes a pair of sexy shorts and outtakes.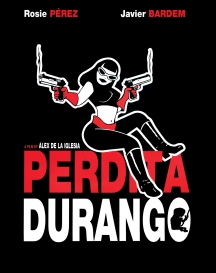 Perdita Durango
For his English-language debut, writer/director Álex de la Iglesia (DAY OF THE BEAST) chose novelist Barry Gifford's prequel to WILD AT HEART featuring sociopath priestess Perdita Durango. But when the U.S. distributor saw the finished film, they slashed 10+ minutes of gleefully profane sex & violence and dumped it under the title DANCE WITH THE DEVIL. Severin is proud to present the complete Director's Cut starring Oscar® nominee Rosie Perez and Academy Award® winner Javier Bardem in the "amoral love story" (DVD Talk) filled with human sacrifices, kidnapping, murder, fetus trafficking and the dogged DEA agent (James Gandolfini) on the trail of it all. Don Stroud (DJANGO UNCHAINED), Demián Bichir (THE HATEFUL EIGHT), Alex Cox (REPO MAN) and Screamin' Jay Hawkins co-star in this "splendidly irresponsible" (Moria) joyride to the dark side, now restored in 4k with all-new Special Features.

Bonus Materials
On The Border – Interview with Director Álex de la Iglesia
Writing PERDITA DURANGO – Interview with Writer Barry Gifford
Dancing With The Devil – An Appraisal By Film Scholar Dr. Rebekah McKendry
NARCOSATANICOS: PERDITA DURANGO and the Matamoros Cult – Interview with Abraham Castillo Flores and 'Cauldron of Blood' Author Jim Schutze
Canciones de Amor Maldito: The Music of PERDITA DURANGO – Interview with Composer Simon Boswell
Shooting Perdita Durango – Interview with Director of Photography Flavio Labiano
Trailers
Notes about the film:
Director's Cut
Now restored on Blu-Ray for the first time ever in America
Based on Barry Gifford novel, the prequel to Wild at Heart
Incredible cast of Rosie Perez, smoldering like never before or since, promising leading man Javier Bardem, Screamin Jay Hawkins, Alex Cox and James Gandolfini
For fans of Wild At Heart, No Country For Old Men, Repo Man, From Dusk to Dawn
Music by Simon Boswell

4K Ultra HD
SRP: 49.95
Street Date: 03/30/21
Genre: Action/Adventure
Language: English
Run Time: 130 mins 

Blu-ray
SRP: 34.95
Street Date: 03/30/21
Genre: Action/Adventure
Language: English
Run Time: 130 mins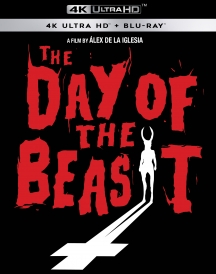 The Day Of The Beast
Álex de la Iglesia delivers the smash hit that remains one of the best spanish horror comedies of our time.
In between his cult hit debut ACCIÓN MUTANTE and proudly depraved PERDITA DURANGO, writer/director Álex de la Iglesia delivered the international smash that remains one of the best horror comedies of our time: When a rogue priest (Álex Angulo of PAN'S LABYRINTH) discovers the exact date The Antichrist will be born, he'll enlist a Death Metal record store clerk (Santiago Segura of KILLER BARBYS) and a cheesy TV psychic (Armando De Razza) for an urban spree of "gore, sacrilege and twisted humor" (San Francisco Examiner) to prevent the Apocalypse by summoning Satan himself. Terele Pávez (800 BULLETS) co-stars in this "classic of modern Spanish cinema" (Screen Anarchy) – winner of 6 Goya Awards including Best Director – now restored in 4k from the original negative and loaded with all-new Special Features.

Bonus Materials
Heirs Of The Beast – Feature Length Documentary by Diego López and David Pizarro on the Making and Cultural Impact of DAY OF THE BEAST
Antichrist Superstar – Interview with Director Alex de la Iglesia
The Man Who Saved the World – Interview with Actor Armando De Razza
Beauty and the Beast – Interview with Actress Maria Grazia Cucinotta
Shooting The Beast – Interview with Director Of Photography Flavio Martínez Labiano
Mirindas Asesinas – 1990 Short Film by Alex de la Iglesia
Trailers
Sales Points
For fans of Tie Me Up Tie Me Down, Dark Waters, Dogma
Restored on UHD & Blu-Ray for the first time ever in America
New 4k restoration from the original negative
Winner of 6 Goya Awards including Best Director

4K Ultra HD
SRP: 49.95
Street Date: 03/30/21
Genre: Horror
Language: Spanish
Run Time: 104 mins
Blu-ray
SRP: 34.95
Street Date: 03/30/21
Genre: Horror
Language: Spanish
Run Time: 104 mins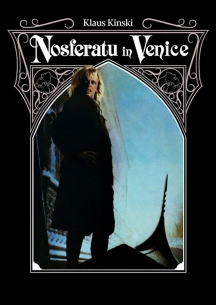 Nosferatu In Venice
What was intended to be an unofficial sequel to Werner Herzog's NOSFERATU instead became one of the most notoriously fascinating productions in EuroCult history: Klaus Kinski – "now fully in the grip of the 'batsh*t crazy' phase of his career" (Rock! Shock! Pop!) – gives his penultimate performance as the legendary vampire resurrected in modern-day Venice with an insatiable hunger for warm blood and rough sex. Donald Pleasence and Academy Award® winner Christopher Plummer co-star in this sumptuously insane shocker that features music by Oscar® winner Vangelis (CHARIOTS OF FIRE), employed five different directors – including Mario Caiano (NIGHTMARE CASTLE), Luigi Cozzi (PAGANINI HORROR), writer/producer Augusto Caminito and reportedly Kinski himself – and still delivers "one eye-popping scene after another" (Cinema Retro), now scanned in 2k from the original negative.
Bonus Materials
Creation is Violent – New Feature-Length Documentary on Kinski's Final Years
Creation is Violent Outtakes: – Nothing Bad Can Happen – Gypsies Should Be Played By Real Gypsies!
Trailer
Sales Points
Blu-ray
SRP: 34.95
Street Date: 03/30/21
Genre: Horror
Language: English
Run Time: 93 mins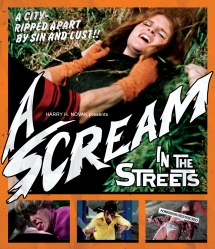 A Scream In The Streets
From infamous producer Harry Novak – whose Box Office International Pictures brought the world such classics as AXE, MANTIS IN LACE and WHAM BAM THANK YOU, SPACEMAN – comes the still-startling sickie about a pair of L.A.P.D. detectives hunting a transvestite psychopath through a polyester jungle of massage parlor perverts, suburban sex fiends, violence-crazed cops and "one of the worst examples of cross-dressing ever filmed" (Digitally Obsessed). Joshua Bryant (ENTER THE DEVIL), Sandy Carey (DRIVE-IN MASSACRE), Linda York (CHAIN GANG WOMEN) and Sharon Kelly (aka '80s adult film superstar Colleen Brennan) star in this "garish display of rampant depravity" (Pulp International) directed by Carl Monson (PLEASE DON'T EAT MY MOTHER!), now scanned uncut in 2K from the original negative and throbbing with Special Features.
Bonus Materials
The Peeper – Two Sexy Shorts Produced From A SCREAM IN THE STREETS Outtakes
Trailer
Blu-ray
SRP: 34.95
Street Date: 03/30/21
Genre: Horror
Language: English
Run Time: 90 mins