88 Films arrive in US with Gestapo and Shaw Brothers titles on Blu-ray this fall
|
88 Films has been a hit in the United Kingdom over the last decade. They have upped the profile of hundreds of films from around the world. After following them online and feeling left out on the fun, the label is releasing their first three Blu-rays over the next three months. First is The Gestapo's Last Orgy which is the kind of World War II film that won't get shown on TCM. The film was banned in England during the Video Nasties era so you know it's rather graphic. The Chinese Boxer and Disciples of Shaolin are two films from the legendary Shaw Brothers Studio in Hong Kong. Both films promise to deliver the martial arts action that exploded in the '70s. It's so nice to know that 88 Films is coming across the pond with such astonishing Blu-rays.

FOR IMMEDIATE RELEASE:
88 Films has long become the favored British and now US distributor for those who like unpretentious and unapologetically outrageous entertainment. From remastering a number of forgotten frighteners in crisp HD for the 88 'Slasher Classics' range to bringing the best of Italian horror back to the mainstream, and even re-introducing Hong Kong genre mania back to the country's shelves, they continue to create a world of high quality shock and awe for movie-addicts across the world to collect and cherish.

"For the last decade 88 Films has been one of the leading physical media collector's labels in the UK specializing in cult film releases packed with bonus features in beautiful packaging," said Eric D. Wilkinson, Director of Home Video Sales and Acquisitions for MVD Entertainment Group. "For years, consumers here in North America had to import these releases if they wanted to add them to their collections, but all of that is about to change. MVD is the leading independent distribution partner of physical media collector's labels, and we not only proudly welcome 88 Films to our family but are thrilled to help introduce 88 Films to American consumers."

Richard Elliott, Managing Director of 88 Films, commented, "We are enormously excited to bring our 88 Films brand to the United States and in MVD we have found the perfect distribution partners. We will be releasing our usual fare of Slasher classics, Italian Genre titles and Martial Arts Cinema and we are so pleased to be joining the pantheon of amazing American indie blu-ray labels."

The following titles are the first releases for the US market via MVD.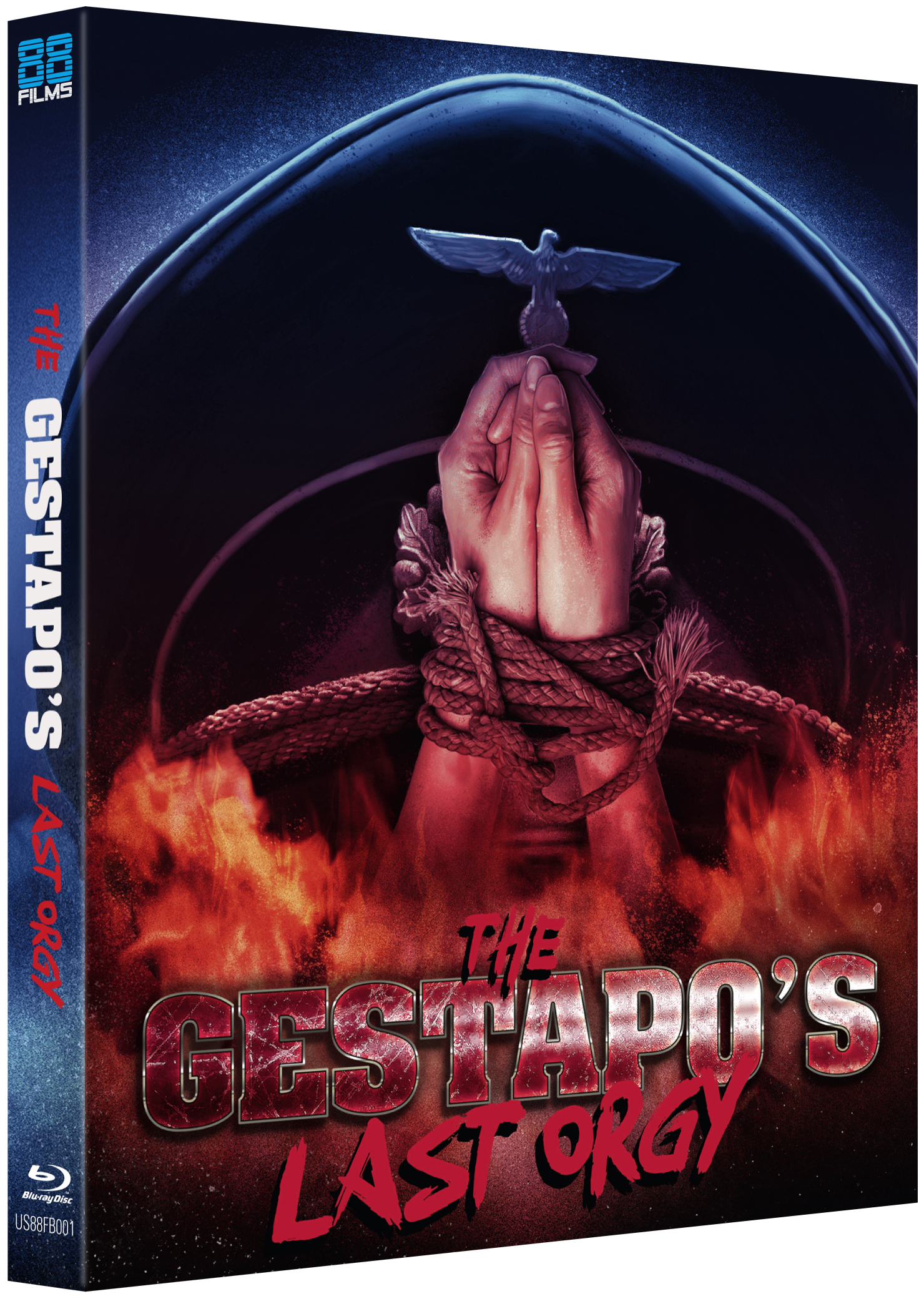 The Gestapo's Last Orgy
The Sickest Entry in the Nazisploitation Genre!Coming to Blu-ray on October 19th
Still banned in the UK as one of the infamous Video Nasties, in the tradition of The Night Porter, Salon Kitty and Salo only far more depraved comes perhaps the most notorious Nazisploitation epic of them all! Daniela Levy (aka Italian TV presenter and future UNICEF Goodwill Ambassador Daniela Poggi) stars as a beautiful young death camp prisoner forced into a nightmare of brutality, torment and sexual degradation. But will a Commandant's vilest urge trigger her ultimate vengeance? Marc Loud (aka Adriano Micantoni of Tomb Of Torture) co-stars in this fetid slice of filth-strudel also known as Last Orgy Of The Third Reich And Caligula Reincarnated As Hitler now presented on Blu-ray for the very first time and restored in 2K From the original negatives.
Bonus Materials
Brand New 2K Restoration From the Original Camera Negatives
Restored English and Italian LPCM Soundtracks
Newly Translated English Subtitles
Complete and Uncut
Audio Commentary by Critic And Author Samm DeighanAudio Commentary by Italian Movie Specialists Troy Howarth and Nathaniel Thomson
Trailer: http://vimeo.com/547577895

The Chinese Boxer
See The Sweeping Hand of Death Strike Without Mercy!Coming to Blu-ray on November 9th
From the golden age of Kung Fu movies, the legendary Shaw Brothers bring you an action-packed tale of revenge, mayhem and flying fists. When his martial arts school is viciously attacked by a rival gang of Japanese thugs, Lei Ming swears to bring them down with violent justice. Written, starring and directed by Jimmy Wang Yu, The Chinese Boxer (1970) is a fabulously fast-paced feature full of exquisite set-pieces and mind-blowing fight choreography.

A huge influence on the likes of Tarantino's Kill Bill (2003) and Bruce Lee's Fist of Fury (1972) this entertainingly savage story of resilience, skill and a battle against the odds, is one of the first true modern classics of the genre, focusing as it does on physical prowess and athletic proficiency over the more mythical elements of the wuxia era. An undoubted cult classic, this is a must for any serious collector of extreme Asian cinema and martial arts madness.

Bonus MaterialsHigh Definition (1080p) Presentation in 2.35:1 Aspect Ratio
2.0 DTS-HD MA English Soundtrack
2.0 DTS-HD MA Mandarin Soundtrack with newly translated English Subtitles
Audio Commentary by Critic and Author Samm Deighan
Interview with Wong Ching
Open Hand Combat – David West on The Chinese Boxer
US 'Hammer of God' TV Spot

Trailer: https://vimeo.com/563747759

Disciples of Shaolin
The Ultimate in Kung Fu… Only 1 Fighter Will Live!
Coming to Blu-ray on December 14th
Another Kung Fu vehicle from the infamous Shaw Brothers Studio, Disciples of Shaolin AKA Hong quan xiao zi, delivers a typically power-packed Hong Kong tale of enemy gangs and super cool fight scenes. When shaolin disciple Kuan Fung Yi (Sheng Fu) takes a job at a textile factory he soon becomes embroiled in a bitter and violent clash with the rival Manchu clan who run a neighbouring mill. As well delivering some impressive martial arts set pieces, Disciples of Shaolin also provides a political punch, underlining the abuse of workers and the corruption of cruel bosses. Fast, fierce and thought provoking, this is a must for collectors of extreme Asian cinema.

Bonus Materials
High Definition (1080p) Presentation in 2.35:1 Aspect Ratio
2.0 DTS-HD MA English Soundtrack
2.0 DTS-HD MA Mandarin Soundtrack with newly translated English Subtitles
Audio Commentary by Critic and Author Samm Deighan
Audio Commentary by Mike Leeder and Arne Venema
Interview with Shaw Bros Actor and Acclaimed Director Jamie Luk
Theatrical Trailer
Includes First Run Slipcase, Booklet and Poster
Tags: 88 Films, Chinese Boxer, Disciples of Shaolin, Shaw Brothers