Fire In the Sky goes into the nightmare of alien abduction. The book had been a sensation for those who needed a reason to fear E.T. showing up in their backyard. This was based on the true story of what happened when The movie with an all-star cast that included James Garner (The Rockford Files) became a hit on the big screen and VHS. Now the movie is getting upgraded to Blu-ray in June. You can see what happened to Travis Walton when he was taken inside a flying saucer. Here's the press release from Scream Factory:
FIRE IN THE SKYOUT
ON BLU-RAY™ JUNE 21, 2022
FROM SCREAM FACTORY
JAMES GARNER, ROBERT PATRICK, CRAIG SHEFFER, PETER BERG, AND HENRY THOMAS STAR IN THIS GRIPPING AND TERRIFYING DEPICTION OF ALIEN ABDUCTION THAT'S BASED ON A TRUE STORY.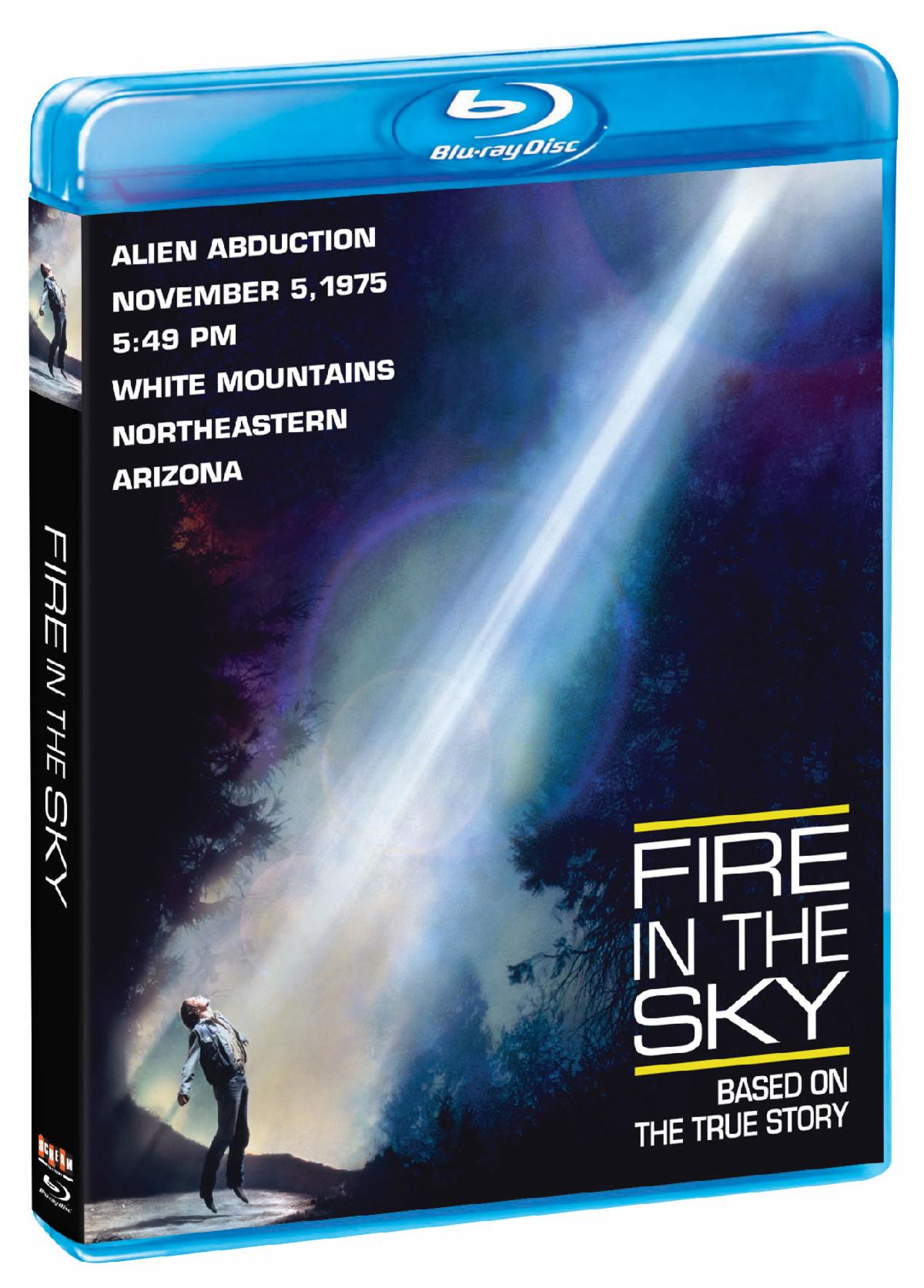 Los Angeles, CA – Fire in the Sky will blast off in a Blu-Ray™ release on June 21, 2022 by Scream Factory. This will be the film's first time on Blu-Ray™ in North America, with extras including a new 4K scan from the original camera negative and an interview with director Robert Lieberman. Fans of the sci-fi mystery can pre-order their Blu-Ray™ copies now on shoutfactory.com.  Based on a true story, this film stars Craig Sheffer (Nightbreed), James Garner (The Rockford Files), Henry Thomas (E.T.), Robert Patrick (Terminator 2) and Kathleen Wihoite (Witchboard) and was nominated for four Saturn Awards: Best Science Fiction Film, Best Writing, Best Music and Best Actor (Robert Patrick). 
Six men saw it. 
One man became a prisoner inside it.
But who would believe them?

In 1975, logger Travis Walton (D.B. Sweeney, Hear No Evil, Eight Men Out) and his co-workers encountered a UFO. His pals were able to flee — but Walton was not so lucky. Whisked aboard the strange craft, he was subjected to a painful, unearthly medical study. Fire in the Sky is the amazing tale of that ordeal … and of the contempt and ridicule endured by Walton and his friends as they tried to convince others of this otherworldly experience. 

SPECIAL FEATURES
NEW 4K Scan from the Original Camera Negative 
NEW Interview With Director Robert Lieberman
Interview With Actor D.B. Sweeney
Interview With Actor Robert Patrick
Interview With Composer Mark Isham
Photo Gallery
Theatrical Trailer 

1080p High-Definition Widescreen (2.39:1)/English DTS-HD Master Audio Stereo/English Subtitles/1993/Color/Approximate Feature Running Time +/- 109 Minutes 

About Shout! Factory

Shout! Factory, LLC is a leading multi-platform media company devoted to film and TV distribution, development, and production, as well as the preservation and revitalization of the very best in pop-culture entertainment. Founded by Richard Foos, Bob Emmer, and Garson Foos in 2003, Shout! owns and manages a large portfolio of films, contemporary and classic TV series, animation, and documentaries. The company's creative acquisition mandate has established it as a leading independent distributor, with partners and properties including GKIDS, Sesame Street, The Carol Burnett Show, The Johnny Carson Show, IFC Films, Stephen J. Cannell Productions, ITV Studios, Major League Baseball Productions, and many others. Shout! Factory Kids focuses on live-action and animated kids and family properties, and the company releases films and television shows in other genres under the Scream Factory and Shout Select imprints. Shout! develops, acquires and distributes new films via Shout! Studios, owns and operates libraries including Mystery Science Theater 3000 (in partnership with creator Joel Hodgson) and the Roger Corman New Horizon Pictures Library, and operates the acclaimed streaming service Shout! Factory TV. Shout! Factory is based in Los Angeles, California. For more on Shout! Factory, visitshoutfactory.com.