Henry Miller is the kind of writer you discover in college despite the lack of hearing his name in any English classes. Showing up in a literature lecture with a copy of Miller's Tropic of Cancer raised a few eyebrows. His tales of carnality while he lurked around France made prudent classmates act like his novels should only be stashed in a paperbag. Quiet Days in Clichy was one of the first books to read since it was his shortest book. After reading it, I had found out that there was a movie made in the '70s. This proved to be extremely frustrating since I could track down a copy in the age of VHS. I couldn't find a copy on Beta. After all these decades, Blue Underground is putting out Quiet Days in Clichy on 4K UHD. Now you can see it all at the end of October. Here's the press release from Blue Underground with all the details:
BLUE UNDERGROUND RESURRECTS JENS JØRGEN THORSEN'S LOST EROTIC CLASSICQUIET DAYS IN CLICHY
Cannes Film Festival Winner is Fully Restored in 4K [4K UHD + Blu-ray] (10/25)
[DVD – Special Edition] (10/25) Via MVD Entertainment Group
Blue Underground is proud to present the one-of-a-kind viewing experience of Quiet Days in Clichy. Back in 1970, controversial Danish artist Jens Jørgen Thorsen tackled the impossible – translating author Henry Miller's semi-autobiographical novella Quiet Days in Clichy to the big screen.In it, he captures the youthful spirit and liberated sexuality Miller experienced in his Bohemian days as an expat in Paris, portraying an American writer Joey and his French pal Carl sharing an apartment in the Parisian district of Clichy. While both men are broke and starving, it is no deterrent to their pursuit of desire for sexual adventures. Filmed in the French new-wave style of Godard and amplified by an original soundtrack by Woodstock favorite "Country Joe" McDonald, Quiet Days in Clichy is not for those offended by Joey and Carl's uninhibited sexual escapades.A European hit, when Quiet Days in Clichy made its way to the United States it was quickly seized by authorities, claiming it to be nothing more than obscene, pornographic filth, citing some of its sexually explicit moments. After protracted litigation against the government by its' US distributor, the film was eventually cleared, but mysteriously became lost. But now, more than 50 years later, Blue Underground has resurrected this important "adults only" classic, presenting it in a brand-new restoration, scanned in 4K 16-bit from its recently discovered uncut & uncensored original 35mm fine-grain negative. The new 4K UHD release of Quiet Days in Clichy hits shelves on October 25, 2022.
Quiet Days In Clichy [4K UHD + Blu-ray]
Joey is a struggling writer with no money. His roommate Carl is a charming stud. Together, they live, laugh, and love their way through Paris.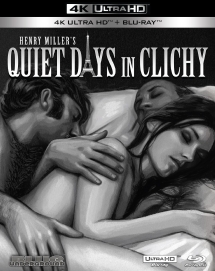 List Price: $49.95  
Based on the Controversial Novel by Henry Miller & Featuring Original Music by Country Joe McDonald
Joey is a struggling writer with no money. His roommate Carl is a charming stud with a taste for young girls. Together, these two insatiable dreamers will laugh, love and screw their way through a decadent Paris paved with wanton women, wild orgies and outrageous erotic adventures. Based upon the long-banned novel by Henry Miller and featuring a hit soundtrack by rock legend Country Joe McDonald, QUIET DAYS IN CLICHY is considered to be the most daring film adaptation ever of one of the most controversial authors in history.
In May of 1970, the United States Government seized the only English-language prints of QUIET DAYS IN CLICHY on charges of obscenity. And while it was ultimately cleared in Federal Court, the film mysteriously disappeared shortly after its release. Now more than 50 years later, this landmark 'adults only' classic can be seen in a brand-new restoration, scanned in 4K 16-bit from its recently discovered uncut & uncensored original fine-grain negative, with Dolby Vision HDR and DTS-HD Master Audio!
Bonus Materials
Ultra HD Blu-ray (2160p) and HD Blu-ray (1080p) Widescreen 1.66:1 feature presentations
Audio: 1.0 DTS-HD (English)
Subtitles: English SDH, Francais, Espanol
Songs of Clichy – Interview with Country Joe McDonald
Dirty Books, Dirty Movies: Barney Rosset on Henry Miller – Interview with Henry Miller's editor and publisher Barney Rosset
'Midnight Blue' Interview with Barney Rosset
NEW! Deleted Scene
NEW! Theatrical Trailer
NEW! Poster & Still Gallery
NEW! Book Cover Gallery
NEW! Court Documents
Sales Points
The controversial 'adults-only' classic returns on 4K Ultra High Definition Blu-ray Disc!
WORLD PREMIERE! New 4K 16-Bit Restoration from its recently discovered uncut & uncensored original fine-grain negative
UHD features 2160p Ultra HD Resolution and Dolby Vision HDR, with DTS-HD Master Audio
Remastered Blu-ray features 1080p HD Resolution, with DTS-HD Master Audio
Limited Edition NSFW embossed slipcover and reversible sleeve with alternate artwork (First Pressing Only)
Features original music by Country Joe McDonald, lead singer of the psychedelic rock group Country Joe & the Fish
Erotic classic in the tradition of I AM CURIOUS (YELLOW), LADY CHATTERLEY'S LOVER, and HENRY & JUNE
Winner: Prix Byzance – Cannes Film Festival – Best Erotic Film of the Year
Based on the controversial novel by acclaimed author Henry Miller (Tropic of Cancer, Black Spring, Tropic of Capricorn)
National Print Advertising and extensive Online Exposure