10 Thoughts – Bellator 103 and Legacy Fighting Championships 24 … Thoughts on Holly Holm, Henry Cejudo, Patricio Pitbull and More!
|
With the big UFC event already come and gone for the week, there's still MMA out there and available for watching. And since I opted to stay in on a Saturday night, and didn't want to do play by play, here are my combined thoughts from two fairly interesting cards from Friday night. Plus I really didn't want to clean out the DVR last night, thus I sat down for a ton of fights.
10. I like Justin Wilcox at 145
He was a big lightweight and I thought maybe featherweight would be too much of a weight cut for him. It seems like 145 is a rough cut for him … but he looks spectacular at that weight so far. If he can win the 145 tourney a fight with Curran would be very interesting.
9. Jimmy Smith is the best PBP announcer in MMA
If there was one guy I wish I could swap out of Bellator and into the UFC, well one that isn't Mauro Ranallo, it'd be Smith. It's the one thing I don't think Bellator gets praised for enough; it's announce team is every bit as good as the UFC's and it's because of Smith. He has a tremendous insight into the fight world and is honest, as well. He isn't over pumping Bellator's guys, nor is he underselling them either. He's just right in that regard.
8. The Bellator and Legacy Ring Card Girls Are Equal to the UFC's
There's seemingly an endless supply of professional hot chicks. God Bless America.
7. Michael Schiavello and Pat Miletich aren't far behind Rogan/Goldberg for MMA's best duo
Smith and Wheelock are good but Miletich and Schiavello are my favorite duo outside of the UFC's signature team. I just wish they had a fight big enough for them to be on; it's the one downside of AXS TV. They have great regional cards but a truly big fight would be something I'd love to see these two doing.
6. Chandler/Alvarez 2 is the biggest fight remaining in 2013 that the fewest will watch
The first fight was an epic fight of the year candidate … that happened the same night Dan Henderson and Shogun Rua blew the roof off the place. So far Bellator's promo packages for the rematch give me a chill; the PPV card itself is headlined by a stinker but the co-main is another fight of the year, potentially.
5. Patricio Pitbull is a Top 10 featherweight … and closer to the Top 5 than you think
He lost close fights to Pat Curran and Joe Warren in his career so far. Other than that he's been wrecking dudes, most recently Diego Nunes. Considering he's not a huge featherweight to begin with that's fairly impressive. I'd love to see him against someone like Brad Pickett or Eddie Wineland in the UFC. If he ever becomes a free agent I'd love to see what he could do in the Octagon. Right now I'd place him 7th or so on a Top 10 145 pound list … and I wouldn't be surprised if he beats Curran in a rematch.
4. Ryan Benoit vs. Cody Fuller should be in team picture for round of the year
Benoit's maybe a guy who could find his way into the UFC for a fight or two but I'll give him credit: the dude brings the violence.
3. Holly Holm is ready for the UFC
If there was a woman built for combat other than Ronda Rousey … it's Holly Holm. She comes from a great camp and both Greg Jackson and Mike Winklejohn were in her corner. Usually that doesn't happen on the regional scene unless there's something special. She was a profound gambling favorite coming in, has a ton of high level experience in boxing and comes from a great camp. I'm shocked she wasn't invited onto the cast for this season of TUF, honestly, but let's be honest.
She's ready to be in the UFC next weekend.
Not anywhere near ready for Ronda Rousey yet … but she'll be an interesting test for the Judoka when she is ready. Right now she's too good for anyone on the regional circuit. At a minimum her next fight should be in Invicta, if not the UFC properly. She's ready for Sarah Kaufman or Roxanne Modafferi right now. Not in the near future … but right now. Holm is a polished product right now. She has a pair of fight for Legacy remaining, rumor holds, but there's no one out there that'll be worth it. Unless they can get Cris Cyborg in a cage with her … that'd be the only fight out there with someone outside Zuffa/Invicta that'd arguably be anything resembling something besides a 1980s WWF squash match.
2. You may be cool … but you'll never be as cool as John McCarthy in the Dave Rickels Caveman Mobile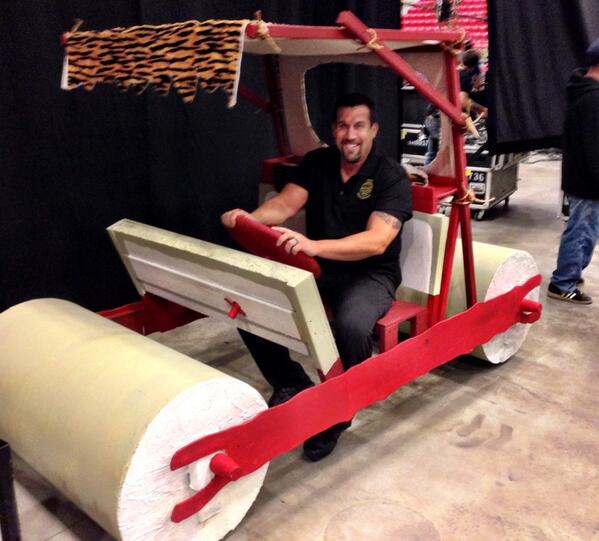 1. Henry Cejudo is the best prospect in MMA not fighting for anyone on the national scene … but he's not ready for that level of competition yet
Cejudo has a gold medal in wrestling, something no current MMA fighter has. He just doesn't look ready yet; he's beating guys he should, like he did tonight, but he needs a lot of work before he'll be ready to compete against guys on the big stage. He can win with his wrestling, yes, but his career needs to be managed really well right now. With his credentials and star power, potentially, he's going to be pushed fast as soon as he signs with Bellator or the UFC.
Right now he needs to get fights to build his stand up and submission game; he has a killer wrestling and top position game but needs to build up the rest of what he can do. I'd like to see him get two years under his belt, maybe a dozen fights or so in total, before he moves past a promotion that gets featured on AXS TV.
Ryan Hollis is a tough out but one Cejudo should be able to make at this point in his career. He's so new, and has such a checkered history of training for wrestling post-Gold medal, that he still has a lot to prove. He's looking improved from fight to fight but his name is bigger than his ability right now. I hope his management knows that and isn't pushing him onto anyone dangerous at this point. If he progresses like he should he'll be fighting for a UFC title … but he needs to be brought along slowly.
Can he improve sufficiently between fights to the point of being more than a wrestler who sets everything up with decent boxing? That's the question that needs to be answered. Right now Cejudo gets bounced out of the UFC in short order at flyweight; he's a great athlete but still incredibly raw. He needs refinement right now. Hopefully he gets someone who'll be a stepping stone, not just a bigger check. I'd really like to see him go to an elite camp; he won't improve like he should if he doesn't move to a great camp in the near future.
Right now he should be at Team Alpha Male with Duane Ludwig … that'd be the perfect camp for him. Either that or he needs to get a ticket to Brazil and a place near Nova Uniao. He does so much good …. but he does so much bad that anyone in the Top 25 would take his lunch money right now. Demetrious "Mighty Mouse" Johnson isn't anywhere near the athlete Cejudo is … but he'd torch Cejudo without breaking a sweat right now. His top position game is good but sloppy so far; he's got a great top game for wrestling but not for MMA or BJJ. That'll get him tapped by someone with a deadly guard.
Cejudo needs to get into an elite camp; he's improving but you can see his ceiling lowering down soon without high level training partners. TAM would be a perfect fit; Duane Ludwig is used to dealing with elite level wrestlers and rolling with guys as well rounded as they are would bring Cejudo's game up to a high level. He's spoken of being in the UFC "soon" … but he's nowhere near being ready for someone like Joseph Benavidez, Ian McCall or John Dodson.
Tags: Mixed Martial Arts