Carole King – The Living Room Tour Review
|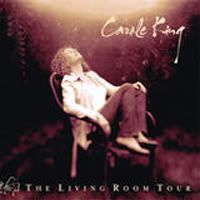 Link: Carole King
The Inside Pulse:
Carole King is the singer of the soundtrack of life, she creates a safe, intimate environment where the listener feels safe to sing along to her songs because her talent as a songwriter is she can connect with her audience, making the listener feel like she wrote the soundtrack of their lives. I've heard other versions of her songs with other artists, both men and women, not realizing who wrote their hits, hearing it from King's voice I can hear her words come alive with her voice of intimacy and authenticity. This album is perfect for those who want to be introduced to King's over 40 years of experience in the music business, and hear the live feel of her shows – this collection showcases three different shows from Chicago, IL; Los Angeles, CA and Hyannis, MA. Her voice isn't flawless but it's realistic and this doesn't take away from the comfort and enjoyment of this album. The casual fan or new listener will not realize that she mixed this double-disc set with recent songs, classic hits and hits woven into a medley. I agree with her decision because as a songwriter she wants to diversify her song selection each night and wants to breathe new life into songs that didn't always take with the audience. The stand-outs for me were "Now and Forever," "Where You Lead I Will Follow," "(You Make Me Feel Like A) Natural Woman" and "You've Got A Friend." The one thing I wished this album would have done was include a companion DVD of the tour itself as a extra reward for her loyal fan following. King is clearly inspired by life and influences this generation's songwriters such as Sheryl Crow and anyone who is sitting in their home picking up a guitar and wants to pour their heart onto a piece of paper or tape recorder.
Positives:
A live recording capturing the Living Room Tour that will hold the test of time just like Carole King's songs.
Negatives:
When other vocalists accompany her in songs that are her's such as Gary Burr's involvement, it distracts me momentarily.
Cross-breed:
Stevie Nicks, Karen Carpenter and Bette Midler.
Reason to buy:
If you want something you can listen to at any point of your life and never discard, this is the album to own. King provides her talent, in a intimate setting with her songs stripped down to her heart and her voice and all she asks of the listener is to relax in her living room and enjoy her company.