The 303s – Lines of Parallel Minds Review
|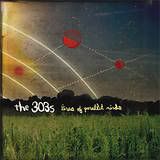 Website: The 303s
The Inside Pulse:
Ingrid Dahl and Parixit Davé are The 303s, a band that you don't hear everyday, but should. The energy and intensity of The 303s is evident throughout their debut release, Lines of Parallel Minds. They are beautiful poets who happen to be talented musicians, clear in "Sea of Things," "Treaties," and "Eyes Wide Bleeding" which strikingly reminds me of Slyvia Plath poetry.
Positives:
Whether they are rocking out or cuddling up to the listener with trance influenced sound, The 303s have a amazing depth and range. "Waves and Generation" is the perfect "kick off" song, intense, danceable, angst yet subtly sexual and pulls the listener in, this should be a successful radio single. "Beyond The Lines" is flirty techno bleached with rock, with lyrics that don't try to be complicated but don't lose their poetic impact, allowing the listener to draw their own conclusions and from their own experiences. I consider this the signature sound of The 303s. "Red Line" reminds me of what I liked about No Doubt before Gwen Stefani went solo. I love the mixed sound confessional of "Red Line" with the lines:
"We tread awhile, we tread today
(but that I shined like real gold, and was worth more,
worth more)
The red lines, go cold –
the questions, the racing and resisting, the
self-affliction)
the red lines, are so cold"
stay with me long after I'm done listening.
Negatives:
There are some songs on "lines of parallel minds" that could have been abbreviated or broken up. "Treaties" I would have liked to seen broken up and not defined as a song but more a musical interlude between the other songs, similar to the shortness of "Opaque Love". I felt "Air Travel" could have stayed off the album and saved for another album, I felt the need to be distracted during the song. While I love "Buffalo" I would have liked the sound to have been different, instead of a extension of "Eyes Wide Bleeding." However, this does not negate the fact this is a intelligently done album, rich in substance and is a strong start for what will become a successful band.
Cross-Breed:
Imogen Heap, No Doubt, and bellafea.
Reasons to buy:
Lines of Parallel Minds could ultimately be about the various stages of relationships, while the music dictates, experiments and coordinates the moods like a stage director. The 303s are a band that clearly appreciates mixing styles and being undefined and I definitely feel they have a audience that I'm proud to be apart of.