Pulse Wrestling's WWE RAW Report
|
Live bloggin' while watching WWE Monday Night RAW on September 17, 2007…
– John Cena opens the show, the crowd boos, but he's in a good mood and has Randy Orton at No Mercy in a Last Man Standing match.
– Acting GM Coach comes out, announces John Cena SENIOR vs. Orton tonight. Apparently Coachman told Cena Sr. that he'd strip Cena Jr. of his title, and Sr. said he'd do "anything" so we now have a match.
Match 1: Intercontinental Championship, Champ Jeff Hardy vs. Blonde Shelton
– Your ref is Mike Chioda, who looks on edge after DQ'ing Cena last night.
– Your Intercontinental Championship is hanging in the balance.
– Your rainbow-haired warrior is in peril!
– Your favorite blonde-haired s.o.b. almost slips climbing the ropes, which leads to Jeff getting the pin.
Winner and STILL champion: Jeff Hardy, pinfall, swanton bomb
– You have until 10pm-ish to get your Diva Search votes in, so hurry! I voted for Lena (and for the record, this is a much better way of doing this competition).
– Vince McMahon is sitting in his limo, looking sad. Coach says the plan is set, and Vince won't have to worry about his illegitimate son much longer. Of course, the Cruiserweight Champion Hornswaggle's eating Lucky Charms in the limo, in an "infant seat" since by law he has to be restrained in a car. Vince tells Coach to keep an eye on him, and stays in the limo as the acting RAW Gm and newest McMahon leave.
– Coming out of commercial, we get a recap of Maria confiding in Faarooq about her Santino issues.
– The John Cenas are in the locker room, and Jr. says he'll take care of it, but Sr. insists on wrestling since the title is too important to Jr.
– Santino goes up to the "Diva's Locker Room" — uh, which diva? — to talk with Maria, but Jillian (who he calls Lillian, of course) stops him, says she's upset, and suggests they sing a country duet. Oh, and she does a weak impersonation of the Leave Britney Alone chick.
– Vince is walking backstage with Coach, mad that Hornswaggle got away. Of course, they hear Irish music, and see that Mr. McMahon's office (how come he doesn't have an office at ECW or Smackdown?) is decorated in generic stereotypical Irish fare… complete with, uh, unicorn. Hornswaggle says "Hi Dad!" then runs away again.
– Tomorrow on ECW: Big Daddy V vs. Boogeyman!
Match 2: Flag Match! Hacksaw Jim Duggan (USA) vs. Khosrow Daivari (Iran)
– No clue what happened here, but there were "U-S-A!" chants, and I think the ref was Marty Elias.
Winner: Hacksaw Jim Duggan, flag retrieval
– Cody Rhodes volunteers to Coach to take Cena Sr.'s place, but no dice. Then Cena Jr. tells Coach be better change the match. Coach says if Jr. wins his match, his father doesn't have to wrestle.
– Vince to the ring, he calls out Smackdown superstar, Cruiserweight Champion and his newest offspring, Hornswaggle McMahon! Vince tells his son that even though McMahons will get a lot of money when he dies, money isn't everything. Life is about love and compassion. Vince, on bended knee, announces that he has some legal papers and is putting Hornswaggle up for adoption. And the new mom and dad: Ed Koskie and his wife Alice! The Koskies come to the ring with their attorney. Ashamed that his new dad is a member of the RAW writing team (clarification: that wasn't ACTUALLY Ed Koskie), Hornswaggle de-pantses Ed and bites Alice on the ass. For some reason they then refuse to sign the papers… Vince tells him to get out of his life, so Hornswaggle cries and walks up the ramp as the crowd kills Vince, who says everyone in the crowd would have done the same thing as him.
– BUT it's all about the game, and how you play it. Yep, Hunter's out to… defend his brother-in-law? (Seriously, just have HHH and Steph "remarry," adopt Hornswaggle, and let the hilarity ensue.) HHH says he's the one who decorated Vince's office, "you don't know how hard it is to find a unicorn in Nashville," and that "I realize you've slept with some trolls back in the day, but I didn't realize you also slept with elves, fairies and hobgoblins…" Vince: "I've never slept with fairies." HHH: "You've never slept with fairies, Vince? That's not what I read on the Internet." Funniest HHH promo in forever, with great comedic timing and funnier-than-usual lines. No, I'm not kidding! "Did you even try to use a condom or did you just wrap a four-leaf clover around the end and wish for the best?" "Hornswaggle's mom: was she magically delicious?" Of course, Vince ruins the fun by booking HHH vs. the World Tag Team Champions, Lance Cade & Trevor Murdoch, in a handicap match.
– An Unforgiven promo airs heading into commercial and plugging the PPV replays…
Match 3: Handicap Match, Hunter Hearst Helmsley vs. World Tag Team Champs Lance Cade & Trevor Murdoch
– Your ref is Chioda.
– HHH is Getting the best of Cade, when Carlito comes out to the top of the ramp to distract the Game.
– Murdoch seems to blow a… throwback? from the top rope? as the tag champs continue to tag in and out, working over HHH.
– Murdoch tries ANOTHER top rope move, but gets a boot to the face.
– Murdoch goes to give a lariat to HHH, but Hunter ducks and Cade gets the raw end of it.
– HHH gets the pin, but then Carlito, Murdoch and Cade triple-team him.
– London & Kendrick make the save, chasing the tag champs to the back, and leaving Carlito in the ring with HHH. Yeah, things don't end good for Carly.
– HooliganZ celebrate in the ring with HHH, who turns on them and dishes out some pedigrees. Ugh. Ingrate.
Winner: HHH, pinfall, spinebuster
– Coming out of commercial, we get a recap of the Candice/Beth Unforgiven match.
Match 4: Women's Champ Candice Michelle & Mickie James vs. Jillian Hall & Melina Perez
– Your ref is Jack Doan!
– Beth Phoenix is at ringside!
– Candice has improved exponentially since she began with WWE, showing off her athletic skills (that's not a very safe link if you know what I'm saying…)
– But seriously, I think her match last night was one of the best on the card.
– Candice gets the pin, and Beth hands her the belt with a slap.
Winners: Candice & Mickie, pinfall, Candice pins Jillian, Candywrapper
– Condemned DVD promo! Bathroom break!
– Coach and Vince are in the parking lot, Vince is getting out of here, Coach says see you at the wedding, and Hornswaggle stows away in the trunk.
– Next week: HHH vs. Carlito in a Steel Cage Match from Milwaukee, WI
Match 5: Non-Title Match, WWE Champion John Cena, Jr. vs. Santino Marella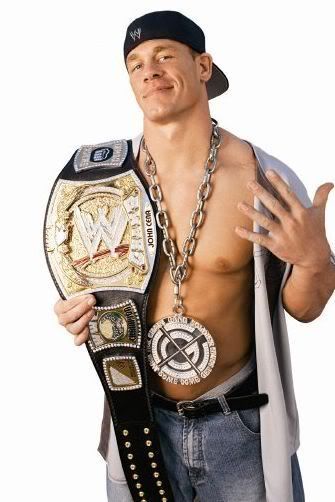 – "You can't see me, my time is now!" Ahhhh I was hoping Mr. Cena would come out to his son's music, complete in hip hop gear and a throwback jersey. WWE Champion John Cena, Jr. comes out to the ring, and if he loses, Randy gets a shot at Cena, Sr.
– Your ref is Marty Elias, I think, and we get the "you can't see me"/five-knuckle shuffle, and as Cena's about to win, Randy Orton comes out and attacks Cena, apparently giving him the DQ victory. Why wouldn't he attack Santino, giving HIM the win, thus getting a shot at Cena's dad?
Winner: John Cena, DQ, Randy Orton interference
– Orton and Marella attack Cena, who is then handcuffed to the bottom rope and thrown from the ring.
– Coach comes out. He forgot to say that Cena needed to win by pinfall or submission to spare his dad a match… Oops.
Match 6: John Cena, Sr. vs. Randy Orton

– Cena, Jr. is still handcuffed to the rope and has to watch his dad get beat.
– Haha, Orton went backstage just so he could come out to his music. THE ARROGANCE!
– JR goes on and on about how Cena Sr. (billed, by the way, as "Mr. Cena" all night) is a businessman, not a wrestler. Of course, he's an indie wrestling manager in Boston and his name is JOHN, but whatever. Heh. King then says "well he should have minded his own business at Unforgiven."
– No entrance music for Sr., who is wearing a black jumpsuit with white Adidas stripes up the sides.
– Randy hits a hard knee to the solar plexis, which just seems wrong.
– Orton plays asshole GREAT, and whether or not he got off easy re: the recent suspensions of wrestlers linked to Signature Pharmacy, he's playing top heel better than any role in his pro wrestling life.
– Garvin stomp, methodically executed on Cena's dad, as Sr. does a pretty good job selling.
– Cody Rhodes doesn't like it when Randy beats on people's daddies, so he tries to break it up, getting Cena Sr. DQ'd.
Winner: Randy Orton, DQ, Cody Rhodes interference
– After the match, Orton throws Rhodes into the ringsteps, then continues to beat on Sr., as Jr. unscrews the bottom rope from the corner. Orton RKOs John, the elder, but the WWE Champ gets free and runs Randy off. The show goes off the air with John Cena and the ref tending to his father and staring Randy down as the crowd chants… "You Can't Wrestle!" for no apparent reason.
(When do those suspended wrestlers return?)
Thanks for joining our live coverage! Paul Marshall, our new LIVE RAW recapper, will be starting up next week, and BLATT's here tomorrow with coverage of ECW as it happens, so don't go anywhere…