Having said my piece about Michael Jackson last week, can I just add one more thing?
I hate when famous people die.
Okay – everybody into the pool, and we're gonna get going with this week's edition of…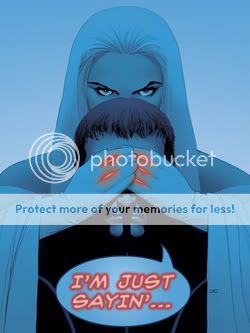 There are about three specific bits of news that I want to discuss this time around, that were going to be a part of my regular feature, KNEE-JERK REACTION THEATRE. Namely, I was going to talk about the firing of Dwayne McDuffie, and two more recent news items: the pending arrival of Iron Fist to THUNDERBOLTS, and J. Michael Straczynski's departure from THOR. But with KNEE-JERK REACTION THEATRE, the whole point is my initial impression of that news item. But with these three, the more I thought about them, the more I realized I'm going to have a lot to say about them, because they all seem to tie into a larger, more immediate problem that I am seeing in the Big Two right now.
So we're going to come back to these, after I devote KJRT to the following Marvel solicit for SPIDER-MAN: THE CLONE SAGA:
Solicit Text is as follows:
SPIDER-MAN: THE CLONE SAGA #1 (of 6)
Written by HOWARD MACKIE & TOM DEFALCO
Penciled by TODD NAUCK
Cover by PASQUAL FERRY
You've been asking for it…and now it's here: THE CLONE SAGA!!! Marvel's most controversial event of all time returns with a vengeance, presenting the Clone Saga as it was originally intended to be told! From the minds behind the crossover that changed comics forever and the artist that introduced Spider-Man to President Obama, it's six issues of twists and turns that will shock fans old and new alike! Be here as Peter Parker's worst nightmare begins again…now with an ending you have to see to believe!
MY KNEE-JERK REACTION: My Spider-Sense is tingling…
I'm not sure I trust this new trend. I mean, it should be interesting to see how this all plays out in the mini-series, but there's a part of me that thinks, "sure…this may be the story as it was intended…but the fact remains, THIS IS NOT WHAT HAPPENED."
It feels almost as if between this, X-MEN FOREVER and the upcoming IRON MAN & THE ARMOR WARS, Marvel is trying to get its readers comfortable with the notion of re-writing the past. And once that happens, and readers begin to see Marvel less and less as the continuity-driven universe, then before you know it readers won't expect continuity at all. It seems like a very real strategy at work here, and I like that about as much as I like being manipulated by pretty artwork.
…seriously, Marvel – knock it off.
I mean, in the last ten years both Marvel and DC have managed to train us as readers and consumers not to care if a monthly comic is one, two, six months late, thankyouverymuchKEVINSMITH! – so long as we get our story, right? (Speaking of which: has AMBUSH BUG: YEAR NONE #6 come out yet?) Think about it: why aren't these stories wrapped around a "What If…?" banner, or something? Why aren't X-MEN FOREVER and SPIDER-MAN: THE CLONE SAGA part of the reimagined Ultimate X-Men and Ultimate Spider-Man that I hoped would happen some time ago? Both Marvel and DC have eroded a lot of my trust in them over the last few years, and this just doesn't smell right to me…but I guess we'll see where this goes soon enough.
Okay, now on to our main topic today. As I said before, what touched this off was the Dwayne McDuffie fiasco, wherein he was pretty much fired from JUSTICE LEAGUE of AMERICA for throwing back the curtain and exposing the issues he'd been having with Editorial. I hadn't been reading his run, although I'm completely mystified as to why so much outside interference was even necessary. I mean, when Kurt Busiek had Kang the Conqueror obliterate Washington DC, there wasn't any mention of it in any of Marvel's other comics. Nobody cared. That's what was going on in THE AVENGERS at the time. Nobody worried about whether or not it was mentioned anywhere else.
When Grant Morrison had Magneto wreck New York City, there wasn't any mention of it in any of Marvel's other comics. Nobody cared. That's what was going on in NEW X-MEN at the time. Nobody worried about whether or not it was mentioned anywhere else.
When Dan Jurgens had Thor take over the world, father a son with the Enchantress and name Loki Sorcerer Supreme, there wasn't any mention of it in any of Marvel's other comics. Nobody cared. That's what was going on in THOR: LORD OF ASGARD at the time. Nobody worried about whether or not it was mentioned anywhere else.
When Peter David had Genis Vell and the cosmic being Entropy destroy all known creation, there wasn't any mention of it in any of Marvel's other comics. Nobody cared. That's what was going on in CAPTAIN MARVEL at the time – and in between issues, no less! –  and once again, nobody worried about whether or not it was mentioned anywhere else.
So there's no reason McDuffie couldn't have been able to write the stories he wanted to write. Back in the day they had a way of dealing with such things – they called them Editor's Notes. Remember those? "This story takes place before/after the events of that OTHER story." Boom. Done. What's so hard about that?
And what really concerns me with what happened with McDuffie here has more to do with the fact that he is Milestone's strongest advocate at DC, so as POPCULTURESHOCK.com rightly asks, what's going to happen to those characters if DC and McDuffie have fallen out with each other?
Then there was the NEWSARAMA.com announcement that Iron Fist and Luke Cage would soon appear as agents of Norman Osborn over in THUNDERBOLTS #136 which I guess, between this announcement and the final scene from THE IMMORTAL IRON FIST #27 answers the question of what's going to happen to Danny Rand following the IMMORTAL WEAPONS miniseries:
When I read about this, all I could think of was "awwwww crap. I don't want to see Iron Fist in THUNDERBOLTS – I wanna see him in HIS OWN BOOK!" And I'll tell ya, I'd like to think I wasn't the only one who had that reaction. Marvel has something truly special with THE IMMORTAL IRON FIST, and as much as I realize that newer monthlies have a much shorter shelf life these days, it doesn't seem worth it to me that Marvel seems willing to let this one go on the gamble that at least SOME readers will follow Danny Rand over to a comic that has, by and large, been rendered redundant by DARK AVENGERS. Sigh, and sigh again.
 And then of course, we have JMS leaving THOR, citing the imminent arrival of a THOR-themed event as his reason for leaving the comic for which his writing earned an Eisner nomination. "The one concern at the back of my head was that of being pulled into a Big Event that could affect the forward momentum of the book and alter its direction. I've said elsewhere that in many cases — and this isn't just Marvel, the trend is pandemic — such an event can sometimes result in the individual books serving the event, rather than the other way around, and you have to spend months and issues afterward stitching everything back together. I'm the kind of writer who likes to write in a straight line and know for certain the terrain he's standing upon. Some writers can handle all that and never break a sweat. For me, it's just not something I can do competently. That's a shortcoming on my part and I recognize it as such."
In my 15th column that I'd already linked a couple of paragraphs ago, I said the following: "I'm of the school of thought that if you're going to be called upon to work on a property that doesn't belong to you, then you should be able to have the talent and discipline to look beyond your own desires and do what's best for the property. If your artistic ego is that big, then create your own property, take your chances and quit bellyachin'." And to Straczynski's credit, he is doing just that. Marvel wants to publish an event involving Asgard that (A) he's not interested in, (B) doesn't feel he can deliver on – and (C) probably doesn't care for being asked to make such a compromise a second time; just sayin'! – so he's stepping aside. But what these three news items make me want to ask is, in a developing climate where it can be argued that readers are getting very, VERY tired of the "pandemic" of events that JMS describes…is it really worth an event to lose the writer that got THOR an Eisner nom?
Is it worth losing a critically acclaimed comic like IMMORTAL IRON FIST – a comic that could last at least as long as SPIDER-GIRL has, if given enough of a chance – just to pull Iron Fist into the DARK REIGN fold? Is it going to be worth it to get those Iron Fist fans who are willing to follow him to THUNDERBOLTS, at the expense of those who'd really rather have IMMORTAL IRON FIST?
And was it worth it to lose out on what could've been a definitive run for Dwayne McDuffie and the Justice League of America, all because DC Editorial took on an organizational headache that they didn't really have to, even in light of FINAL CRISIS, BLACKEST NIGHT and God-knows-what-else?
AND NOW, JUST CUZ I FEEL LIKE IT…
Til next time, everybody – I'm Greg Manuel, and I'm just sayin', is all…
Tags: Avengers, DCU, dwayne mcduffie, Greg Manuel, I'm Just Sayin'..., iron fist, Iron Man, J. Michael Straczynski, JLA, Justice League, Spider-Man, Thor, Thunderbolts, Ultimate Universe
About The Author
Greg Manuel