R0BTRAIN's Bad Ass Cinema: The Bad Asses of '09, Part 2
|
Looking back at the bad asses of '09, I'm reminded that it looks as if the field for next year's list could be really crowded. 2009 was an awesome time in theaters, but I'm stoked about what's on tap in the coming months, from Kick-Ass to Clash of the Titans from Shutter Island to The Losers, and all of those movies hit before the summer floodgates open. Mel Gibson returns for vengeance in Edge of Darkness, Matt Damon reteams with the man that made the Bourne sequels surpass the original in Green Zone, and Nicolas Cage and Ron Perlman are going to fight supernatural baddies in what looks like a craptastic good time in Season of the Witch.
I'm thrilled that some Asian bad-assery is going to be on display in the coming months, as Jet Li and Andy Lau will fight thousands of men in The Warlords, Ji-Woon Kim's The Good, The Bad, and the Weird gets a release, and the Hitchcockian thriller Mother, from the director of The Host will get a limited theatrical run. I'm staying cautiously optimistic about Kevin Smith's Cop Out because it does feature a wise cracking Bruce Willis and I'm more than optimistic about Hot Tub Time Machine. Finally, I'm even hoping that horror remakes of The Wolfman and A Nightmare on Elm Street can each live up to their potential. If even half of these movies do what they're supposed to, the summer releases could get a run for their money this year, especially if a movie such as The Losers manages to trump The A-Team or The Expendables before they have a chance to show their goods.
Well, enough of what's to come, I've got a list of last year's ass kickers to get through.
Here's Part 1 if you missed it.
The Bad Asses of '09, Part 2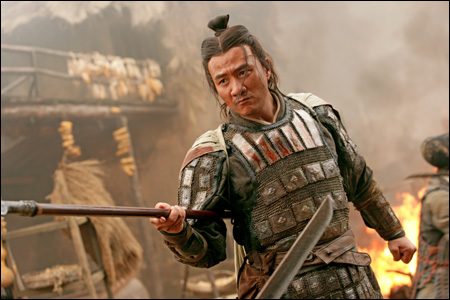 18. Zhao Yun, played by Jun Hu – Red Cliff
"Let's go…"
The final character to be represented on this list from John Woo's Red Cliff is ranked higher than his counterparts for various reasons. It's not that he's given more screen time than the others in the film, but when he's onscreen he might make more of an impression, which is really saying something. In many ways, I feel this role is actually the closest cousin in this film to the heroes that Chow Yun-Fat portrayed in Woo's films in the early '90s. Most often show as a lone warrior, Zhao Yun's introduction has him saving a baby against a horde of villains. Armed with only his spear, the man is dynamite, taking apart the enemy while the child is strapped to his back. Add in some doves and double-fisted gunplay and you've got a hero straight out of Hard Boiled. There's a lot of grit to this character and Jun Hu is an actor that I hope gets many similar roles due to his awesome work here.

17. The Comedian, played by Jeffrey Dean Morgan – Watchmen
"It's all a joke…"
This seemed like a no brainer when I initially put The Comedian on this list, and then I asked myself, "Does he really belong here?" I mean, he does get murdered in the first set piece of the film and usually when he's depicted on screen he's usually beating or killing defenseless people. Then again, what's amazing about The Comedian and this performance by Jeffrey Dean Morgan is just how awesome he is and how you can't take your eyes off of him when he's onscreen. The Comedian has a commanding presence in every frame, and his murder seeps into the whole story. Much like the characters of this piece, you just can't seem to shake him, no matter what you do, and the images of him frying Vietnamese soldiers or yelling at Dr. Manhattan are some of the most unforgettable of the entire movie. Morgan just brings real attitude to every moment he's in this picture, and for that he ends up on this list.

16. Nick, played by Timothy Olyphant – A Perfect Getaway
"That's gonna stop hurting in a second…"
As his girlfriend, Gina (Kiele Sanchez), keeps saying in the entertaining thriller A Perfect Getaway, Timothy Olyphant's Nick is "very hard to kill". It's very often in a movie that when a character seems to go on and on about how much of a bad ass he is, he usually ends up a coward of some sort. Nick in A Perfect Getaway ends up doing the exact opposite, backing up his reputation at every possible moment. Whether it's proving what a survivalist he is or with mere body posture, you know Nick is the real deal.

15. Storm Shadow, played by Byung-hun Lee – G.I. Joe: The Rise of Cobra
"When our master was killed, you took a vow of silence. Now you will die without a word."
Let's face it, for all the fireworks and cartoonish CGI battles that are on display in G.I. Joe: The Rise of Cobra, it's the story of two ninja, Snake Eyes and Storm Shadow, that is absolutely the most fun and intriguing storyline of the entire movie. Playing the villain within this ongoing struggle, Storm Shadow (Korean actor Byung-hun Lee) is a firestorm of malice, his sociopathic wrath lifted directly from the comics and T.V. series and onto the big screen as faithfully as possible. You've got to be something special if you're a ninja that dresses all in white, and as Storm Shadow hacks, slashes and knocks down the Eiffel Tower, you can tell that he's a ninja that doesn't care if you can see him or not.

14. Sgt. Hugo Stiglitz, Til Schweiger – Inglourious Basterds
"Say goodbye to your Nazi balls."
I'll admit up front that a lot of the work done to solidify this character as a maniac who hates Nazis was already done for Til Schweiger by writer/director Quentin Tarantino. I mean, when you're the only one of "The Basterds" to get a theme song, and that theme song is also the one used by Jim Brown as the title character in the Blaxploitation flick Slaughter, then you've pretty much been given the movie equivalent of a layup as far as character setups go. On top of that, Stiglitz's introductory narration is read by Samuel L. Jackson, while the script calls for a montage of the character obliterating Nazi officers in a fashion that evokes the murders dealt by Eli Wallach in the beginning of The Good, The Bad, and The Ugly.
For his part though, Schweiger never lets us down with Stiglitz. We absolutely believe this man is the most dangerous one in the room wherever he happens to be, and a lot of that comes from the actor's body posture and facial features. The man just looks mean, and he's the reason that we know the bar scene in the middle of the film is about to explode, and that its going to be his hate for the SS that's going to cause his end more than any German bullet. Inglourious Basterds is a supremely good film, but the one thing I probably could have done more with, was more Hugo Stiglitz.

13. Captain James T. Kirk, played by Chris Pine – Star Trek
"Attention crew of the Enterprise, this is James Kirk. Mr. Spock has resigned commission and advanced me to acting captain. I know you are all expecting to regroup with the fleet, but I'm ordering a pursuit course of the enemy ship to Earth. I want all departments at battle stations and ready in ten minutes. Either we're going down… or they are. Kirk out."
I can't think of an actor that was under more pressure than Christopher Pine was last year. Not only was it up to Pine to star in the movie that was trying to resurrect a once powerful franchise, he had to take over one of the most iconic roles in history of science fiction, filling in for William Shatner as Captain James T. Kirk. Sure, we've seen instances where it's worked, but for every Daniel Craig taking over for Bond, there's a Timothy Dalton, for every Christian Bale as Batman, there's a Val Kilmer. Thankfully, Pine does stellar work as the Captain of the USS Enterprise, never being able to eclipse the original Kirk, but definitely holding his own. He never turns into an impression, but instead brings out the things we love about Kirk the most; the womanizing, overconfident, scrappy adrenaline junkie. When four guys decide to take Kirk down at a bar, you kind of expect Kirk to win the fight, and when the fate Earth is on the line, you expect him to win there too. Heck, this guy beat The Kobayashi Maru. Could anything else even stand a chance?

12. Bryan Mills, played by Liam Neeson – Taken
"I don't know who you are. I don't know what you want. If you are looking for ransom, I can tell you I don't have money. But what I do have are a very particular set of skills; skills I have acquired over a very long career. Skills that make me a nightmare for people like you. If you let my daughter go now, that'll be the end of it. I will not look for you, I will not pursue you. But if you don't, I will look for you, I will find you, and I will kill you."
Every year should have a movie like Taken: a down and dirty movie with one thing on its mind; revenge. Taking his vengeance throughout the movie is Liam Neeson as Bryan Mills, an ex-special forces hero with a penchant for being able to kill whoever is in front of him, no matter how many people that seems to be. Mills is unleashed on the streets of Paris when his daughter is kidnapped and his wrath is brought down on modern day slave traders, pimps, and just about everyone else he comes into contact with. No one seems to be safe from the guy, as he shoots and karate chops his way to wherever his daughter is being held.
What's terrific about this role is just how great it is to have someone like Neeson, who is about as good as actor as you can get, being able to look credible whether he's killing a man with his bare hands or whether he's having to act his way out of the movie's shaky early scenes. We're just waiting for the killing to begin and once it gets going, there's pretty much no stopping it. A role like this has usually been reserved for guys like Charles Bronson or Steven Seagal, but it's nice to see someone with the stature of Neeson really sinking his teeth into an action role like this one and sinking his fists into the faces of some scumbag kidnappers.
Alright kiddies, that's it for now, see you next time with more ninjas, soldiers, and zombie killers.
Tags: Chris Pine, G.I. Joe, Inglourious Basterds, John Woo, Liam Neeson, R0BTRAIN's Bad Ass Cinema, Red Cliff, Star Trek, Storm Shadow, Taken, Til Schweiger, Watchmen