Hotties 'n' Notties: Melina, Sean Waltman & more
|
Who was hot and who was not this week in wrestling?
However, this isn't your usual "who did good and who did bad" style column. No, this is the literal look at who actually looked sexy this week and who, well, didn't.
Also in a new addition I will be adding a vintage pick in my hotties and notties list. So if you want to see one of your old crushes or somebody who made you feel a bit sick in the mouth, please just leave a comment saying who you would like to appear in the list.
Batista is my numero uno hottie this week.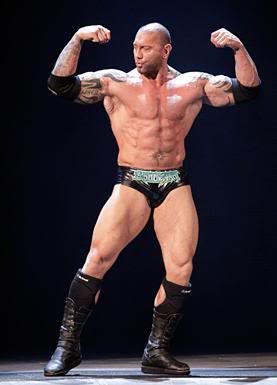 So I was just absentmindedly watching RAW this week when Batista's music hit and my mother looked up from her book watched big Dave for about five seconds turned to me and told me that I HAD to put this fine specimen of a man at the top of my hotties list this week. In a vintage Arnold Schwarzenegger pose showing off his to die for muscle mass and perfect definition make this former WWE champion a hottie both my mother and I can't seem to take our eyes away from. Plus his teeny tiny trunks are all the better for my wild imagination.
My second placed hottie of the week goes to Miss. Melina Perez.
Coral scarf? – check
Maxi skirt? – check
Trophy jacket? – check
Studded details? – check
This season's hottest shade, ivory? – check!
Oh Melina you high fashion minx you. In this Cinco de Mayo photoshoot Melina pulls of all this season's hottest trends in this traditional yet haute couture outfit. Now to be honest with you I'm not Melina's biggest fan but she does look stunningly beautiful here and I can't wait for her to come back so the divas on RAW may actually produce a decent match.
The inbetweener this week is my vintage pick and it goes to Sean Waltman/The 1-2-3 Kid/X-Pac/Syxx-Pac, or whatever he wants to be known as these days.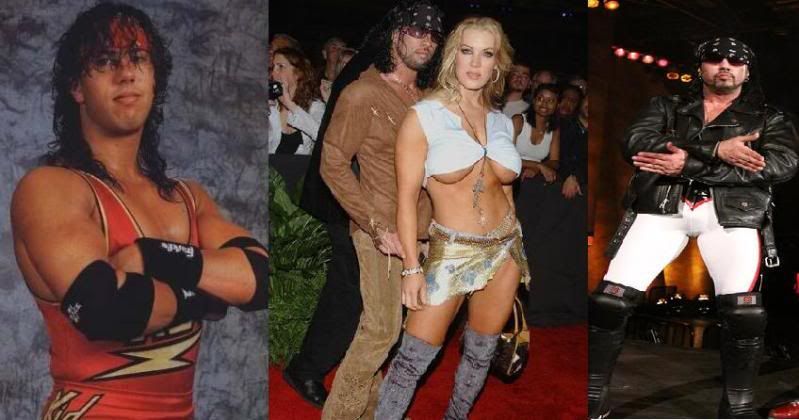 Aw, look at the fresh baby faced 1-2-3 kid here in his early 20's – who knew that growing a beard would make him look so much cooler. However, this is the first time I've noticed that he has one hell of a chiselled chin (and boy do I like my chins chiselled á la Drew McIntyre, Brian Kendrick, Beth Phoenix and erm myself.) Then all of a sudden X-Pac turns into one hot hell of a mess (I will ignore the boobalicious beautiful Chyna here – save her for another week.) Somehow he thinks two different shades of suede make a good outfit and the ol' sunglasses at night make him look cool – it doesn't. But now in TNA Sean Waltman has come back looking hotter than ever. In his pleather, glasses and leather jacket, the former X-Division champ will always remain awesome in my book – because well, whoever is good enough for Chyna is good enough for me.
First notties of the week go to Ink Inc.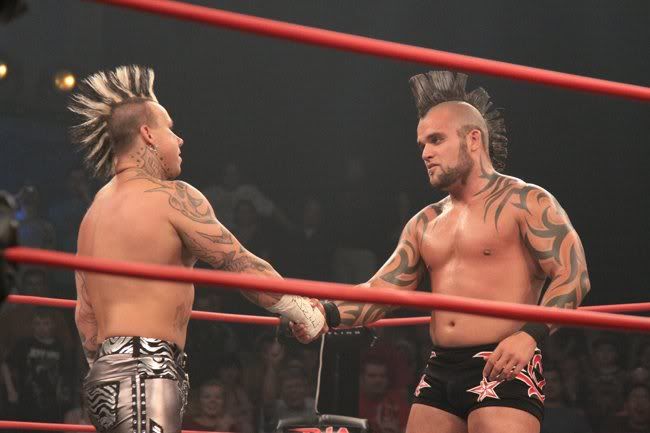 This eerie similar tag team of Shannon Moore (*sigh* will he ever learn this ain't a good look for him) and Jesse Neal really grinds my gears. Jesse just strikes me as somebody who has tried far too hard to become a wrestler and with his mohawk and tattoos, just makes me think why couldn't you come up with your own thing rather than being like everybody else. No idea if this is anywhere near the truth but it still makes me irate. On another note he really shouldn't wear that style of trunks.
In last place this week as my most not hot person yet again goes to Orlando Jordan.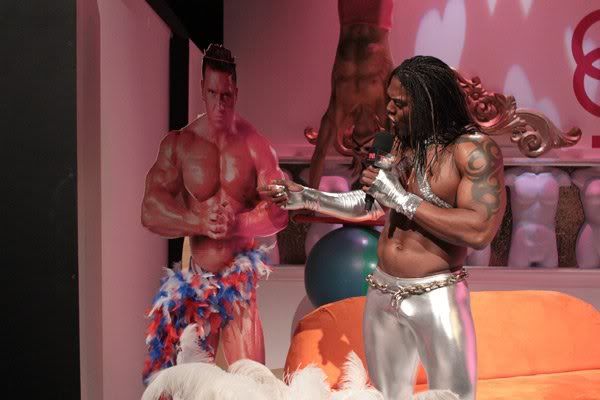 The former US Champ really needs to stop doing this! This week it is a mixture of Bastion Booger and glamour girl Jodie Marsh (look her up – she is frightful.) Those pants are scarily tight and leave almost nothing to the imagination – this time it's bad though, really bad. However, you can definitely see where is he going with this controversial-ish gimmick and its going great for him, those boo's he received were deafening.
Tags: batista, hotties, ink inc., jesse neal, Melina, notties, orlando jordan, Raw, Shannon Moore, TNA, WWE, X-Pac