Hotties 'n' Notties: Serena, Curt Hawkins & More
|
Who was hot and who was not this week in wrestling?
However, this isn't your usual "who did good and who did bad" style column. No, this is the literal look at who actually looked sexy this week and who, well, didn't.
Last week's winner of the 'who do you think looked best this week' poll with just one vote between first and second place was *drum roll please* Madison Rayne! – Perhaps it was the near-naked attire which helped her win?
Numero Uno hottie of the week goes to Brooke Adams Ms. Tessmacher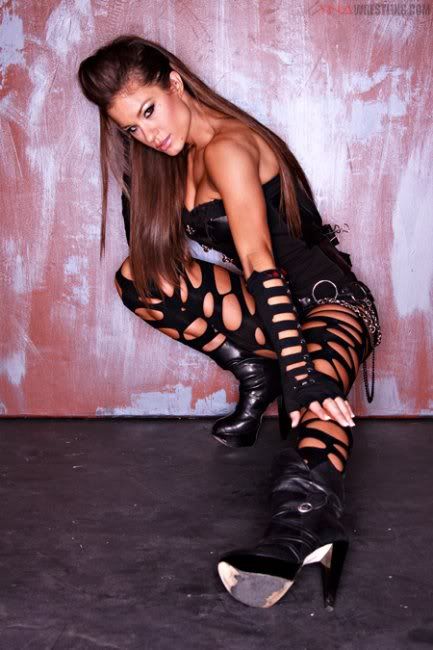 Eric Bischoff's personal secretary jumps straight to number 1 in my chart this week for her sheer sexiness.
Everything about her just yells phrow! Her toned and shapley legs, teeny-tiny waist, stunning jawline, the come hither eyes and everything else far and in between make her the sexiest non-wrestler on a wrestling show (it makes sense in my head) – well perhaps after the supermodel-esque Chelsea.
However, Ms. Tessmacher remember in future to remove the bulldog clips of the back of your corset.
Let us all just hope Bischoff has never watched Secretary *shudders at the thought.*
My second placed hottie of the week goes to Serena.
The stunningly beautiful Straight Edge Society member simply takes my breath away whenever she appears on scream.
Serena and Natalie Portman are the only girls who can pull off the shaved head look (take notice Tyra Banks – stop making your top model girls 'high fashion' by shaving off all their hair – it never works!) and still look like a super hot female rather than a feminine man.
The OTM combat vest, the skinny black jeans (John Morrison take note) and the military boots – let's simply ignore the clonky heels – make Serena one of the most fashion forward females on the WWE roster.
However, Serena needs to lose the massive dingily-dangly earrings she has come accustomed to wearing every week asap before people start to mistake her Pat Butcher.
Angelina Love is my inbetweener choice this week.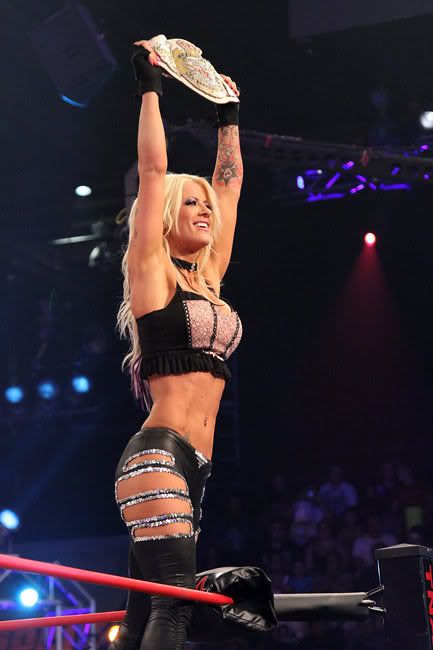 Oh, how I miss the days of bitchy, cocky Angelina Love and now all we get is well, nothing :-(. The current TNA Knockouts champ is my inbetweener choice this week as I can't decide if I think she is pretty or ugly.
When she is covered up and coy she looks cute and pretty but then all of a sudden she undresses and reveals this overtoned scary body I suddenly think she looks like a cheap-ass skanky stripper.
She also needs to stop with the Ann Summer lingerie as attire and start just wearing the one bra rather than the million she currently dons, oh  and throw away the $ choker because well who wears chokers these days? – nobody! On the bright side at least her hair has improved from the days of the braids.
But Angelina you are my favourite knockout – the wrestling part not the uncharismatic part – so I shall let you off and instead I will just remember those wonderful days of when you were the leader of The Beautiful People.
First nottie of the week goes to Curt Hawkins.
Oh dear Curt this whole atrocious look gets a big fat NO!
Now, you readers know my love for wrestler's jackets/robes (WOW!) but this random pointless blazer leaves me confused. He simply looks like he forgot to take it off backstage before he came down the ring. And those red leather pants should belong to Tom Jones (who I adore) back in 70s rather than a WWE superstar in the 10s.
Again, what is with wrestlers and chokers?!  At least Angelina was of the right sex. But this piece of string he appears to have tied around his neck just looks plain stupid. Also give your hair a wash and a brush next time please Curt.
In last place this week as my most not hot person is my vintage pick, and the wonderful accolade goes to Phantasio.
First off I shall apologise for the shoddy pic, I had to take a picture of a picture.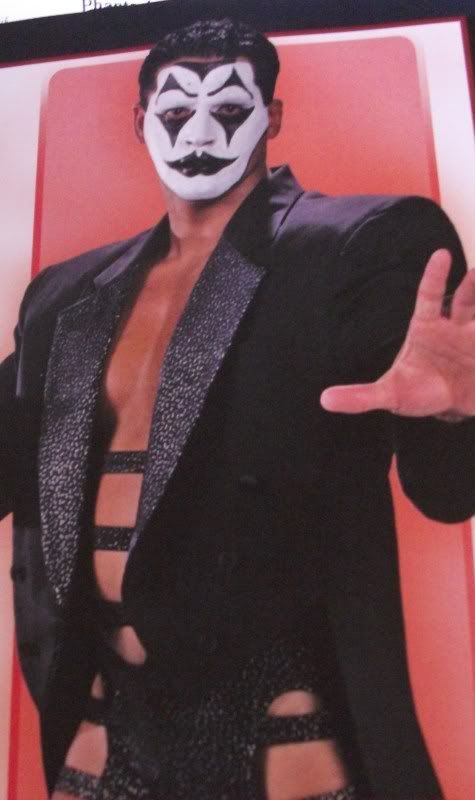 Oh Phantasio you only appeared once on WWE television but oh boy, what an appearance it was and it shall never be forgotten simply for the greatest finisher of all time the magic wedgie! (3.20)
But the one thing we certainly do want to forget is this thing he is trying to wear as attire. He seems to of cast some sort of spell (obliterato singlet?) to remove all the necessary parts and leave us with this horrendous mess.
If only he did decide to wear a full singlet with all the panels covered up he could of wore a pair of control pants to keep that big bloated belly all held in.
He also seems to of taken a leaf out of Brutus the barber Beefcakes book and forgot to wear some pants underneath his attire.
Please vote in the poll below on who you think looked the best and the worst this week:
http://micropoll.com/t/KDwQ9ZBKdI – who looked the best?
http://micropoll.com/t/KDwQ9ZBKdL – who looked the worst?
Also if you see any hotties or notties this week in wrestling and think they deserve a place in this column please just leave a comment below.
Tags: Angelina Love, curt hawkins, divas, hotties, Hotties 'n' Notties, Knockouts, notties, Serena, Smackdown, TNA, WWE, WWF