Hotties 'n' Notties MEGA issue: Daffney, John Morrison, Rey Mysterio & loads more.
|
First off before I start, I want to apologise for not writing this column for the past two weeks. The week before last I had to take my mum to the hospital after she tripped over my dog and tore a muscle in her arm (I don't even know how she managed to do it since she is barely a foot tall – my dog, not my mum.) Then last week it was my 21st birthday (and Reys too :D) and I had a million and one things going on thus not having any time to write up this column. But now as Eric Bischoff would say "I'm back, and I'm better than ever." So please read on and I hope you enjoy this mega bumper issue of hotties 'n' notties.
Who was hot and who was not this week in wrestling?
However, this isn't your usual "who did good and who did bad" style column. No, this is the literal look at who actually looked sexy this week and who, well, didn't.
Last columns winner of the 'who do you think looked best this week' poll was *drum roll please* Sarita. She may wear horrendous attire but she is still a right hot piece of ass.
The winner of the 'who do you think looked worst this week' poll was the 50-year-old looking 30-year-old Michelle McCool.
Numero Uno hottie of the week goes to Daffney.
Erm WOW much? The zombie hot knockout brings her sexiness to a whole new level in this new photoshoot. Daffney looks absolutely stunning, yes her usual Goth make-up is part of her character and yes she does look good but with this sultry smokey eyes and red hot lipstick she looks like a totally different and totally hot.
The pinned-up hair show off her beautiful face and micro-mini leather dress shows off her curves exceptionally well. And, yes I will let her for wearing those fishnets *even if they are one of my pet hates* as they go with her outfit – although stockings would've been a good choice too. I just hope that next time I'm in hospital for forgetting to take my insulin Nurse Daffney will come and take my temperature.
My second placed hottie of the week is Maryse.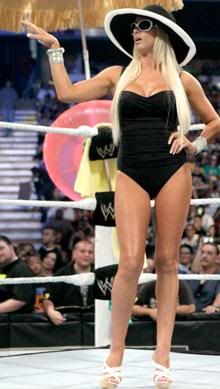 Bonjour Maryse, you little French Canadian hottie. Surely you should be on a yacht with servants beckoning to your every need in Cannes rather than standing in a wrestling ring getting prepared to compete in the divas summer swimsuit spectacular match.
The gigantic elegant hat, the Jackie O glasses, the curve hugging classic swimsuit and of course the diamond accessories along with the beautiful albeit fake blonde hair makes Maryse the epitome of chic, class and elegance (well until she opens her mouth and you find the seedy Playboy pictures of her.)
Third hottie of the week goes to Spike Dudley Brother Runt.
Well, I doubt Spike knows this since he doesn't look the type who looks obsessively through pictures upon pictures of the catwalks from Paris, Milan and London but he is incredibly OTM. Upon all the runways for this season dungarees were a must have along with tie dye for that hippy-esque summer look.
I myself have been inspired by 'Brother Runt's' bang-on-trend look and bought a similar pair of dungarees the other day and all the relevant items in order to tie-dye my own t-shirt and of course I will be pairing the look with my geek-chic glasses which are permanently glued to my face. So thank you Spike Dudley Brother Runt for bringing a bit of spring/summer 2010's hottest trends into wrestling.
Ashley Valance is my fourth hottie of the week.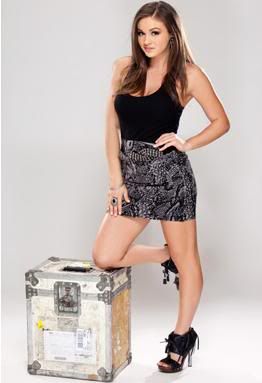 The NXT announcer/co-host/whatever she is may not be the nicest sound on the ear but oh boy, she sure is nice to look at. She has the cutesy girl-next-door, all-American American look but with a slammin' body that Miss.Over the fence usually lacks, well, unless you actually live next door to the girls next door.
Her fashionable outfit shows off that cute and curvy body while also keeping her bang-on-trend with the high waist patterned skirt and this year's biggest shoe must-have the clog. She may not be the best of models as she does look rather uncomfortable but practice makes perfect. However, she seems to model fantastically here and here. Come on WWE give her a good ol' bikini shoot and let her do what she does best.
My fifth placed hotties of the week go to The Bella Twins.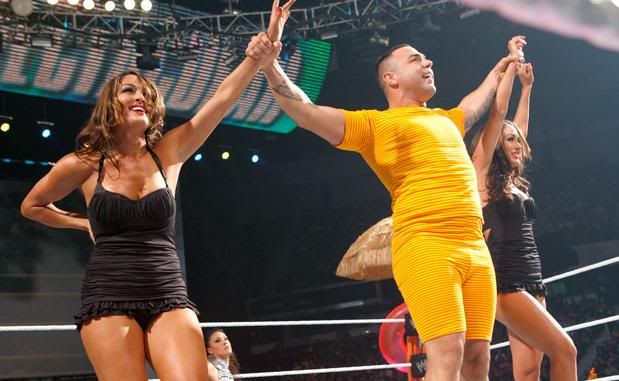 The beautiful siblings may sometimes wear the most atrocious ring attire but in the divas swimsuit spectacular they came out miles ahead of all the other Divas with their super cute cossies. Normally they go a bit OTT with their frills but with this simple frill around the bottom, halter neck and ruched body they give off a super hot 1950's pin-up vibe which is very stylish atm. So Congrats Nikki and Brie for doing it right (for once.)
On another note it's been suggested that the Divas wore all-in-ones because of WWE's PG rating but do WWE not realise that most of their Divas (The Bellas included) do actually wear less then this when they wear their usual wrestling attire – *sigh* it looks like we will never get another Sable/Jacqueline-esque bikini contest ever again.
My final hottie of the week is Johnny Swinger.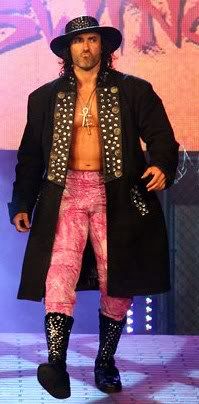 Johnny Swinger aka Johnny Parisi (for that one match he had in WWE) aka Russell Brand's lookalike – seriously, don't you think he looks like Brandy, I could be his very own Katy Perry – is my final nottie of the week for wearing a killa' outfit.
I would wear those fabulous marble effect pink trousers in an instant. The studded calf-length boots are one of my must haves for my winter wardrobe. That coat, well it may be a bit OTT but I can pull it off as long as I wore a waist belt to show off my curves. However, I would definitely give that hat a miss.
Velvet Sky is my first inbetweener choice this week.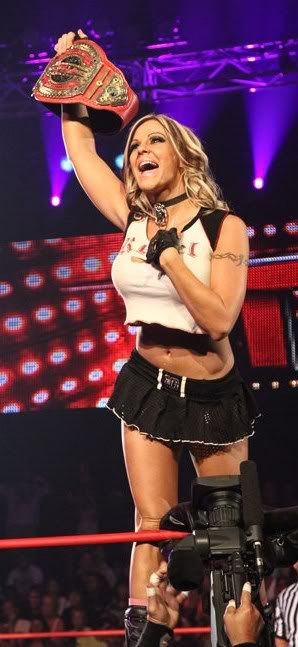 Now, we all know Velvet Sky is super dooper sexy but that is no excuse for this hot mess of an outfit. Either all her clothes vanished and she had to mug a 13-year-old school girl on her way to the school disco or she somehow thinks a micro rara skirt teamed up with a badly fitted customised 'rebel' shirt looks good and if it's the latter she needs to get to therapy asap.
Angelina Love is my second inbetweener choice this week.
Hey Angelina, Beth Phoenix tweeted, she wants her sluttied up, badly accessorised attire back. The Knockout's Championship belt does make a great addition though so hopefully she can keep it for longer than a week this time to make her atrocious outfits just that little bit better.
John Morrison is my last inbetweener choice of the week.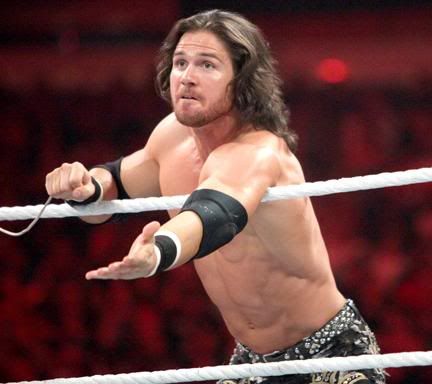 Hmmm, I totally can't make up my mind on whether this new bearded version of The Shaman of Sexy is hot or not? – Hot in that it makes him look a bit manlier but not hot in that he still looks too clean-cut for my liking. Perhaps he should start growing a bit of chest hair a la CM Punk to make him a bit rougher around the edges and therefore a hottie.
Raven is my first nottie of the week.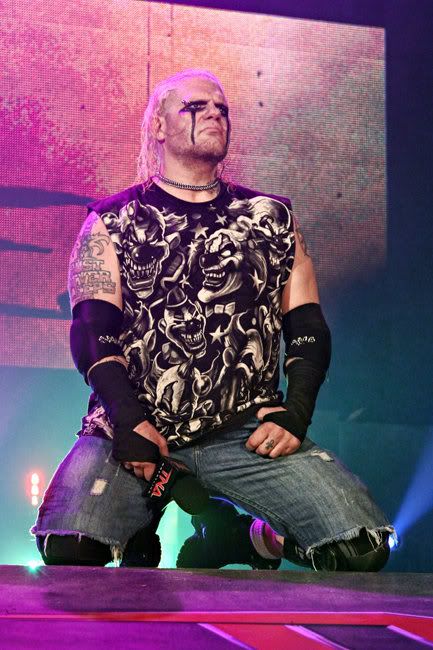 Whatever happened to the once extremely handsome man that Raven used to be? Gone are the days where I would have fantasized about you being my older boyfriend and now well, quite frankly you make me a bit sick in the mouth.
The bleach blonde hair looks quite possibly to be the worst damaged hair in the world – even more so then Hogan's and Flair's, and oh boy, that is saying something. That scary-ass fugly top looks like it should be on a teenage goth not a 45-year-old man and don't even get me started on the former once cool eye make-up which is now incredibly passé.
Second placed nottie of the week goes to Tamina.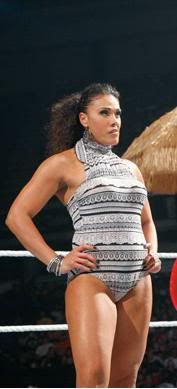 Now, I'm all for all-in-ones as I have an infinity amount in my wardrobe but even I wouldn't wear this hot mess of a leotard.  Plus, what is it with Tamina and not being able to wear bodys that fit well, they are either far too high in the leg or in this case far too high in the neck – you ain't ever going to get a good tan with that much skin covered up. Also, that too-bold black and white pattern is really damaging to my eyes.
Rey Mysterio is my third nottie of the week.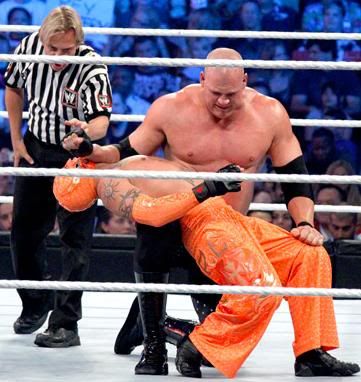 Hey Rey (oh, that rhymes) next time you plan on wearing orange – which I hope won't be any time soon. Please don't get it in a dimpled effect as you just resemble the back of a fat girls' thighs aka cellulite aplenty. I still ♥ you though so get back to your ECW/WCW attire asap – who cares if your knee braces are out and about, Stone Cold certainly didn't.
Chavo Guerrero is my penultimate nottie of the week.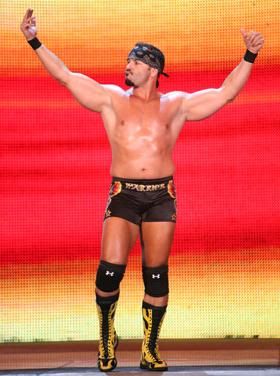 Who wears short shorts?  Chavo wears short shorts – unfortunately. Ah, Chavo you were one of the very few who stood out from of the crowded WWE roster as you wore a pair of fetching tights, but now you have turned into one of the WWE droids by switching to these unforgiving trunks.
At least the bandana is still there to keep you away from looking like the rest of the roster but come on, switch back to tights and be unique!
In my last place as my most not-hot person of the week is Melina.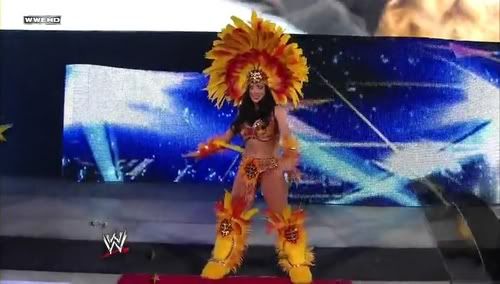 Oh Melina – a picture says a thousand words. And 3 of those words are 'No, no, NO!'
Please vote in the poll below on who you think looked the best and the worst this week:
http://micropoll.com/t/KDwQ9ZBMA8 – best
http://micropoll.com/t/KDwQ9ZBMA9 – worst
Also if you see any hotties or notties this week in wrestling or have a vintage pick you want to see in the column please just leave a comment below.
Tags: Angelina Love, Brie Bella, chantal, chavo guerrero, Daffney, divas, ECW, hotties, Hotties 'n' Notties, John Morrison, Knockouts, Maryse, Melina, michelle mccool, Nikki Bella, notties, NXT, raven, Raw, rey mysterio, Sarita, Smackdown, tamina, The Bella Twins, TNA, tna hardcore justice, tna impact, Velvet Sky, WWE, WWE Superstars