Mike Oeming brings back Ares during Chaos War
|
Chaos War will bring the dead back to life…. hmm… sound familiar. 😉 Anyhow, Ares is a great character so glad he is back under the steady pen of Mike Oeming.
What was heard:
After being torn in half by The Sentry in the second issue of SIEGE, Ares seemed dead and gone. But in the Marvel Universe, Hades can be known to loosen its grip. Over the course of Chaos War this fall, Ares' old foe The Chaos King will be enlisting the God of War against his will, a struggle that will be expanded on in the five-issue CHAOS WAR: ARES limited series kicking off in October.
"Ares' struggle seems to be eternal, doesn't it," questions Mike Oeming, writer of the upcoming project as well as the 2006 ARES series that brought the character into the spotlight. "Struggling against his brother
Ares sketch by Mike Oeming
and parents for most of Marvel's history, and then struggling with himself to become a hero, now he's literally been torn in half and is struggling between life and death."
Opposing the Chaos King's army, which includes the reluctant Ares, will be Thor, Hercules and a host of others in an all-new God Squad. Ares has fought both with these gods and against them, and their history too runs deep.
"Without giving too much away, lets keep in mind that Ares is the brother of Hercules who is now shoulder-to-shoulder with Thor on the god level," explains Oeming. "Whatever Ares' final fate is, his struggles are sure to only escalate."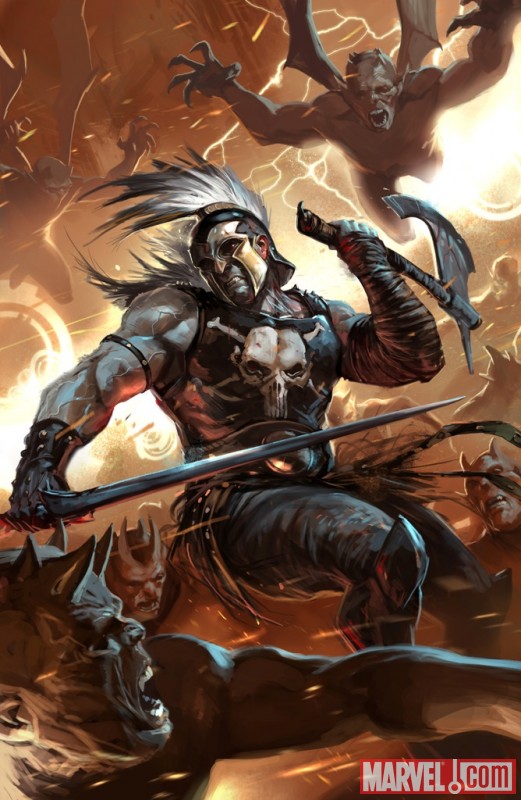 Source: Marvel