Hotties 'n' Notties: Sabu, The Undertaker & more
|
Who was hot and who was not this week in wrestling?
However, this isn't your usual "who did good and who did bad" style column. No, this is the literal look at who actually looked sexy this week and who, well, didn't.
Last week's winners of the 'who do you think looked best this week' poll, tying in first place are *drum roll please* – Daffney and Ashley Valance! Congrats to you two hotties.
The winner of the 'who do you think looked worst this week' poll was Melina – next time, leave the costumes that belong to the broadway cast of The Lion King alone please.
Numero Uno hottie of the week goes to Alberto Del Rio.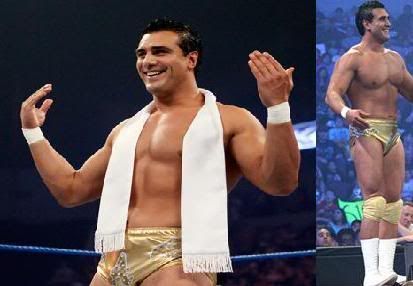 Golly gosh, what a handsome man the new Smackdown superstar is. His looks are reminiscent of a film star from the 1940's who all of Hollywood's leading ladies would fall in love with but sadly he would only break their heart by going to war and dying in battle or turn out to be a gay sailor a la On The Town.
His gold and white attire go perfectly together (those kneepads are fabulous) and it makes him look like he is worth a million bucks – which actually he probably is since he is Mexican royalty. Plus pristine white wrestling boots are one of my biggest loves (along with tassels,tights and tights covered in tassels) so phrrooww.
BTW, people are saying that Alberto's personal ring announcer looks like a fat version of the beautiful "Dashing" Cody Rhodes – but I can't see it at all! – can you?
My second placed hottie of the week goes to Sabu.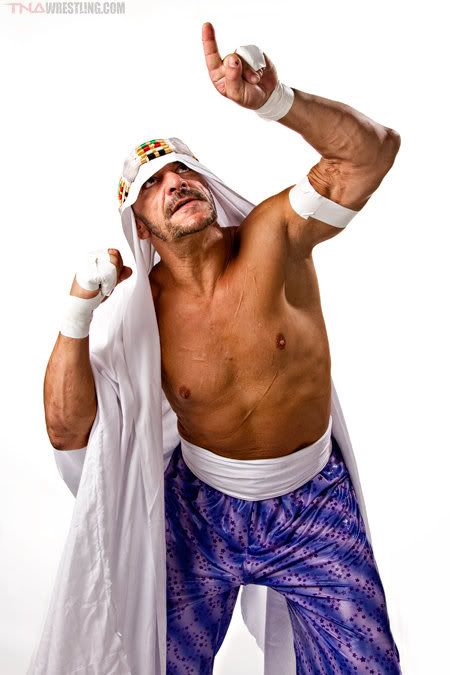 Oh Sabu, you stylish wrestler you. Now I doubt The Homicidal, Suicidal, Genocidal, Death–Defying Maniac knows any better since he has been wearing harem pants since well, forever but they are incredibly bang-on-trend ATM. The ditsy star print is all over the high street and the purple colours are Autumn/Winter 2010's hottest shade. Paired up with white accessories – well as much as wrist tape can be an addition to an outfit – Sabu is truly the most fashionable wrestler on the whole of the TNA roster – a lot more so then any of the girls.
Alicia Fox is my inbetweener choice this week.
Alicia, Alicia, Alicia *sigh* whatever has happened to you? – Miss Fox used to be WWE's resident fashionista earlier this year in her cute playsuits and couture attire but now unfortunately, she has taken a steep downturn. Spring/Summer 2009 called and it desperately wants it plaid oversized boyfriend shirt back. Also the late 90's called and they want their horrible strappy sandals back too.
However, Alicia's modelling soon makes up for the rather bad fashion choices. The goddess that is Tyra Banks herself would be proud of the dynamic pose that wouldn't go amiss in Vogue. So come on Alicia, go back to your stylish ways and get yourself in a nice sleek jumpsuit then show the world how truly high fashion you can be.
First nottie of the week goes to John Morrison.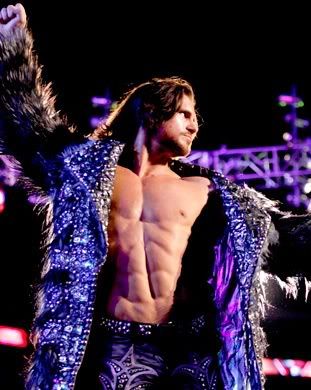 In last week's column I asked whether the new bearded version of John Morrison was a hottie or nottie. I received various comments such as Tanya thinking that The Shaman of Sexy is a hottie but he needs to give his facial hair a trim before he starts to get an "Edge cave man like beard." On the other hand Walter agrees that JoMo can't have a Chuck Norris-esque beard without a manly piece of chest hair.
So I've come to the conclusion that John Morrison needs to get rid of that ginger (not that there is nothing wrong with being a ginger – I chose to be that hair colour myself) beard asap as his happy go lucky self simply cannot pull it off. So come on JoMo shave it off as you will never reach the epic level of CM Punk beard-ness so stop trying.
In last place as my most not-hot person of the week is The Undertaker.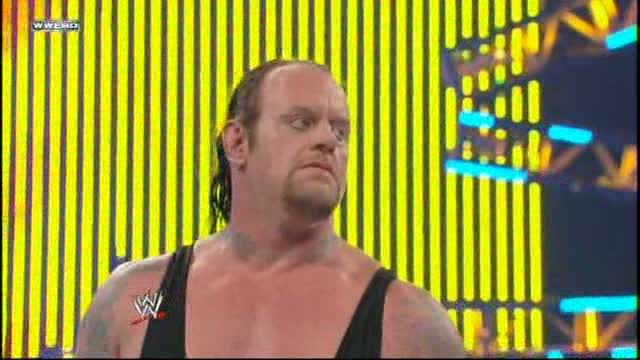 It seems as though that if you are married to a woman who is actually 30 but looks 50 it starts to do the same to you. At Summerslam after waking up from his vegetative state, The Undertaker came out of that disgusting red casket looking as though he had aged 50 years and lost a lot of hair in the process – poor guy. Maybe it's time to get a divorce, marry somebody who looks their age and perhaps you can turn back time, but hopefully not all the way back to those Mean Mark days.
Please vote in the poll below on who you think looked the best and the worst this week:
http://micropoll.com/t/KDwQ9ZBMVL – best
http://micropoll.com/t/KDwQ9ZBMVM – worst
Also if you see any hotties or notties this week in wrestling or have a vintage pick you would like to see featured in this column please just leave a comment below.
Tags: alberto del rio, alicia fox, chantal, cm punk, Daffney, Dashing Cody Rhodes, divas, dos caras jr, ev2.0, hotties, Hotties 'n' Notties, John Morrison, Melina, notties, Raw, Sabu, Smackdown, Summerslam, the undertaker, TNA, WWE