Hotties 'n' Notties Bumper Issue: Natalya, Tara, Generation Me
|
Who was hot and who was not this week in wrestling?
However, this isn't your usual "who did good and who did bad" style column. No, this is the literal look at who actually looked sexy this week and who, well, didn't.
Last column's winners of the 'who do you think looked best this week' poll tying in first place were Alberto Del Rio and Alicia Fox – could they be a potential uber-hottie couple sometime in the future?
The winner of the 'who do you think looked worst this week' poll with a whopping 78% of the final vote was… The Undertaker. Thankfully though he has now sorted those dreadful roots out and looks a lot better for it – perhaps he read this column and took my advice. 
Numuro uno hottie of the week goes to Angelina Love.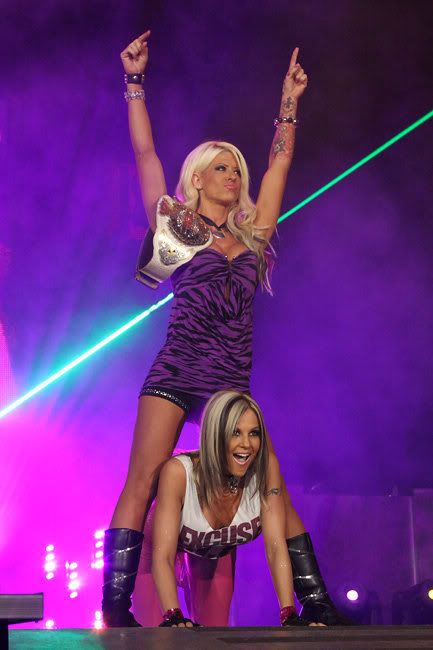 Yes! The Beautiful People are back together and along with the epicness that Angelina and Velvet will undoubtedly bring to the table through their brilliant promos it seems as though Angelina is back to her hottie self.
The trendy clubwear purple zebra skin top/dress thing looks great on her body and she gets extra bonus points from me for wearing a pair of studded cycle shorts underneath (I need a pair asap) as nothing irks me more then when a girl wears a micro dress and forgets to put on anything underneath – while I'm sure that's great for the boys, it just embarrasses me that some girls don't care if you can see everything and I mean EVERYTHING.
Along with the leather calf length flat boots, spiked bracelets and her signature hair and make-up – I loooove the pink lipstick Miss.Love – Angelina is one hell of a knockout.
My second placed hottie of the week goes to Natalya.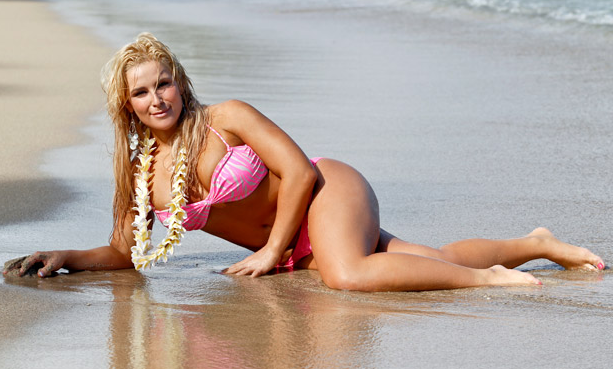 My my, Natalya Neidhart how amazingly beautiful you are.  The third generational Diva posing on the picturesque Hawaiian beach – let us hope the water was warm for her – flaunting her own picturesque sexy bikini body is what dreams are made of.
Her wonderfully tousled blonde hair, cute silver drop-down disc earrings and the delicate lei all add up to make her look absolutely gorgeous. The cute pink and silver tiger striped bikini looks amazing against her utterly perfect toned, curvy yet muscular body and it makes me want to actually use my gym membership for the first time in months so I can try and get those WOW thighs.
Third hottie of the week is Rosa Mendes.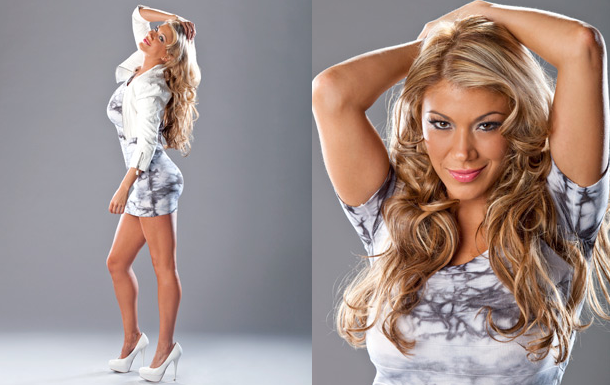 The beautiful Smackdown starlet one of my favourite WWE girls, but everybody seems to forget about her and instead prefers the overly plastic Maryse and Kelly Kelly. But Rosa has that special little something, something about her. Whether it be those flawless legs of her, her sexy smirk or that cute ass the former protégée of Beth Phoenix has certainly added a new rung on the hottie ladder.
The micro mini tie-dye dress is perfect for the up-and-coming roughed up edgy looks that were all over the autumn/winter catwalks. And the white leather jacket is exceptionally 80s which I love, love it enough that I actually own a very similar jacket myself.
The only let down of her whole look is those tacky white Essex-girl stilettos, nude peep toes would have looked a million times better.
Orlando Jordan is my first inbetweener this week.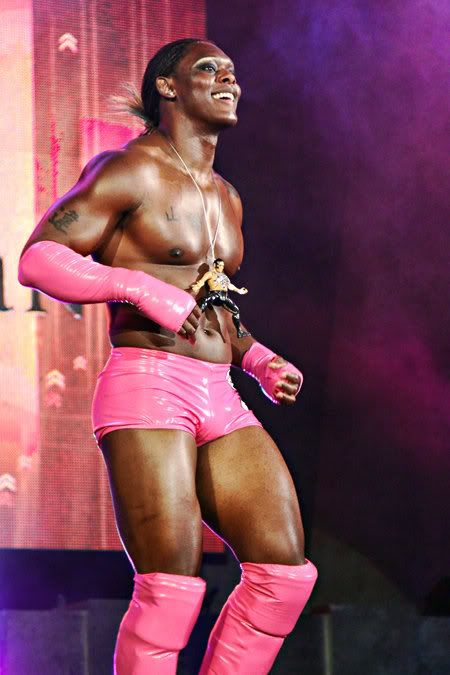 Oh, how proud I am of Orlando Jordan. He has improved immensely from the days where he used to think going all Lady Gaga on us and wearing yellow and black tape was a good look. But now it seems as though he has found his happy place and is sticking with this pink PVC gloves, micro trunks and kick pads hell of an outfit – which if anybody else wore I would shoot them down immediately but because its OJ and we no longer have to see him in these extra tight silver pants *shudders* its overall a good thing that he is sticking with this ferosh attire.
He adds a kitsch and quirky little accessorise in the form of a Somoa Joe figure which I think is pretty darn cool – I might start to wear my Rick Rude figure around my neck.
However, he then goes and does this to his face and it just ruins everything good I said about him – what.the.f***?
Victoria Tara is my second inbetweener choice of the week.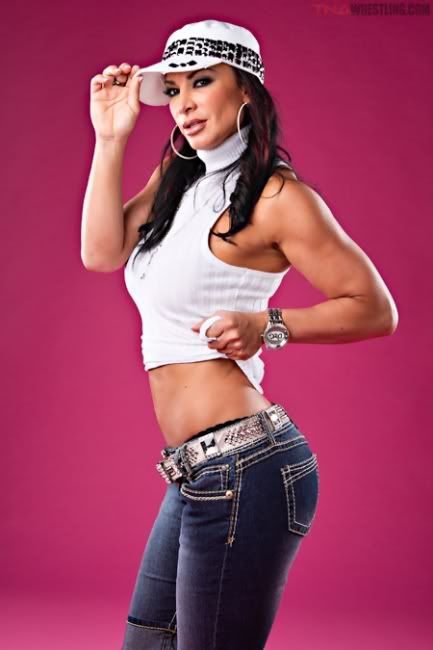 We all know Tara is a bonafide hottie, If I was a 21-year-old boy I would definitely want her to be my cougar – In a Demi Moore sort of way, not a Vickie Guerrero way. But she throws all her sexiness out of the window when she choose to wore this hot disgusting mess of an outfit in a recent TNA photoshoot.
Everything is wrong and needs to be given back to the year 2000 asap – the white ribbed sleeveless polo neck just makes me cry. The hoop earrings need to go back on to the ears of the chav she stole them from. Those 3/4s and that belt need to go in a trash compactor immediately and with a broken heart so does the D&G OTT watch. The only redeeming quality are the studs on the baker boy cap but even then baker boy caps are disgustingly pase so maybe next time Tara should just do a photoshoot wearing a few studs here and there about.
Generation Me are my first notties of the week.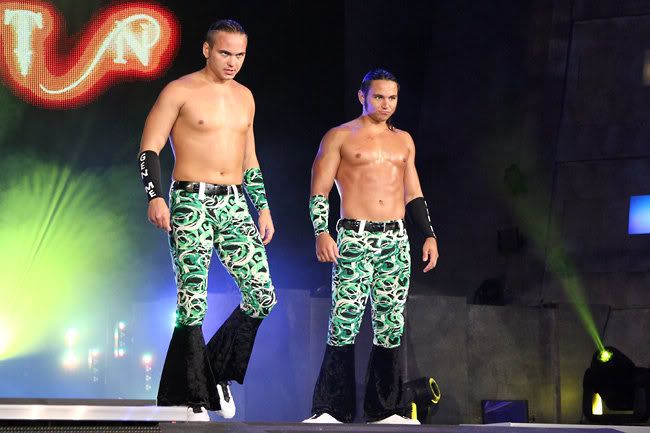 Now I like Max and Jeremy Buck, they are both good looking boys, I love their wrestling ability and they're nice lads – both of them wished me Happy Birthday on twitter so that obviously makes them the best.
But oh dear god, what the heck is with those trousers?! First off let's start with the length, in school I made fun of the people with budgies (yes, I was a fashion bitch at the tender age of 12) and I ain't going to stop now. Surely, they could have retrieved a couple more inches of tacky velour and sewn them onto the bottom to stop this horrible fashion faux-paus from happening. Plus that green, white and black swirly pattern makes me eyes hurt immensely but hey at least their wristbands match.
Angelina Love is my second nottie of the week.
The TNA Knockouts champion makes a second appearance on my list this week because how can one person get it extremely right one week but then ever so extremely wrong the next?
I'll start with the good because Angelina has got it right here with her 80's-esque fingerless lace gloves, bang-on-trend blue fingernails, distressed denims and the two-fingered ring on her left hand which I'm currently obsessing over. But then THAT top makes all the good points suddenly disappear and makes me die a bit inside.
Yes the peekaboo trend was all over the catwalks at London Fashion Week but it's just supposed to give a sexy illusion of bareness not go all out and show those gigantus mega silicone enchanced puppies to their full extent – please just put them away Angelina, it's rather embarrassing.
My final nottie of the week is NXT's Naomi.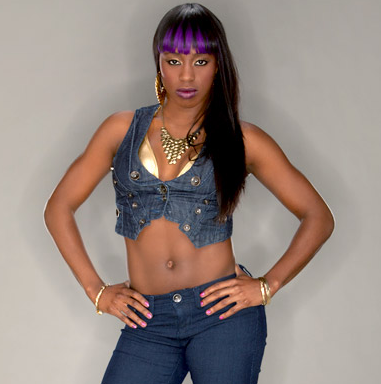 Double denim was one of this summer's hottest trend, but the biggest rule for the look was to wear different shades of denim ala the amazing Alexa Chung and not the exact same colours or you risk looking like you stepped out of a B*Witched video so please say C'est la vie to the vile denim micro waistcoat and spray on jeans combo Naomi.
Oh and btw, what is with the coloured fringe?! – the last time I look you were not a 13-year-old emo boy and next time please leave the matching purple lipstick in the make-up bag.
But I can't hate on the NXT Rookie too much as in this picture she is deliciously 80's and I adore it.
Please vote in the poll below on who you think looked the best and the worst this week:
http://micropoll.com/t/KDwQ9ZBNsb – best
http://micropoll.com/t/KDwQ9ZBNsc – worst
Also if you see any hotties or notties this week in wrestling or have a vintage pick you would like to see featured in the column please just leave a comment below.
Tags: alberto del rio, alicia fox, Angelina Love, chantal, divas, Generation Me, hotties, Hotties 'n' Notties, Knockouts, naomi, Natalya, notties, NXT, orlando jordan, Raw, Rosa Mendes, Smackdown, Tara, TNA, WWE