Hotties 'n' Notties: Kaitlyn, Michelle McCool & Tamina.
|
Who was hot and who was not this week in wrestling?

However, this isn't your usual "who did good and who did bad" style column. No, this is the literal look at who's hot, who's not and who wore what this week.
Last week's winner of the 'who is your hottie of the week' poll with an absolute whopping 100% of the final vote was *drum roll please*… Trish Stratus!
The winners of the 'who is your nottie of week' poll tying in first place were Jerry Lawler and Dixie Carter – ahh these older ones really do need some lessons in style don't they?
Numero Uno hottie of the week is Kaitlyn.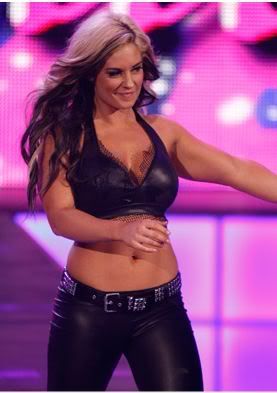 Ah Kaitlyn, you little stunner you. Everything about the NXT season three winner screams HOTTIE!
I love, love, LOVE her bang on trend super tight black leather trousers. The Sandy Olsson-esque pants mould to her curves exceptionally well and I bet the back view isn't too shabby either. I've been looking EVERYWHERE for a similar pair but sadly Primark haven't invested in this killer trend yet *cries.*
The studded belt adds a rock chick edge and the bralette adds that extra ooomph to the outfit. However, what is up with the black net around the edges? – it looks like it's been attacked by a tutu.
Now let's get to the hair – WOW! I adore it!! – I need it on my head right now. I am booking an appointment at the hair salon first thing tomorrow morning to get this exact hair.
I only hope WWE start putting Kaitlyn on TV more after Wrestlemania because if I have to see Laycool take on Kelly Kelly AGAIN I will go all Rulk on their asses.
Second prize goes to Lucky Cannon.
PHRRROOOWWWWW. What isn't there to like about this guy? – First off, he has long hair so he is an automatic hottie in my books.
In addition to the flowing locks he wears a freakin' sweet robe and ya'll know what I'm like with wrestling robes – I LOVE them. This may not be the most beautiful of robes but it does include feathers so it's up there with Sting and Flair at the top of the Wrestling Robe League.
Now his baby pink trunks may be a bit feminine and against the fake tanned orange skin he does look like a male version of Katie Price but hey, he makes them look good and it takes a real man to wear pink!
Plus those white wrestling boots are all kinds of amazing – there's a special place in my heart for pristine white wrestling boots and these pair certainly do fulfil my needs.
Michelle McCool is my inbetweener choice this week.
Michelle is my inbetweener choice this week are there are elements of her outfit that I love but also parts that should never be seen in public.
Let's start with the good. The crushed leather vest is a work of art in itself and with the pile upon piles of chains it scream attitude! But then she goes and teams it up with what essentially is a crop top and it flashes a bit too much flesh for my liking. Quick note to the Divas – you don't have to show everything off to be sexy.
The two fingered ring is a must-have for any girl's jewellery box but do NOT wear them if you have to do something practical – trust me, i've been there.
BTW, Miss McCool, I think it's about time you STOPPED with the over-the-knee boots as you have done this trend to death now and it's getting rather boring. How about investing in a pair of Christian Louboutin spiked platforms? – they are very you!
First nottie of the week is Tara.
Oh Tara, Tara, Tara. I bet you thought that you could do no wrong with a simple white shirt, a pair black leggings and a corset belt but to put it simple it is INCREDIBLY wrong.
This season one of the biggest trends is a white shirt – whether it's an oversized boyfriend number or a prim and proper buttoned up to the top version. But somehow Tara makes her – what should be bang on trend – white shirt look incredibly cheap and quite frankly a bit slultty.
Plus teaming up the shirt with these tiger print effect shiny leggings – well only a tiny minority of people in the world can pull them off and Tara certainly isn't one of them – props for trying though.
And that belt? – well, I won't even go into it as it's just so incredibly fug that I don't even want to comprehend it.
In last place as my most not-hot person is Tamina.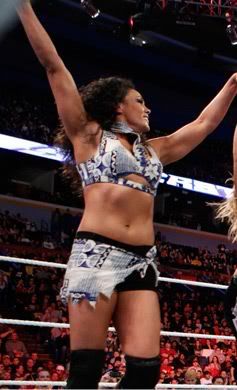 FOR GOODNESS SAKE TAMINA!! – What is up with you?! Do you never look in the mirror before you go out to wrestle or do you actually think that your atrocious outfits look good? This is the absolute final straw, if you make one more fashion faux-pau I am flying over there and giving you a complete head to toe makeover because quite frankly my dear you need it!
I understand that you're going for a tribal feel here but it's not working at all. It looks as though you bought a metre of fabric from your local haberdashery store, ripped it up and tied it around your body willy nilly with no thought of style at all.
Come on Tamina, why not ask WWE's premiere fashionista Maryse for some tips – get yourself in a LBD with a few thousand pounds worth of diamonds wrapped around your arms and you will soon be up there at the top of the fashionista league.
Please vote in the poll below on your numuro uno hottie and not hot nottie of the week:
http://micropoll.com/t/KDwQ9ZBxBA – hottie of the week.
http://micropoll.com/t/KDwQ9ZBxBB – nottie of the week.
If you see any hotties or notties this week in wrestling or have a vintage pick you would like to see featured in the column please just leave a comment below.
Tags: chantal, divas, hotties, Hotties 'n' Notties, Knockouts, lucky cannon, michelle mccool, notties, NXT, Raw, Smackdown, superstars, tamina, Tara, TNA, tna impact, TNA Knockouts, WWE, WWE Divas, wwe nxt, WWE RAW, WWE Smackdown, WWE Superstars