Inside Classic Fights: Marvin Hagler vs. Thomas Hearns
|
Marvin Hagler vs. Thomas Hearns
April 15, 1985
Las Vegas, Nevada
The Hype
Marvin Hagler was in the midst of a dominating run as Middleweight Champion, making ten successful defenses before this fight. Hearns, on the other hand, was a champion at welterweight and light middleweight but was making his first fight as a middleweight. There was a huge buzz going on for this superfight. Hearns had just scored a second round knockout of Roberto Duran, something Hagler couldn't do in his 15 round decision victory over the same man. Hagler just looked like a dude you didn't want to mess with but Hearns had crazy power in his right hand. Fans waited a long time for this fight to come to fruition, as a Hearns injury during training postponed the fight for nearly two years. With Hagler's demeanor and Hearns' right hand, a war seemed like the only way this fight would shape out.
The Fight
The bell rings and both men meet in the middle of the ring. They swing wildly immediately, each man trying to end the fight on one punch. Hearns lands about three clean right hands in the first 30 seconds and Hagler remains on his feet. I hope these fans aren't fans of jabs because they aren't happening. These guys are throwing bombs and neither really seems concerned about defense. Hagler is cut on his forehead but still keeps coming forward. They are swarming each other and Hearns is the most surprised by the pace. Hagler is setting a crazy pace and Hearns seems to be trying to end the onslaught and earn a break with one big punch. They stare down after the bell to end the first round and I doubt anyone in the crowd is seated.
A big left from Hagler starts the second round. Hearns is trying to stick and move but Hagler is like a lion stalking its prey. Hearns is still landing his powerful right hand but Hagler seems unfazed. That has to be frustrating for Hearns. Hagler isn't letting Hearns establish his reach by continuously staying on Hearns. Hagler has blood trickling into his eyes. Hagler unloads bombs to close the second round but Hearns uses the ropes to keep his balance. Another intense round.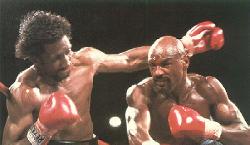 The third round begins with jabbing from Hearns but Hagler has none of it and gets inside again. The referee calls for a timeout so the ring doctor can check on Hagler's cut. The doctor rules that Hagler is okay to continue. Hagler comes out of the restart with the same aggression. Hagler catches Hearns with a right hand behind his ear. Hearns staggers across the ring. Hagler follows with two glancing rights and Hearns crumbles to the mat. Hearns miraculously gets up at nine but the referee calls the fight as Tommy is on rubbery legs. Hagler celebrates as Hearns is unnecessarily carried to his corner like a baby.
The Aftermath
This fight was an incredible brawl that earned Ring Magazine's Fight of the Year honors. That's rare for a fight that doesn't last three full rounds. Hagler finally felt that he earned the respect he desperately sought. Unfortunately, Hagler would become frustrated with the boxing world once again after his loss to Sugar Ray Leonard two years later. Hagler retired and never returned to the ring again. Hearns built upon this loss and gained a reputation as a warrior. Hearns fought consistently until the year 2000 and fought as recently as 2006. This fight is still regarded as one of the all-time classic brawls and often used as the benchmark for modern-day wars. The first round in particular is still seen as one of the best rounds of boxing ever. Staying power is a sure sign of a great fight and this fight still carries an aura of excellence more than twenty years later.
If you would like to see a certain classic fight covered, email me at bodyblows@gmail.com with your request.
Tags: Boxing