What do the words "26 Days", "Divorce", "Sacred Geometry", "Foreshadowing", and "Movie" have in common? Well they all have something to do with a show that is currently airing on MTV "After Dark". They are just pieces of the puzzle that make up the "MTV Mix" as well. See how they all fit together now…
SHOW REVIEWS
MONDAY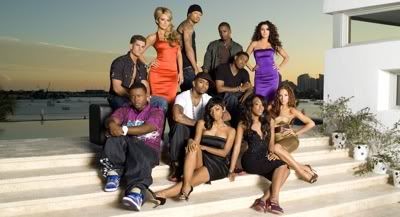 Making of the Band 4
Diddy brings in the troops to help finish all of these albums. He brings in around 25 or more producers to help write and produce songs for Donny's, the boy's, and Danity Kane's albums. So lets begin the world tour.
Bryan Cox, perhaps the most popular producer of them all, works with the boys first with a new song. Jim Beanz works with the girls on finishing "Poetry". They want an uptempo song, though. Diddy wants an emotional, slow album, but Danity Kane wants a fast, dance album. Aubrey tries to make her case to Conrad, an A&R rep, but she doesn't understand the "business side of things".
Aubrey wants better songs like the guys are getting. The guys just want to get drunk, especially Robert. The next day everyone has to go through an intense workout session except for Willie, who oversleeps. Diddy doesn't like the post-workout report. Robert threw up and none of them are in the shape that Diddy wants.
So Diddy decides they need a "den mother" to wake themselves up. Danity Kane had a bad experience with their last den mother. This den mother is a dude named Michael. The girls seem to like him somewhat, but the guys are all confused. "What is a den mother and why is he a man?"
Seven is he next producer to throw out a song to the girls called "She Can't Love You". It's another slow one, and the girls don't like it. Meanwhile, the guys love their new song "Don't Fight the Feeling" as they try to think of some way to get rid of the new "den mother". Back to the girls who decide to revolt. They talk to Conrad and Slam, the A&R reps, but it mostly falls on deaf ears. Danity Kane thinks the tracks are mediocre, but Slam and Conrad think they should trust Diddy's vision. Aubrey feels like a "ho" to Diddy's "pimp". Danity Kane is just coming off as whiny brats who don't appreciate what they have.
The boys try to make the life of the new "den mother" as hellish as possible. Mike fakes some tears so that they lure Michael next to the pool. so that they can push him into it during the middle of the night. Just a "welcoming present". But the girls finally get what they ask for, though. They get to tell Diddy, personally, how they feel. They are speechless at first until Diddy calls out Aubrey. They don't have a lot to say, except that they want to understand Diddy's vision for this album. Diddy says they have to trust him. Diddy eventually apologizes to them for not discussing them what he wanted. You see, he doesn't want all ballads. Not all songs they have recorded are final on their album. Why give in to these brats? Wrong move Puff! Case in point, how they act in their "confessional interview" segments.
The girls strike back against the boys. They get a cake and shove it in the faces of the guys. It's a cake fight! Finally, Mary Brown and Jim Beanz give the Danity Brats a song they like. It's called "Bad Girl". Despite what they say, it's not that "hot"! Pretty mediocre if you ask me. Here is some breaking news, though. The name of the guys group is Day 26. Why? I have no idea. Perhaps it's because that is how long it took to make their album. Their first single is called "Got Me Going". Danity Kane's first single is called "Damage". Go to http://makingtheband.mtv.com to hear both singles now.
TUESDAY
Life of Ryan
Ryan made a pact to his parents that he didn't want to talk about their divorce. Ryan doesn't want to know about his parents divorce settlement, but he really does. His mom says it will be all over in 60 days. Ryan tries to balance his life with his mom and his dad.
Ryan wants to throw a Christmas party. But he wants his dad and mom to come. His mom wants to throw the party at her house, but Ryan doesn't want to put that stress on either one of them. Ryan tells his dad that he's having a party at his mom's house. He tells his dad that he wants to do something with him, though.
Ryan breaks his pact with his dad as he brings up the divorce. His dad said he lost the settlement and his dad suggests that he comes to the Christmas party. Ryan doesn't think that is such a great idea, but he is down for them trying to all hang out with mom and dad. This leads to a big fight with his mom about all of this. Ryan thinks the divorce was all his fault, etc.
Ryan and his mom make up. Their party goes off without any problems. Ryan later goes golfing with his dad and they think of a Christmas tradition they can start. That being opening up presents early and then go watch a movie. All ends well in the Sheckler household again.
Rob & Big
Rob is feeling lifeless. So he decides to go see a street shaman named "Harry the Healer". A shaman is a basically a spiritual guru. He is supposed to restore positive energy in Rob.
Big Black is not a believer, though. Big Black is down with "Master J" and doesn't believe in all of this new-age stuff. He is down with getting in the Chi machine and rocking back and forth like a fish out of water.
Harry has a poster called "Sacred Geometry". It's like one of those puzzle where you have to squint your eyes to see a hidden picture in it. But Rob thinks these posters are the key to life and well-being. The poster allowed them to get a check in the mail from the work they did for the video game, Skate, or so Rob thinks. So Rob rubs some money on the poster and then proceeds to buy 1,160 $1 lottery tickets. Someone's feeling lucky.
While they wait for the lottery winner to be announced, Rob & Big go do some yoga. It looks a little painful for Big, but he sticks it out. They go back to the gas station to redeem all of their lottery tickets. They don't win millions of dollars, though. Maybe only a hundred dollars.
That doesn't discourage Rob from making a skateboard out of the "Sacred G" poster. Rob goes and skates with his new skateboard and he seems to be skating better than ever before. He even does a trick he has never done before. All is right with Rob's mind again thanks to "Sacred G"!
WEDNESDAY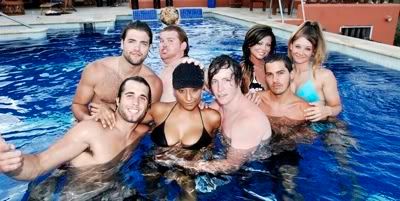 Real World/Road Rules Challenge: The Gauntlet III
Brad and Tori have gotten close, so you know what that means. Tori is going home tonight! Danny and Melinda have relationship issues. Lots of "don't raise your voice at me!" and the like. Money, alcohol, and drama inside a crowded house is not a good recipe for a healthy relationship.
Time for the next challenge! It's a female elimination day! This challenge is called "Pole Push"! They have to push the opposite team out of this ring by using a pole that they are both holding on to. Could the veteran guys throw this challenge? They don't think that can happen, since they think the rookie guys are really weak right now. The rookies have less people as well, and can't stop fighting. The rookie guys attempt to make the veteran guys dizzy, but it doesn't work. The rookie girls have to save themselves, but they can't either. The Veterans win one more time. When are they going to merge the tribes?
Now it's still time for the veterans to pick who goes into the gauntlet and who gets protected. Talk about throwing in Tori or Melinda. Brad and Danny don't like this for obvious reasons. In the end, the veterans "protect" Rachel and throw Melinda into the gauntlet! Danny is pissed! Melinda gets to pick her opponent or so the rules they set are supposed to be. Melinda mouths off, though, before and basically calls out her team. Frank and Ryan whine about picking Jillian. The rookies eventually decide to pick Tori, which Melinda is shocked by. She thinks they are the two best girls and it's a dumb move by them. But what does it matter at this point?
The next Gauntlet will be called "Ball Brawl"! Melinda vs. Tori. It's automatic at this point, but Tori just quits. Why? Because she doesn't like all the drama and politics in the rookie camp. She is not in this game anymore. But thanks to Brad, Tori reconsiders. She is not going to quit. I doubt she will try hard to win, though. You know the rules of this Gauntlet. Tori gets the first ball and the second one. Tori lets Melinda get the third ball. Final ball and Tori wins! Melinda is gone! Really that could have gone either way with foreshadowing. Tears and goodbye hugs for Melinda from Danny.
Tori doesn't feel good about the win. She hates her team now in fact. This should be fun. Even more fun is Johanna and Danny screaming at each other. Danny says that Johanna stabbed Melinda in the back. Johanna has a nice burn about Danny not being funny like Evan or Kenny. But perhaps even more fun than that is the immature screaming match between Tori and Jillian. Tori is going to throw missions by herself. I say they are both dumb. In fact, just dump all the rookie girls and get this over with. Meanwhile, drunk CT and MJ chat about who has the better initial name. Okay, not really but still as funny. Look for Frank to be in the gauntlet this time, perhaps against MJ.
Time for the next challenge! It's a male elimination day! This challenge is called "I Dig You"! To go along with the fun theme, team members will be buried alive. They get buried two feet under the sand and one team member will attempt to answer questions about the people underneath the sand. Um, this is should be interesting. No one wants to be buried alive you see. What's great about this challenge is that while Nehemiah and Evan attempt to answer questions right, we here various screams and comments from the people buried under the sand. The more people you get uncovered the better chance you have of winning. It's a race and in the end The Veterans win again and that makes it 9-2 for them!
Time for the veterans to pick who goes into the gauntlet and who gets protected. The veterans "protect" Ryan and throw Frank into the gauntlet as foreshadowing predicted! So Frank has to face with MJ or Nehemiah. Nehemiah screwed up the challenge, so it should be him. MJ thinks he is the strongest competitor on the team, but based on today Nehemiah should be the one going in. But here foreshadowing trumps logic and MJ is going in! They hope it takes out Frank.
The next Gauntlet will be called "Ankle Breaker"! Frank vs. MJ. A new one finally! They are tied together at the ankle by a strap. They have to pull against each other to grab a rope that will help them pull themselves across the finish line. MJ is dragging Frank early, but Frank eventually digs a hole and that stops the momentum. MJ gets tired and Frank is getting closer to the rope. Frank grabs the rope first and that is it.
Frank wins and MJ is gone! It's interesting to see that Jillian and Frank could be the most hated couple on this show. They are both 3-0 in the Gauntlet, but no one wants them on the show. We get a preview for next week. Look for Evelyn to face off against Coral in the gauntlet next week. Get prepared as foreshadowing never lies!!
THURSDAY
Randy Jackson Presents: America's Best Dance Crew
This week each group had to perform their dance routine in the characters they were told to play for a "Dance Crew Movie". They have to use props, scenery, and tell the story to move on.
– JabbaWockeeZ was the first team to make the "top three" this week and they danced to "AYo Technology" by 50 Cent and Justin Timberlake. They were supposed to play thieves and even had to dance on the roof of a car, bench, and dumpster.
– Kaba Modern was the second team in the "top three". They danced to "Sensual Seduction (Sexual Eruption)" by Snoop Dogg, and the guys had to play geeks while the girls were the popular girls.
– Status Quo was the third team in the "top three" as they climbed out of the bottom half this week. They danced to "Hey Baby (Jump Off)" by Omarion and Bow Wow, and played the roles of auto tuners. They flipped off the car a lot.
– Now we go to the "bottom three". The team that was saved first by the voters, though, was BreakSk8. They danced to "What Is It" by Baby Bash. They had to play basket ballers on roller skates, of course.
– Fysh N Chicks was the first team to dance for the judges in hopes of lasting another week. They danced to "Maneater" by Nelly Furtado, and had to also play the parts of "clubbers". They even do a little tap dancing.
– Live In Color was the last team to dance for the judges. They took a big fall into the bottom half this week. They danced to "Bombs Over Baghdad" by Outkast, and they had to play the parts of vampires and damsels in distress.
– In the end, the judges decide to save Fysh N Chicks and that means Live in Color is the fourth crew to be eliminated!! That's the first shocker of the show really.
And that ends the 71st volume of the "MTV Mix"! If you have any questions, comments, suggestions, or feedback of any kind..send them my way!!
I'll see you next time when we mix things up a bit!
Sir Linksalot: Reality Television
Tags: Life of Ryan, Making the Band, MTV, Real World/Road Rules Challenge, Rob & Big