Hey everybody, welcome to this week's edition of…
Juuuuuust kidding – actually, y'know what? [BEGIN DIGRESSION] Hey, don't look at me – Marvel Comics are the ones who think that you're alright with spending three bucks so you can see Aunt May like this. Just like they've realized that people will keep reading Spider-Man, no matter what they do – whether it's the notion that Norman Osborn managed to sleep with Gwen Stacy while Peter Parker never did, or that the current run of stories were somehow made better because Mephisto was able to erase Peter and Mary Jane's wedding from history. So either they're right and you're okay with this, or this'll prove to be yet another of a veritable laundry list of crimes against our friendly neighborhood webslinger that will eventually lead to a fanboy uprising the likes of which will make Bastille Day look like a slap fight. So to those three or four comic book heads out there who read this column, I say it's up to you how much longer we put up with stuff like this – I know what I'll be rooting for, myself – and if I may borrow from a recent marketing ploy: whose side are YOU on???? [END DIGRESSION]
Okay, for real this time – hello, and welcome to this week's edition of…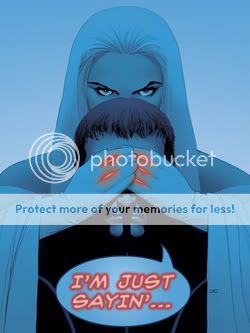 I bid you all a happy Shipment Day and may Stan bless you all. I was hard pressed to find anything from the Big Two that I'll be on the lookout for this week, aside from DC's TRINITY #48. But it's probably just as well, seeing as how I'm feeling a little burnt out on those guys in general, especially after…
Yyyyyyyeah.
But you know what, if this report from SavageCritic.com is any indication it's going to be Red 5 to the rescue, because will you look what's coming out this week, but none other than…
ATOMIC ROBO Vol 3 #1 (FEB094443)
New York City, 1926. ATOMIC ROBO's dull night of studying for a physics exam is interrupted by a duo from NIKOLA TESLA's past with a dire message: the imminent doom of all life in the universe! Guest starring CHARLES FORT, HOWARD PHILIPS LOVECRAFT, and the TUNGUSKA INCIDENT.
Oh HELL yeah, people – Atomic Robo's newest miniseries kicks off this Wednesday! And just to make sure you're out there looking for it, Red 5 is already soliciting for Part Two:
ATOMIC ROBO Vol 3 #2 (MAR094409)
A true Lovecraftian horror rampages through New York City. Armed with nothing but CHARLES FORT and a pair of Tesla-built Lightning guns, ATOMIC ROBO must stop THE SHADOW FROM BEYOND TIME before it swallows the world in darkness forever.
YEAAAAAH, MAN!
It seems like as good a week as any to talk a little bit about the indy scene – I actually wanted to bring up the following last week, because it seems like a pretty special milestone, but as you can imagine…
…it kinda got bumped.
But as it turns out, Marvel Comics and Batman aren't the only ones celebrating an anniversary in 2009 – this year also marks the 25th anniversary of the first appearance of the Teenage Mutant Ninja Turtles!
It's amazing how much time has passed since Kevin Eastman and Peter Laird self-published their first OGN, parodying DAREDEVIL, NEW MUTANTS, CEREBUS and RONIN all in one shot. And look how far it's come since then – a shining example of two chasers of that impossible dream of all would-be artists and comic book creators, striking it rich with that one good idea.
In general, I tend to keep them close to the proverbial vest, but the Turtles' anniversary got me thinking about whether I should talk about one of my own ideas. And so I figured, why not – everybody's got'em, right?
The one I'm going to talk about here stems from a love of anthropomorphic superheroes that I mentioned way back in my first column – I've spent many an idle hour drawing random action scenes and poorly written comic strips featuring mostly cats and ducks patterned after Batman or Superman in some fashion or the other. And there were four characters who are responsible for this preoccupation of mine – these two…
…and these two.
One day while I was working one of those crappy day jobs, I was thinking to myself how much I'd love to be able to write a COURAGEOUS CAT & MINUTE MOUSE comic, but set some twenty years in "the future" – you know, give it the ol' BATMAN BEYOND treatment.
But even after I gave up on trying to figure out who exactly owns the rights to COURAGEOUS CAT, I was still drawing doodles of a second generation superhero cat, who partners with his predecessor's grown ex-sidekick to oppose a mysterious crimelord who wears a three-headed iron mask. And then I came up with this first draft:
If you squint real close, you'll see I was originally going to call my second-gen hero "The Black Cat," the grown sidekick-turned-vigilante is named "Ratcatcher," and the villain of the piece is the insidious "Cerberus" – but then I figured I could come up with a better name for my protagonist, and while I worked on that I also went looking for an artist who could actually draw. (I could never do backgrounds – I just didn't have the patience or the discipline!), And that's how I had the good luck and fortune to meet Mr. Kent Clark, who I've mentioned here a few times before. And once again, may I just say: best name for a comic book artist…EVER!
He'll be the first to say that he doesn't normally do the anthro thing, but discovering a mutual love of Hanna-Barbera's SWAT Kats helped things a great deal, and next thing you knew, I had the answer to the mathematical equation of COURAGEOUS CAT + BATMAN BEYOND, and what does that equal?
…ALLEYCAT 2.0. (insert Dramatic Sting…wait for it…HERE!)
His first appearance is all set for an Original Graphic Novel idea that both Ryan Brandt and I have co-writing and developing for the past coupla years, called COMIX REDUX. I've been having a lot of fun coming up with this whole universe, and I hope to be able to share more with you on this and some of my other ideas in the coming times. But for now, I hope you like this one!
AND NOW, JUST CUZ I FEEL LIKE IT…
He's a new sponsor. I wasn't sure about him at first, but…I like him. I think it's the scoundrel factor…
Anyhoo, that's all from me this time around – until next week, I'm Greg Manuel and I'm just sayin', is all…
Tags: Atomic Robo, Batman Beyond, Commentary, Greg Manuel, I'm Just Sayin'..., Small Press, Spider-Man, Spider-Man: NO GOOD REASON, TMNT, X-Men
About The Author
Greg Manuel