Aris Iliopoulos: Cap #600?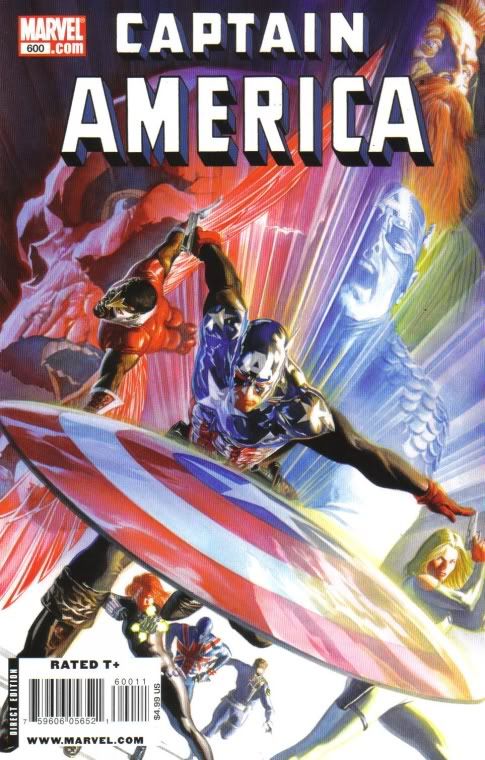 Aris Iliopoulos: Win or fail?
Brian Knippenberg: I give it a win. To me, it felt like what an anniversary issue should be like.
AI: That's how I felt too.
BK: Yes, there's no "return" yet, but the book itself is an appreciation of the original title character, while taking a look at the characters that have filled the pages now and in times past, as well as giving a sense of history.
AI: Yeah I agree.
BK: All of the creators involved did a great job in putting this book together.
AI: I think Bru nailed moving various strings together rather well.
AI: I really loved the vignettes. But what was up with the "gun"?
BK: The gun is not what it seems to be. Perhaps a tranq gun? Either way, it's come to a relief to Sharon that it wasn't what she had originally thought it to be. But it opens the door to asking the question…What happened to Steve Rogers, then?
AI: Red Skull seems to know. That was a great two page tease.
BK: As well as Sin & Crossbones. In prison they seemed to be mocking the world for not knowing what has truly happened.
AI: You get a history lesson there that was beautifully illustrated.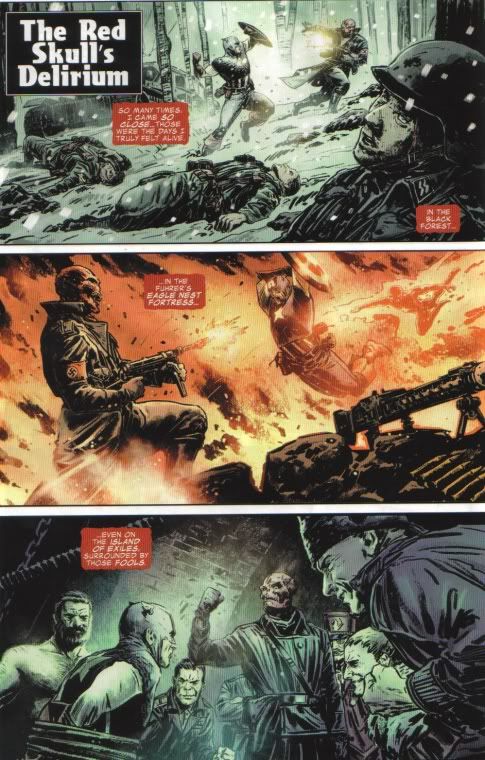 BK: Oh, yes!
AI: The bad guys know what's up! I really enjoyed the pages with racist-Cap. I think there's a story there
BK: That's what I like about Brubaker. He's never afraid to acknowledge the past while forging ahead.I think there's a story there for him and for Rikki Barnes.
AI: I loved that bit. I'm kind of hoping she stays with Patriot.
BK: Actually, I KNOW there's a story coming soon for Rikki.
AI: Know? You holding out on me?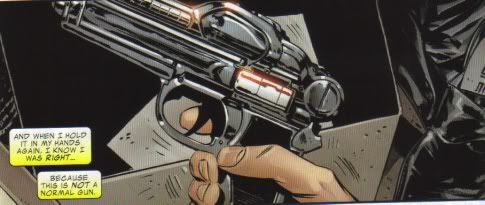 BK: Patriot and Rikki hit it off quite well.
AI: I liked the dialogue. I hated the Reborniverse, but that small sequence made me want to see more of her
BK: Diamond listed a BUNCH of books for Marvel in September that was not with the solicitations. One of which was for
Nomad: Girl without a World # 1 (of 4). So, it would appear we will get more out of her. That's the great thing about Brubaker, he includes everyone and makes them all likeable!
AI: Heh. That's great.But kinda stinks my Battlestar as Nomad pitch.
BK: Whoopsie!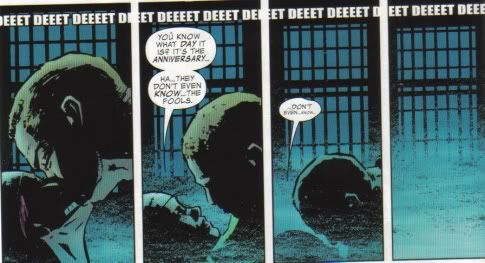 AI: And you know what I thought was flawless?
BK: What's that?
AI: The New Avengers/Dark Avengers part. Osborne is written so well in these appearances. Even Sentry is tolerable. Dude…
BK: I agree. Brubaker could have easily turned this into a bruhaha for the sake of the book, but stayed true to the characters and how they would each handle the situation.
AI: Simon and Garfunkle? I hate Osborne too!
BK: He's evil…..evil I tells ya!

AI: the sound….of silence…Lol. I'm just wondering why there wasn't more action?
BK: Just gives Clint Barton more fuel to knock him down a peg or 4.
AI: Yeah, Bendis said him and Osborne will be going head to head in the Avengers books.
BK: I think because this was simply meant to be not only a remembrance issue, a chance to focus on each of the characters, but the calm before the storm, which will be in REBORN.
AI: Reborn starts next month right?
BK: July 1st. Yep.
AI: any guesses on what's up? You think Steve is coming back? I mean, I am ready to say lets keep Barnes. In the colors

BK: I do think Steve Rogers will return, that is for sure. Whether he can or will continue as Captain America would remain to be seen.
AI: I mean what has Red Skull done with him?
BK: Either way, they've invested 4 years into making Bucky into what he is now, so they won't drop him off the radar.
AI: Well going back to "Winter Soldier" isn't an option.
BK: That's a tough question. Even I'm not entirely sure. No, he'll just have to become something else.
AI: One character was missing if you ask me. Are you gonna ask?
BK: Who's that?
AI: Namor.
BK: True.
BK: I think he should have at least been briefly shown.
AI: Just a missed opportunity.
BK: Unless he turns up in REBORN.
AI: I think the book was a perfect calm before the storm as you put it. Basically catching us up
BK: Yes.
AI: Putting some interesting new threads in the quilt and teasing at Cap. Obviously it's the hunt of Captain America.
BK: I also like that Cap's world has also become Bucky's. He's come out from the cold, so to speak, as Rogers did…found a family in the Avengers, Falcon, and Sharon…etc.
BK: Yes, the heroes will be hunting for Cap.
AI: Which is exactly what Steve wanted.
BK: Yes, Steve saved him in more ways than one. Ed teased that there will be a couple of other things going on as well.
AI: And Tony Stark was respectful enough to allow as Steve Roger's last wish. To give him the colors and the Shield.
BK: Which was great, and I think Tony's eyes have opened wider so much more since then as well.
AI: Yeah I agree. AI: What about the art?
AI: I actually thought it was perfect to have different artists handle the different vignettes. And they were all damn good.
BK: I felt it was a good choice and a good fit for each vignette.
AI: I will say it again. Those Red Skull pages are beautiful. Lovely illustrations that fit the narration perfectly.
BK: Those were by Mitch Breitwiser, correct?
AI: I couldn't tell. I think so. I love him.
BK: He draws an absolutely creepy Red Skull.
AI: Not as creepy as Al Avison.
BK: lol, true! And seeing Red Skull with the Exiles and with the Cosmic Cube….awesome. I just reread those stories!
AI: The Ross cover is a little too busy with the color flashes.
AI: But his Captain America origin reprinted in the beginning of the book is awesome.
BK: Alex's design sense hasn't been thrilling me as much as it used to. Yes, the reprint by Ross and Paul Dini is great! I'm glad they added it in!

AI: I didn't like the Bucky costume at first. Now I love it.
BK: I appreciated it cause I know he was influenced in part by the Cap serial, and I loved it…as corny as it was. The serial, that is.
AI: What I hate is how everyone draws Cap's original costume like it's made of chips.
BK: The emphasis on the chainmail? Yeah. I agree.
AI: I prefer the spandex version. The EXREME chainmail sucks. I loved the stories by Waid and Stern too. Nice flavor and nice to see some old faces
BK: They were a joy to read!
AI: How awesome is Eaglesham? Wow.That's his best work ever.
BK: I appreciate seeing characters like Bernie and Josh, because they were of a particular time.
AI: I liked him on JSA
BK: Eaglesham gets better every time I see him.
AI: But this is like beyond that. Both stories touched on Steve's past and were respectful of the character in a big way. Nice touch with Stark buying Cap's Avenger's ID.
BK: I thought that too. Both stories were really well-developed looks into those who were affected by the live of Steve Rogers and Captain America.
AI: I loved the MY BULLETIN BOARD by Joe Simon.I didn't know any of that history.
BK: I also like how Waid shined the light on those who would rather exploit the life of a hero and twist it to their benefit
vs. those who just simply cared about him. Bulletin Board was great! I didn't know that Jack Kirby had a terrible memory.
AI: I didn't either. I wish the images were bigger. Those must have been crazy times.
BK: Me too! It was still a great look into the process was like back then. Back then, everything was done on the fly. Sometimes 80 pages had to be done in one weekend!
AI: Don't go there.
BK: Whoopsie! It's amazing how much they accomplished compared to today!
AI: Lol. Today you can't pressure the creators. Its a different time.
BK: It is.
AI: I was laughing my ass off reading reprint.
BK: What I also liked about Bulletin Board was how simple the idea of changing the shield was.
AI: How funny was that? Some one needs to write comics like that now.
BK: Especially when Red Skull, wearing Cap's costume had to hide his face when he all he had to do was take off the other mask?
AI: It might be funny to take comics and re-script them. That was awesome.
BK: Or that he took the time out to learn archery to become so dangerous?
AI: Comics had an element of cartoons in them. Reality was something you could ignore completely. Hah.
BK: He also must have got his swastika costume dirty and had to wear his good Rising Sun outfit, instead.
AI: Those comics had a manic zaniness to them.
BK: But it at least featured a milestone…
AI: I love it.
BK: probably the first time the villain got to unmask the hero.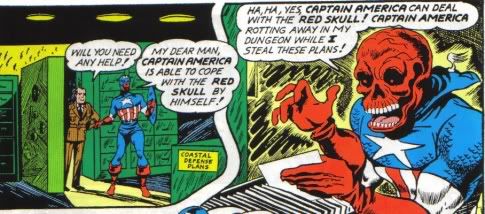 BK: Me too, the golden age stories are terrific.
AI: I think for an anniversary issue its great. Lots of great character stuff, plot movement, teases and good art. Plus some great additional content.
BK: It certainly is. Anniversary issues should be full of great stories, art, and a vibrant look at the history of the character.
AI: One flaw. I hate cover galleries.
BK: Why's that?
AI: why no pin-up gallery? Its waster of space. And they are all so small
BK: True, they got smaller with each page. That is true about pin-ups though. Comics use to always feature them. Not so much anymore.
AI: And my grandma has my magnifying glass. They should let fans submit them. And have them colored.
BK: Would have been great to have some of the best artists do a rendition of key moments in Cap's life.
AI: Yeah.
BK: Maybe for Captain America #700!!!
AI: Possibly get guys like Zeck, Byrne, Dwyer, Lim…the list goes on.
BK: They'll have to put him on ice again to reach that. All of the Cap greats. Steranko
AI: Oh yeas. So we loved it?
BK: We did, we did!
AI: And Bru succeeded in replacing Cap with Bucky? Pretty much to the point some folks
BK: Myself included. Most definitely. He had a clear plan and it worked!
AI: Want to see Bucky remain Captain America. They can always get Johns and EVS to do the Captain America:Rebirth
BK: I wouldn't have minded seeing Bucky remain as Cap for a while longer, but I think that he needs a life of his own.
AI: You think what DC has done with Batman will be as successful?
BK: Again, he's friends with all of Cap's friends, his family is Cap's family, his identity is Cap's identity. Bucky deserves more.
AI: He deserves a birthday cake.
BK: I think it will and it's amazing to see so many people already want Dick to remain as Batman!
AI: That's me. even tho' I hate it. They did it. I'll roll with it.
BK: It's tough for DC and Marvel….their replacements were accepted more than they imagined.
AI: Tough? It's like printing money.
BK: Yeah…but when you switch them back…what then? Winter Soldier & Nightwing again? Same with Wally West. Most people don't want them to go backwards.
AI: Don't get me started.
BK: I don't think they will, but it just appears to many that way. *zips mouth*
AI: Maybe Manolis will let us rant about that in another column.
[Manolis the all-seeing editor: Don't just talk about it, get writing!!! -waves imaginary whip in the air]
BK: Looking forward to that!
AI: So what's on tap for next week?
BK: Good Gravy! What's coming out?
AI: Dude, you're the guru.
AI: I'm the ranter.
BK: Lessee….
AI: We'll keep 'em guessing.
BK: Sounds good!
AI: Until next week..see you around the internets.