Who was hot and who was not this week in wrestling?
However, this isn't your usual "who did good and who did bad" style column. No, this is the literal look at who actually looked sexy this week and who, well, didn't.
Last week's winners of the 'who do you think looked hottest this week' poll with 33% each of the vote was *drum roll please*….  Jamie Keyes and Lucky Cannon. Looks like I may have to start tuning in to NXT every week to check these two hotties out.
Numero Uno hottie of the week goes to the current TNA champ RVD.
Now, Rob Van Dam isn't necessarily my number one hottie this week for his looks – he kinda looks like a toad – or for his too-slicked back hair but for his attire more than makes up for all of that.
The Iron Man singlet he wore at this week's Slammiversary in his match against The Icon Sting was overly awesome.
Yes, I was a little dork and went onto his website and voted for this attire but why wouldn't I? Iron Man 2 is my favourite new film of this year  – so far (Toy Story 3 is out soon, so that will then become my favourite film and then Harry Potter) so as soon as I seen this attire posted up on to his website I voted immediately.
It's the perfect cross between Tony Stark's creation and RVD's own inspired singlets – with his name down the side and of course the ying-yang symbol. However, perhaps he could have added a pair of repulsors in to his black wrist tape, too geeky? Okay I shall stop.
So RVD, what will be next? I suggest a Captain America inspired singlet.
My second placed hottie of the week goes to Miss Alicia Fox.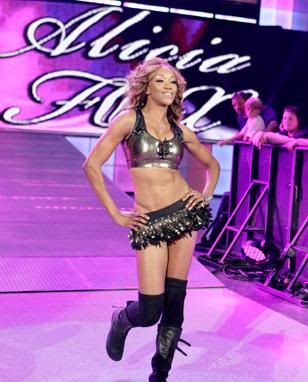 The fierce diva brought it all this week in her tag match on RAW. Not many divas can pull of such a short skirt like this but Alicia certainly can with his gazelle- like legs.
The skirt in itself is very on trend for this summer what with the fringe detailing, the bronze colours and the gypsy-inspired metal discs – I wouldn't be surprised to see Topshop copying this look next week.
The only thing I would change about Alicias look is her hair. She should go back to her fantastic and fabulous style as it makes her stand out amongst all the other divas – with the hairstyle she is sporting here her barnet just looks like everybody elses. So come on Alicia bring back that foxy fierceness.
The TNA referees are my inbetweeners this week.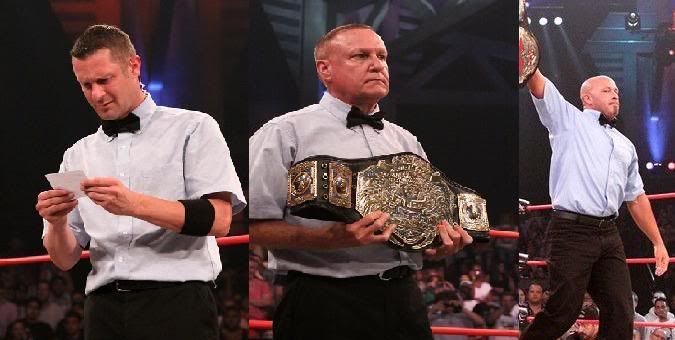 At this week's Slammiversary the refs all of a sudden had changed from the usual black and white lycra polo shirts and into this old-school WWF blue short-sleeved shirt and dicky bow look.
And boy what a difference it makes. Rather than the normal stripy look which every other referee of every other sport wears the TNA refs stand out and bring back a bit of nostalgia.
Brian Hebner (left) can kinda pull of the new look – he looks smart and all that but he does just look like he has been playing in his daddys dressing up box (which he most probably has.)
Slick Johnson (right) however, doesn't look good in the new ref's attire. With the muscles he has he needs to be put in lycra to show them off. And I will miss laughing at the fact that he wears trainers rather than 'proper' shoes to ref in.
Earl of course looks the best in the new shirt and bow tie combo. Reminiscent of the Earl from 20 years ago the controversial ref looks so much smarter and comfortable – but perhaps the cotton on his body makes him a bit dumb as he can no longer hold the TNA world heavyweight belt the right way up.
First nottie of the week goes to Roxxi.
(First off I will apologise for the shoddy screen caps that make up the picture below.)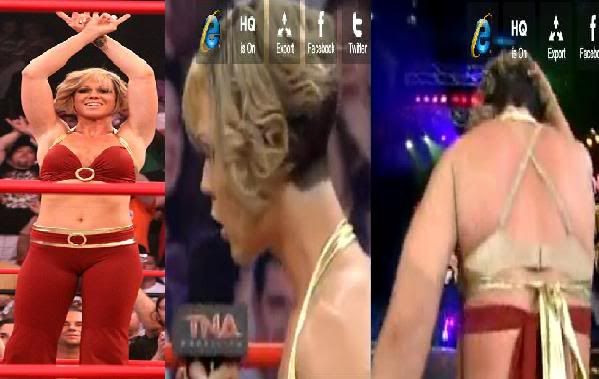 She may still be in the bottom half of my notties but at least she isn't at the very bottom again. This week the now former TNA knockout stepped up to the plate a bit by swapping that god awful brown attire for this sexy and powerful red colour – we shall ignore the camel toe as her match must of caused her enough embarrassment for this week.
Anyhow, the reason why she is a nottie again (last time though since she has now left TNA and probs won't be going to WWE) is for that undercut she is sporting – she is neither a Hardy boy nor Rihanna so why go for the shaved head look?
The other reason why she appears far down in the list is for that gosh darn bra. Now underwear as outerwear is summers hottest fashion trend – but asin a lace slip or a peek of a satin bra not a marks and spencer grandmother skin coloured monstrosity. Surely she could have just worn a stick on backless and strapless bra to keep her – as Jerry Lawler would say – 'puppys' in?
In last place as my most not-hot person of the week goes to Virgil.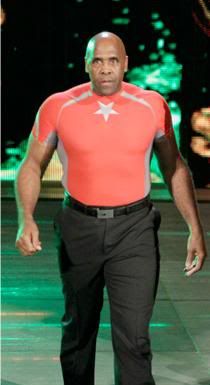 Now I have no idea where Virgil is going with this crazy outfit. It seems as though he is on the way to the ring walking down the ramp but he is dressed for a Tour de France wearing that scarily skin- tight cycling body suit.
Now we all know Virgil means no funny business so does that explain why he feels the need to wear business pants to wrestle in? – Because surely they can't be comfortable to move around in, why can't he wear what he used to when he managed Ted Dibiase back in the day? That made sense and looked good but no, he has to wear this hot mess of an outfit! – Buy him a nice suit please Ted Jr!
At least Big Show ripped off the cycling suit during the tag match so I no longer had to be confuddled by his attire no longer *phew.*
Vote in the poll below on who you think looked the hottest this week.
http://micropoll.com/t/KDwQ9ZBJS4
Now, I have been mega poorly sick this week and naturally because of this the weather has been glorious for once. Thus letting all my friends go to the beach, the park and fun places like that while I have been at home all bunged up in bed on my own :-(. So to cheer me up can somebody please send me a hardcore teddy bear like the one seen at Slammiversary – it was ever so cute! – a bit of Nigel Desmond wouldn't go amiss either.