Weekly Round-Up #48 with the Unknown Soldier, Sweet Tooth, Batman & Robin #14, and more.
I don't usually buy graphic novels when they first come out, preferring to pick them up later on at discounted prices, but Dark Horse has come out with two books in the last couple of weeks that I couldn't resist getting right away  – De:Tales, and the latest entry in their Serenity line.  These two hardcovers, combined with the rest of the week's load, has led to some terrific comics reading…
Best Comic of the Week:
Wri
tten by Joshua Dysart
Art by Alberto Ponticelli
This amazing series ends just as you would imagine it would have to (even if you don't notice how much the cover foreshadows events in the book), as Moses finally confronts Joseph Kony at his LRA camp.
That the ending is easily predictable is not really a problem; this has been such a unique title and experiment for Vertigo, that it must be very gratifying for all involved that they lasted two years.  I can't think of another thoughtful, well-researched North American comic that was set in Africa and dealt with important issues like civil war, poverty, American interference in the affairs of other countries, and more.
Dysart has, from the beginning of this title, given us a socially relevant and sensitive portrayal of Uganda that has defied the usual tropes of fiction set in Africa, but written by an American.  He really wanted his readers to understand the country at the turn of the 21st century, but also to tell a fantastic story.  I would say that he, and Ponticelli, succeeded wonderfully.
I like that this comic ended by checking in on many of the long-term supporting figures in the book, and let us know what they ended up doing with their lives.  I do wish Dysart had included Paul, the boy that Moses had rescued from the LRA some time ago, as he was a character I grew to care about.
I cannot recommend this title enough.  I hope it does well enough in trade format that more mainstream publishers feel comfortable telling the stories of other parts of the world, and that Dysart gets another title soon.
Other Notable Comics:
Writ
ten by Mike Mignola and Christopher Golden
Art by Ben Steinbeck
Mignola and Golden have taken an interesting approach to this comic.  Instead of starting the story with the character's beginnings, they have instead been portioning out Lord Baltimore's back story in small chunks, starting with the second issue.  I know this isn't necessarily a new technique, but I find that it is is a strange way of doing things with such a new character whose story has already been told in another medium (there is a novel), which I would presume most of the readership of this comic never read (like me).
It led to the first issue being confusing, although now I find the series to be much more compelling, as I feel more sure of the ground that we're on.
In this issue, Baltimore and Vanessa, his companion, are still stuck on the creepy island with a bunch of wrecked ships that we saw last month.  With no imminent rescue on the horizon, Baltimore continues to tell her his life story, this time talking about the events that took place when he returned home to his ancestral island.  The story is pretty predictable, but Mignola and Golden write it well, and Steinbeck's art is fantastic.
by
Jeff Lemire
Lemire continues to do some interesting things with this title.  In this issue, we check in with four different groups of people on the move.  Gus and his friends have escaped from their captivity, and are on their way to Gus's home.  At the same time, Abbot and Dr. Singh are at the same cabin, and have discovered some interesting things about Gus's father and where Gus probably came from.  Meanwhile, Gus is being pursued by some of Abbot's men, and Jeppard and his new allies are on their way to Abbot's base to rescue Gus.  Got all that?
The plot is not confusing at all, but Lemire does have a lot of balls in the air.  Complicating things, and spicing them up, is the strange dream that Gus and Jeppard share, and the prophecies and predictions that Gus's dad wrote in his 'bible'.  There's a lot more happening in this comic with each new issue, as Lemire continues to drop more hints about where this is all headed.
Visually, this comic is always interesting.  This month, Lemire experiments and plays around with his scene transitions, posing different characters in the same positions for the switch from one locale to another.  You can almost imagine the fade outs taking place on a television screen.
Sweet Tooth is a great read.  I know that Lemire is going to be getting a lot of attention this week for his new Superboy series, and I hope that some of his new fans pick this up and give it a try.
Quick Takes:
Adventure Comics #520 – Here
we have another issue where Levitz is simply re-telling what happened in the Legion's past – this time giving us a look at the time when Lightning Lad died (except he comes back later, obviously).  Not much is added to the story – it feels more like a filler.  This arc on Adventure has been a huge disappointment.
Amazing Spider-Man #647 – This issue finishes off the Brand New Day experiment by systematically trying to wrap up any dangling plot threads from the last few years.  The focus is much more on Peter Parker and his love life than it is on Spider-Man, and there are some entertaining and cute stories.  It's nice to see artists like Max Fiumara and JM Ken Niimura on the book again, although most of the other artists are not people that I would necessarily think of when I think of Brand New Day (no Marcos Martin or Javier Pulido?  How sad).  I'm not too sure I'm going to stick with this title once it becomes Slott and Ramos's – I like them both, but I don't know if I like them enough to commit.  I'll probably try an issue or two…
Avengers Academy #6 – This is such a consistently good comic.  This issue focuses on Reptil, the only character on the team that appeared before this series started (once), and the one with the least to hide, although that doesn't stop him from hiding something.  There are a ton of good character moments in here, and great Mike McKone art.  Gage gets points for having the first non-Bendis Jessica Jones scene I can remember reading.
Batman and Robin #16 – A cou
ple of years worth of Grant Morrison's Batman plots culminate in this double-sized issue, and it's a glorious thing (although  I don't know if we were supposed to read The Return of Bruce Wayne #6 before this or not).  This comic has the full story on Dr. Hurt, the return of BW, and a ton of fantastic character moments for the entire cast – especially Commissioner Gordon and the Joker.  The art is handled by Cameron Stewart, Christopher Burnham (doing his best Frank Quitely impersonation), and Frazer Irving.  While all three of these artists have vastly different styles, the book works beautifully, because of the way their scenes were divided up.  I've been getting a little worn out on the various Bat-titles lately, but this issue has reinvigorated my interest (although I'll only be buying Batman Inc., Detective, and this title when the dust settles).
Buffy the Vampire Slayer #38 – More shifting allegiances, hidden agendas, and confusing conversations about what's going to happen (but never seems to).  I am looking forward to this ending, and curse my completist side that won't let me drop this with only two issues left.
Chaos War #3 – I'd expected this to be a lot better.  I think Van Lente and Pak's story is just completely trapped under its own weight, which is too bad, as their Hercules run was classic.
DV8: Gods and Monsters #8 – W
ood's examination of these 90s Wildstorm characters has ended, and I'm not too sure what the point of the whole thing was (I think Gem's wondering the same thing).  The identities of the people that have been questioning her for eight months stand revealed, and more continuity questions are raised than answered.  This whole series seems to have been leading up to something, but now with the Wildstorm properties basically heading off to Limbo, I doubt we'll ever see the follow up.  The art has been pretty though…
Generation Hope #1 – I love the idea of Kieron Gillen writing a book about teenage mutants at Marvel; I would probably just like it more if they spent the whole issue shopping for music.  He does his best to work with these characters as they were introduced in Uncanny X-Men, and to establish the last 'light' as a credible threat or challenge, but the whole thing seems pretty lightweight compared to some of the stuff that's been happening in the X-books for the last little while.  I find it hard to buy that the most significant new mutants of the century would be so ordinary (the Sabretooth knock-off, the Quicksilver knock-off, etc.).  Espin's art is fine for this type of thing, and I'll be curious to see if Gillen's writing becomes more Gillenesque.
Godland #33 -The
four-month delays between issues is really hurting this comic, as it becomes harder and harder to care about what's going on with these characters.  It's still wild and zany fun to read, but I don't find this book to be as rewarding as I used to, and now I just wish it would hurry up and end.  That's not good.
Hawkeye & Mockingbird #6 – The story finished last issue, and the series finishes with this one.  That leaves a good 22 pages for McCann to make the case for this book continuing in another form after the Widomaker mini-series that starts next month.  I'm of mixed feelings on that.  On the one hand, McCann is a good writer and the Lopezes do a great Luna Brothers-esque job on the art, but the book is kind of slow moving and overly wordy.
Invincible #75 – Now this is an amazing comic.  This 75th anniversary issue gives us the big confrontation in the Viltrumite War, as the Coalition forces pursue their enemies to Viltrum, and a massive battle ensues.  And I do mean massive.  There are a number of double-page spreads that are full of detail, and the book has what's become the requisite amount of gore for this title.  While all this crazy stuff is going on, Kirkman still manages to make the book be character-driven, and Ottley really shows his best.  There's also a fun Science Dog back-up, as well as the usual Tech Jacket back-up story.  This is an expensive comic at $6, but it's worth it.
Jonah Hex #61 – Just
when everyone starts to think that Jonah (both the title and the character) can't change, he goes and marries Mei Ling, who expects him to be a more peaceful man.  Of course, his nature and his surroundings make that very difficult, and they are soon being pulled into conflict on a couple of levels.  This is a fun issue, once again illustrated perfectly by the incomparable Jordi Bernet.
Scarlet #3 – I'm not so sure that I agree with Scarlet's methods or choices here, as she starts killing corrupt police officers (or chiefs), but I do love Maleev's artwork.  It didn't feel like there was a lot of content in this issue, although I did like the way the story of the friendship between Scarlet's dead boyfriend and his best friend was told, echoing the approach used in the first issue to fill in Scarlet's back story.
Secret Six #27 – So even though this comic has two Secret Six teams, dinosaurs, a one-eyed King Shark, Ragdoll in his briefs, Bane almost dying, and Jeannette in her full-on Banshee mode, the best scene in this comic has to belong to Amanda Waller.  While the two teams fight it out in Skartaris, the Wall and the Spy Smasher go at it in the Pentagon.  This is a great arc on a terrific comic.
Strange Tales II #2 – This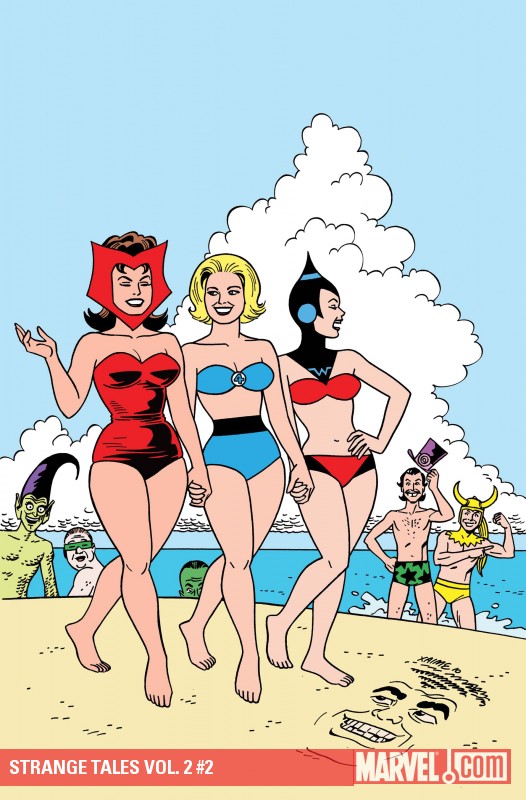 is a fun collection once again, but there's not much that's memorable.  I like Farel Dalrymple's re-telling of the first meeting between Spider-Man and the Silver Surfer, and Paul Maybury's Spidey story is a hoot too.  Also, the Jaime Hernandez Marvel Beach Bunny story is cute.  The rest of the book is kind of meh.
Superboy #1 – I don't much care for Superboy, but I like Jeff Lemire a lot, and figured I'd give this a shot.  It's decent without being spectacular.  I can see how Lemire's trying to set up the series while respecting Geoff Johns's recent work with the character on Adventure Comics, and it more or less works.  Do we need the creepy science genius friend to know about Connor's secret identity?  At the same time, how has no one else figured it out.  It's cool that the Phantom Stranger is in this, and I like Gallo's art.  I'll give this another issue for sure.
Comics I Would Have Bought if They Weren't $4:
Bullet to the Head #5
Bullseye Perfect Game #1
Captain America Man Out of Time #1
Irredeemable #19
Taskmaster #3
Wolverine #3
X-Men To Serve and Protect #1
Set of the Week:
Irredeemable #13 – 16; Irredeemable Special #1 – With these issues, which make up Volume 4 of the story, Waid gives a lot more space to the supporting cast, as whole issues go by with the Plutonian barely showing his face.  Instead, we get Bette's guilt, and a lot of people standing around getting angry with each other.  Most of these issues were drawn by Diego Barreto, who is a capable artist, but not as dynamic as Peter Krause.  The Special is interesting, but lacking in meat.
The Week in Graphic Novels:
by
Fábio Moon and Gabriel Bá
If I were to make a list of newcomers to the comics field that have excited me the most over the last five years, I would put Bá and Moon right at the top.  Their recent Vertigo series Daytripper was probably the best mini-series of the year, and their other comics work, like Casanova
, Umbrella
Academy
, and various indie projects like Pixu
, have injected some new life and ideas into the medium.
Being aware of all this, I was very tempted to see their earlier work, which has just been republished in a hardcover edition of a trade that Dark Horse put out about four years ago.  De:Tales
contains twelve short stories or pieces by the twins, created either individually or in tandem.
The book is tagged "Stories from Urban Brazil", and that Brazilian flavour informs all of the work herein, most notably in 'Outras Palavas', the final piece, which basically shows the interconnectedness of lovers in nighttime São Paolo through a detailed rendering of complex electrical hook-ups among other things.
Most of the stories share the same few themes.  One or another of the brothers (most of the tales, if not autobiographical, feature the twins) is almost always meeting a new girl, the stories brimming with the possibilities of new love, or the bitter loss of an old one.  There is a suggestion that romances are fated or preordained.  The whole thing is very Latin American.
The brothers show their South American routes in another way; their use of magical realism is natural and almost constant.  An old friend is brought back from the dead to celebrate his birthday in one story, and in the books introductory tale, the brothers share the same dream.
One thing that makes the book fascinating is the way the two switch off their roles; the alternating art duties can be recognized, although it is much harder to tell which brother is writing.  In 'Reflections I' and 'Reflections II', the same story is told, albeit by a different artist each time.  The story is very Borgesian – about a man who keeps meeting himself while standing at a urinal in a bar – and it's curious to see how each twin approaches it from an artistic standpoint.
Most of the stories here are merely good on their own, but when read together, they develop a portrait of a pair of very talented cartoonists at the beginning of their careers.  This is well worth picking up.
Wri
tten by Joss Whedon and Zack Whedon
Art by Chris Samnee
I'm torn in my reactions to this book, which is an original graphic novel
focused on Shepherd Book, the character played on Firefly
and in Serenity
by Ron Glass.  First, to establish some credentials in this review, I loved Firefly when it was on the air, and have worked my way through the boxed set of dvds a few times.  I liked the Serenity film, but not as much, partly for the way it shuffled off characters like Book in favour of some new folk (Mr. Universe?  That still feels like a bad idea).
Now, I've found the Dark Horse comics to be pretty hit
or miss
as well.  They're fun while being read, but I felt like they never really contributed much to the mythos.  That's why I was excited about this book – the chance to learn about Book's history, and to find out all of the secrets he'd been keeping.
Book was one of the more compelling characters on the TV show.  He started off being simply what he claimed to be, a Shepherd (think future monk) who is just traveling the 'Verse for a while.  Then the hints started coming – he knew a lot about weapons and ships, and he seemed to be known to the Alliance.
While, this book does fill in all the blanks in his story, and it does it in a very cool backwards narrative structure, so with each new scene, we see a progressively younger Book.  My problem is that the story was over too quickly.  The scene where Book receives his vocation is nicely handled, but I would imagine that a man with his past would have a great deal of trouble adjusting to the life of a holy man, and that is glossed over.  Likewise, there are other things (it's hard to talk about this comic without spoilers) that needed more space to breathe and grow.
I think my largest complaint about this story is that I would have much preferred to see how Book's companions on Serenity would have felt about his past.  It's an incredible story, but without reflecting it through the eyes of the other characters we grew to love on this show, it stays somewhat hollow.
The Whedon's write the book well, although I would have been happier to see some more of the peculiar Whedon-esque speech patterns developed for the show.  Chris Samnee's art is incredible, but that's not really a surprise.  I'm glad that Dark Horse decided to use an artist like him for a book like this – often licensed properties suffer, artistically speaking.
So, in the end, I did enjoy this book, but I think my biggest problem with it is that it only started to scratch my itch for more Firefly-related material (which should not be interpreted as a request for someone to open the floodgates).
Son of Hulk: Dark Son Rising
Wr
itten by Paul Jenkins Art by Andres Guinaldo
If you would ever like to see a comic that seems to exist only to serve some nebulous and confusing editorial purpose, you should give Son of Hulk a try.  It seems that this comic was an experiment in creating a larger family for the Hulk, as a minor character from when this title belonged to Skaar, the other son of the Hulk, suddenly discovers that he, too, is a child of the Hulk and Caiera, his wife.
Hiro-Kala, the even more forgotten son, is being set up as a major villain in the Marvel Universe, and it's odd, as he's the titular star of a comic about characters no one can like or care about.  H-K, now knowing his true history, sets out to destroy worlds that have the Old Power, as part of  some sort of bizarre and misguided effort to exact revenge on Galactus.  It doesn't make a lot of sense.  Nor do two other things – how a race of people could have evolved to have three legs (and not be called the Tripods), and how this could have been written by Paul Jenkins, even at his absolute worst.
The only thing that save things is the lovely art by Guinaldo, who reminds me a little of a very detailed Moebius in some places.  The book does look damn good, but that can't make up for the lack of a coherent and interesting story.
Edi
ted by Ivan Brandon
This anthology
is the second of two graphic novels that contain only short stories featuring robots.  The trick, or the conceit, is that the robots are the only inhabitants (except, in one story which also has gorillas) of the planet, and they tend to live what we regard as normal lives.  The book is somehow connected to the NYC Mech
series that Image put out in the middle of the decade, but these books feature a rich variety of talented writers and artists.
When I read the first volume
, I complained that the stories were pretty ordinary, and didn't do much with the robotic concept.  People whined about their jobs or had break-ups, and the fact that they were robots seemed to exist solely in the visual aspects of the comic.  That is not the same with this volume.
Instead, many of the stories deal head-on with the notion that the protagonists are mechanical in nature.  There is a story by Carla Speed MacNeil and Bruno D'Angelo that has the main character slowly trading in his parts so that the he can become a dancer, although it means giving up his family's legacy.  Similarly, Kelly Sue DeConnick and Andy MacDonald tell a story where the hero literally carries his emotional baggage around with him, attached to his body.
There are lots of great stories here by a very impressive list of creators, including Gene Ha (who plays around with a homage to Little Nemo in Slumberland), Fábio Moon, Michael Avon Oeming, Francesco Francavilla, Gabriel Bá, Juan Doe, Rafael Albuquerque, Ben Templesmith, Dave Johnson, Jason Aaron, Fiona Staples, Jason Latour, and Frazer Irving.
This is a very coherent and enjoyable anthology, which covers a number of different genres.  Recommended.
Album of the Week:
Quantic Presents Tropical Funk Experience
Tags: Adventure Comics, Amazing Spider-Man, avengers academy, Baltimore, Batman and Robin, Boom, brand new day, Buffy the Vampire Slayer, Chaos War, Dark Horse, DC, Firefly, Generation Hope, godland, Hawkeye & Mockingbird, icon, Image, Invincible, Irredeemable, Jonah Hex, Marvel, scarlet, Secret Six, Serenity, Superboy, Sweet Tooth, Unknown Soldier, Vertigo, Wildstorm
About The Author
James Fulton
What would you like to know?