2010 was an interesting year for comics, and the comics industry.  We saw the Big Two flood the markets with tons of spin-off projects (how many Bat-books are there now?) and countless mini-series (more Thor than you would ever want to read).  We saw the end of a beloved imprint with the cessation of the Wildstorm line, and got some mixed messages with regards to prices.  A lot of terrific comics and graphic novels were published, although sometimes they were hard to find amid a ton of garbage.  Here's my round-up of the year.
Best Comics of the Year:
Every week in my column I bestow upon one comic the honour of being "Best Comic of the Week".  Looking over the last year's worth of columns in preparation to write this, I was surprised by what I picked some weeks, especially when I saw what else came out at the same time, and didn't make the cut.  To compile this list right now, I simply tallied up how many times a book was chosen as 'best' in a given week.  It's not very scientific, especially since there were a few weeks where my three favourite titles all came out at the same time.
4th Place Tie:
Age of Bronze – I think it's
cool that there were only two issues of this comic published in 2010, and they both made my list.
American Vampire – This is a comic with a lot of promise, which has only gotten better since Stephen King left it.
Chew – Chew gets better every month; I expect this title to rank a lot higher next year.
Demo Vol.2 – I would have thought this would rank higher, as I absolutely loved this series.  We need more Becky Cloonan in this world…
Fables – I would say that Fables had a bit of an off year as it tread water a little in anticipation of its hundredth issue.  I guess 2011 will decide if the book has run its course of if Willingham has some new ideas for it.
Scarlet – Really?  I don't remember this comic making that much of an impression…
3rd Place Tie:
DMZ – This title is closin
g in on its big finish, although it still has some life in it.  This year was marked by a number of one-off stories featuring different characters by artists who don't usually work on the title.  I always like this comic best when it examines the lives of different residents of the DMZ, so this was a year where I got what I wanted from this book.
The Walking Dead – I am amazed that this book didn't rank higher.  If I could only read two comics a month, this would be one of them.  Part of the strength of this book, though, is that the individual issues blend seamlessly into one another, and the story is always much more than just the sum of its parts.  It's been an amazing year for this comic, as the characters found relative safety in a gated community, and Kirkman spent a lot more time on character development.  Also, there was a TV show…
2nd Place:
Killer: Modus Vivendi – This ranked higher than expected, but this is a solid comic with beautiful art.  I was a little disappointed with how it ended, but I loved the way Matz blended world politics with a good assassin story.  I can't wait for Archaia to give us the next part of the story, although I'm content with their publishing Matz and Jacamon's Cyclops while I wait.
1st Place Tie:
Unknown Soldier – It's
interesting that a book that got canceled for poor sales would end up being one of my best of the year, isn't it?  With Unknown Soldier, Joshua Dysart and Alberto Ponticelli gave us a rich and nuanced look into the civil war in Uganda at the beginning of the decade.  In their Moses Lwanga, we saw a man who was torn between his role as a healer and as an instrument of destruction.  The comic delved into Ugandan cultures and customs, and was impeccably researched, but was at all times compelling and exciting.  This was a change of pace for Vertigo; taking an established (if rarely used) DC character and subverting him to tell a different kind of story, set in a part of the world that few comics readers would know much about.  Perhaps it ended up being too clever, as it never found much of an audience, but I loved every issue of this comic, and would encourage everyone to read it in trade.
Scalped – Scalped is the other book that, if I could only read two titles a month, would be a guaranteed purchase.  I love reading Jason Aaron's sprawling story about corruption on a First Nations Reserve in the southwest.  This book is populated with a huge cast, many of whom are memorable for a number of reasons.  This year explored a few of the more secondary and tertiary characters in more depth, and had both Dash and Carol clean up a little bit.  As much as I've grown to love these characters, I'm fascinated by how Aaron can never give them a break.  Everyone in this book has been put through the ringer, and I don't expec
t that to change.  I can't wait to see what happens next in this comic.
Daytripper – This ten-issue mini-series is an absolute gem.  In it, Fábio Moon and Gabriel Bá explore the life of Brás, the son of a famous Brazilian writer, who becomes a writer himself.  Each issue of the comic (until just before the end) is set in a different year of his life, and explores Brás at that age.  The comic is about family and friendship, and is stunningly beautiful, both in its art and in its sentiment.  Moon and Bá's approach to this comic was firmly rooted in South American magical realism, and I found what could have been an overly precious approach to telling their story worked magnificently.  This was easily my favourite series of 2010.
Other Notable Comics of 2010:
Here are some of the other comics, creators, or trends that I thought were worth mentioning in 2010.
Batman: Grant Morrison has succeeded in breathing some new life into this character, as his multi-year epic had Nightwing continue to grow in his role as Batman, Damian continue to be the best new character of the decade, and Bruce Wayne came back to use via a long, confusing route.  Now, with Batman Incorporated, Morrison is continuing to make this franchise interesting an
d relevant (even if it's spread a little too thin with too many spin-off titles).
The Comics of Nick Spencer: Spencer first caught my eye with his Forgetless series (I missed the Existence minis the year before), and continued to pique my interest with Shuddertown (which didn't end so well) and Morning Glories, which as been a huge hit.  I'm also really enjoying his THUNDER Agents revamp at DC.  I feel like he's going to be someone to watch this year.
Cool Indie Series:  This has been a terrific year for some independent comics which have not always gotten a lot of press.  Titles like Forgetless, Ghost Projekt, Sixth Gun, Morning Glories, Skullkickers, and Meta 4 have provided some much needed diversity into the market.  Books like King City and Orc Stain blow me away with their visual depth and complexity.
Invincible Iron Man:  I love the corporate approach that Matt Fraction's been taking with this title ever since the Heroic Age began.  Sure, it reminds me a lot of Wildcats Version 3.0, but that's never a bad thing.  Fraction and Larocca have made this the best Iron Man's ever been.
New Vertigo Series: Vertigo
books don't always have the longest of lifespans these days (this year we lost Air, Greek Street, and Unknown Soldier), but it's nice to see that the imprint is always willing to try something new.  In addition to American Vampire, series like I, Zombie and Sweet Tooth continue to satisfy.  I take solace in the fact that the writers for these three titles are being given the opportunities to write in the mainstream DCU.  Detective Comics, Superman, and Superboy are all pretty high-profile books, and I don't think these writers would be given them unless there was a lot of faith in their abilities.
The Thanos Imperative: Marvel was very wise to just hand over their entire cosmic catalogue to Dan Abnett and Andy Lanning.  These guys have reinvigorated some previously unworkable characters, and created a cohesive approach to vast regions of the Marvel Universe.  While I miss reading Guardians of the Galaxy and Nova every month, I'm looking forward to The Annihilators (especially because of the Groot and Rocket Raccoon back-up).  Thanos Imperative was an event comic that really felt monumental, something that's pretty rare these days.
The Year in Graphic Novels:
I read a lot of graphic novels, as anyone who reads my column each week can tell.  I know most reviewers, when compiling their 'best of' lists, like to stick to the books that actually came out during that calendar year, but I can't be bothered researching publication dates.  The 'long tail' of graphic novel publishing is what's supposed to save the industry, right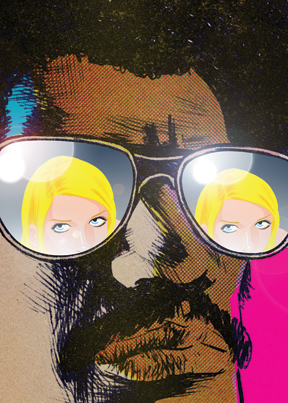 ?  So, I think it would be limiting to only talk about books that came out in 2010.  Here are the ten best graphic novels I read this last year, regardless of when they were published.  I'm not going to rank these; they're just in alphabetical order.  I've linked my original reviews in each entry – it saves me having to write summaries again.
Afrodisiac:  Jim Rugg is brilliant, and Afrodisiac is his masterpiece.
Beast:  Marian Churchill is a huge new talent.  I love her work on Elephantmen, but this is ten times better.
It Was the War of the Trenches: My interest in the First World War was definitely piqued by this amazing republication by Jacques Tardi, a comics master.
Jimmy Corrigan, The Smartest Kid on Earth: I think it's a little shameful that it took me this long to get around to reading this book, which is pure, concentrated brilliance, even if it causes severe eye strain.
Kenk: This is the first of four local books I've put on my list because Toronto has a very talented pool of comics people.  This i
s an amazing portrait of a notorious bike thief and Toronto legend.
Larry Marder's Beanworld Volume 3:  One of the most special books of the year, as Marder returns to the Beanworld and gives us a nice thick volume of all new material.
Mesmo Delivery:  I'm thankful that Dark Horse decided to republish this insane story by Brazilian genius Rafael Grampa.
Scott Pilgrim Volume 6: It was a great year for Scott Pilgrim, and Bryan Lee O'Malley.  I'm going to miss this title, but it went out in style, and represented the home town nicely.
Sword of My Mouth: The third Torontonian graphic novel on this list impressed me with its unique visual style, and captivating post-Rapture story.  Author Jim Monroe filled this book with some interesting ideas.
Warlord of Io:  James Turner, of Rex Libris fame, turned in this funny and dense tale of a boy warlord and his difficulties in dealing with a military coup.  Like all of Turner's work, it's intelligent and a lot of fun.  This rounds out my list, and is the fourth local book I chose.
Honourable Mentions: Burma Chronicles, De:Tales, Insomnia Cafe, Moving Pictures, Parkter: The Hunter, Power Out, Random Acts of Violence, Revolver, Street Angel, Torso, Two Generals
Late to the Party:
One of the things I love most about comics, and the sheer number that are published at any given time, is that there's always some gem waiting to be discovered.  This year, these are the titles that I finally twigged to, and have worked to get caught up on:
Achewood:  Amaz
ing webcomic, slowly being collected by Dark Horse.
Girls:  The Luna Brothers' best series, so suspenseful, and sooo much nudity.
Hellboy/BPRD/Lobster Johnson, etc.:  I feel like a fool for never getting in on this, but it was a great few months getting caught up.
Irredeemable/Incorruptible:  Mark Waid's Superman gone bad epic is a great read.
Sam and Twitch:  A bizarre police procedural, with Bendis's trademark dialogue.
The Secret History:  This is a complex series that runs through all of human history.  Terrific, if frequently frustrating, stuff.
Star Wars Legacy:  Ostrander writes Star Wars the way it should always have been – mature, complex, and very rewarding, without a cute creature and nary a stupid robot in sight.
Umbrella Academy:  Even with such a terrific artist, who thought this would be so good?
Best Music of the Year:
I know this is supposed to be a comic book thing, but comics aren't my only obsession.
Aloe Blacc – Good Things
Atmosphere – To All My Friends, Blood Makes the Blade Hole
Black Man's Cry – The Inspirations of Fela Kuti
Dessa- A Badly Broken Code
Lazerbeak – Legend Recognize Legend
Madlib Medicine Show (I know, it's really 9 out of 12 expected albums and mixtapes that don't all stand up on their own, but taken together, it's impressive)
Mulatu Astatke – Mulatu Steps Ahead
Riki Ililonga & Musi-o-Tunya – Dark Sunrise
The Roots – How I Got Over
Seu Jorge and Almaz – Seu Jorge and Almaz
Honourable Mentions:  Asmara All Star's Eritrea's Got Soul,  Flying Lotus's Cosmogramma, and Truth & Soul's African Music Today
Best Books of the Year:
I didn't get through many books this year (blame number 2 on the list – it was 1500 pages), but here's what I liked:
Lush Life by Richard Price
Imperial by William T. Vollmann
The Devil in the White City by Erik Larson (no relation to the Savage Dragon guy)
Nazi Literature in the Americas by Roberto Bolano
Well, that's the round-up.  Thank you for reading all the way to the end.  I wish you and yours a very Happy New Year!