What's Shipping This Week
|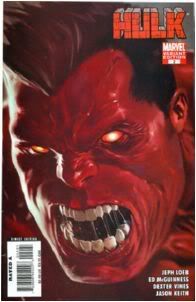 As you can tell from the picture at right, Hulk is still red.
Other things staying the same include Catwoman being on some other place besides earth, LA still being Hell (Angel:After the Fall), and the Russians still messing stuff up (The Programme).
See if it is all the same or if some things have changed by checking out What's Shipping This Week.
MARVEL
Amazing Spider-Man #551
Avengers Classic #9
Cable Deadpool #50
Hulk #2
Hulk #2 (1 in 20) Djurdjevic Incentive Cover
Immortal Iron Fist Orson Randall
Incredible Hercules #114
Incredible Hercules #114 (1 in 15) Acuna Incentive Cover
Iron Man #26
Marvel Illustrated Iliad #3
Mighty Avengers #9
The Order #8
Runaways #29
Terror Inc. #5
Ultimate Human #2
Ultimate X-Men #91
Ultimates 3 #3
Ultimates 3 #3 (1 in 20) Cho Cover
Wolverine Origins #22
WWH Aftersmash Warbound #3
DC
Batman & the Outsiders #4
Batman Confidential #13
Birds of Prey #115
Brave & The Bold #10
Catwoman #76
Checkmate #23
Countdown to Final Crisis #10
Death of the New Gods #6
Flash #237
Justice League of America #18
Robin #171
Shadowpact #22
Spirit #14
Superman Batman #46
Superman Confidential #12
Wonder Girl #6
DC/VERTIGO
Loveless #22
Un-Men #7
DC/WILDSTORM
Ex Machina #34
Freddy vs. Jason vs. Ash #2 (2nd Print)
Programme #8
Wildstorm Revelations #4
World of Warcraft #4
INDEPENDENT
Abyss #3
Angel After the Fall #4
Angel After the Fall #4 (1 in 4) Cover
Angel After the Fall #4 (1 in 10) Urru Incentive Cover
Angel After the Fall #4 (1 in 20) Virgin Incentive Cover
Aspen Showcase Grace #1
Atlantis Rising #4
Battlestar Galactica Origins #3 Laguna Cover
Battlestar Galactica Origins #3 Photo Cover
Black Summer Auxiliary #3
Conan #49
Drafted #5
Forgotten Realms the Legacy #1 Seeley Cover A
Forgotten Realms the Legacy #1 Walpole Cover B
Ghosting #5
Godland #21
Gold Digger #93
Grendel Behold the Devil #4
Grimm Fairy Tales #21
Grimm Fairy Tales Return to Wonderland #6 Rio Cover
Grimm Fairy Tales Return to Wonderland #6 Sejic Cover
Grimm Fairy Tales Return to Wonderland #6 Rio Gatefold Cover
Hack Slash #9 Seeley Cover A
Hack Slash #9 Stone Cover B
Halloween Nightdance #1 Glow-in-the-Dark Cover
Hawaiian Dick #3
Invincible #48
Jenna Jameson's Shadow Hunter #1
Knights of the Dinner Table #136
Lady Death 2007 Swimsuit Moonlight Wrap Cover
Loaded Bible 3 Communion
Locke & Key #1
Madame Mirage #5
Perhapanauts Annual #1
Pirates vs. Ninjas II #6
Primordia #3
PvP #38
Red Sonja #30 (2 in 4) A. Ross Cover
Red Sonja #30 (1 in 4) Neves Cover
Red Sonja #30 (1 in 4) L. Ross Cover
Red Sonja #30 (1 in 25) A. Ross Incentive Cover
Red Sonja #30 (1 in 50) A. Ross Negative Incentive Cover
Rex Mundi #10
Rod Espinosa Prince of Heroes #2
Scream #4
Star Wars Dark Times #9
Starship Troopers #6
Transformers Spotlight Arcee
Transformers Spotlight Arcee (1 in 10) Incentive Cover
Umbrella Academy Apocalypse Suite #6
Willow Creek #0
Witchblade Takura Manga #12
Youngblood #2
Zorro #1 (2 in 4) Wagner Cover
Zorro #1 (1 in 4) Cassaday Cover
Zorro #1 (1 in 4) Mayhew Cover
Zorro #1 (1 in 25) Wagner Cassaday Incentive Cover

MANGA TRADES
Kurosagi Corpse Delivery Service vol. 6
Path of the Assassin vol. 9
Yu Gi Oh Millennium World vol. 7
Yu Yu Hakusho vol. 14
TRADES & HARDCOVERS
Aliens Omnibus vol. 3
Atheist vol. 1
Boneyard Color vol. 3
The Boys vol. 2
Catwoman's Dead
Classic Transformers vol. 1
Fear Agent the Last Goodbye
Flash Blood Will Run (New Print)
Gen 13 vol. 2 (New Series)
Green Lantern Sinestro Corps War vol. 1 HC
Highlander Coldest War tpb PX
Hunter Killer vol. 1
Iron Man Many Armors of Iron Man (New Print)
Loners
MMW Ant-Man Giant-Man vol. 2
MMW Uncanny X-Men vol. 6
Sam and Max Surfin the Highway
Sigil vol. 6
Sojourn vol. 6
The Order vol. 1
Star Wars 30th Anniversary HC vol. 12
Transformers Spotlight vol. 2
MAGAZINES
Geek Monthly vol. 2 #2
Mad #487
SFX #166
Sketch #34
Wizard Anime Insider #34
KIDS
Archie #582
Archie Double Digest #186
Cartoon Network Action Pack #22
Hardy Boys vol. 12
Marvel Adventures Avengers #21
Scooby Doo #129
Simpsons Comics #139
Veronica #187
TOYS
Black Knight Mini-Bust
Marvel Mini-Mates Series 19
Marvel Mini-Mates Series 20
Stingray Mini-Bust
POSTERS
All Star Batman by Jim Lee
Fantastic Four by Art Adams
Nightwing by Ryan Sook